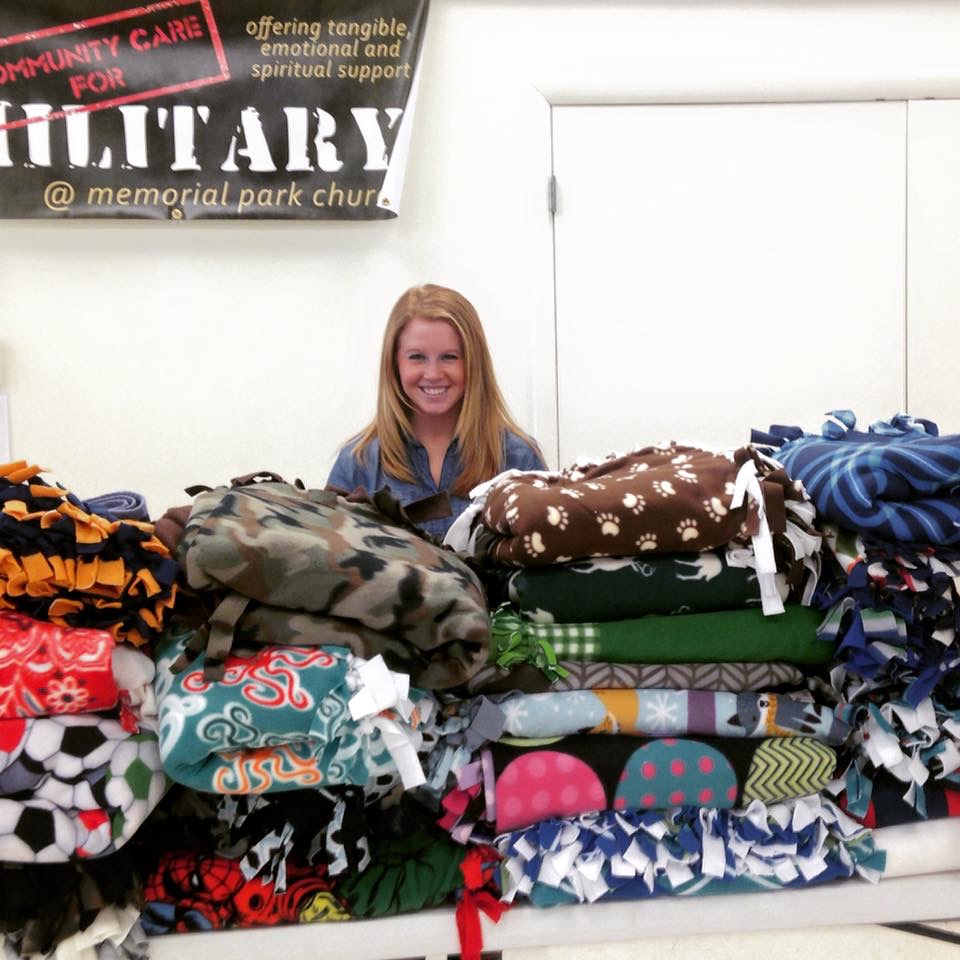 Madison Murchak, a student at the Homeland Security and Terrorism Institute at LIU Riverhead, launched an initiative that gets to the heart of something profoundly important: veteran's well-being.
Murchak's organization, Fleece Connection, provides comfort to veterans suffering from symptoms of PTSD, stress, anxiety, and depression. Real, physical comfort, in the form of weighted fleece blankets.
According to Medical News Today, weighted blankets have myriad benefits, including: the release of oxytocin in the brain, mimicking the sensation of a hug; the release of serotonin, which reduces stress while improving mood; and the release of melatonin, which promotes sleep and regulates sleep cycles. The pressure of weighted blankets creates a sense of being swaddled and relieves the symptoms of PTSD, autism, sleep disorders and nervous system disorders.
Founded in Pittsburgh in 2015, Fleece Connection is a non-profit charitable organization that makes and distributes weighted fleece blankets to recovering troops and Veterans in Veteran Association hospitals throughout the United States. Fleece Connection blankets are handmade by volunteers at blanket workshops held at businesses, corporations, clubs, universities, and organizations. The blankets made by the volunteers are later hand-delivered to recovering service members in our nation's Veteran hospitals.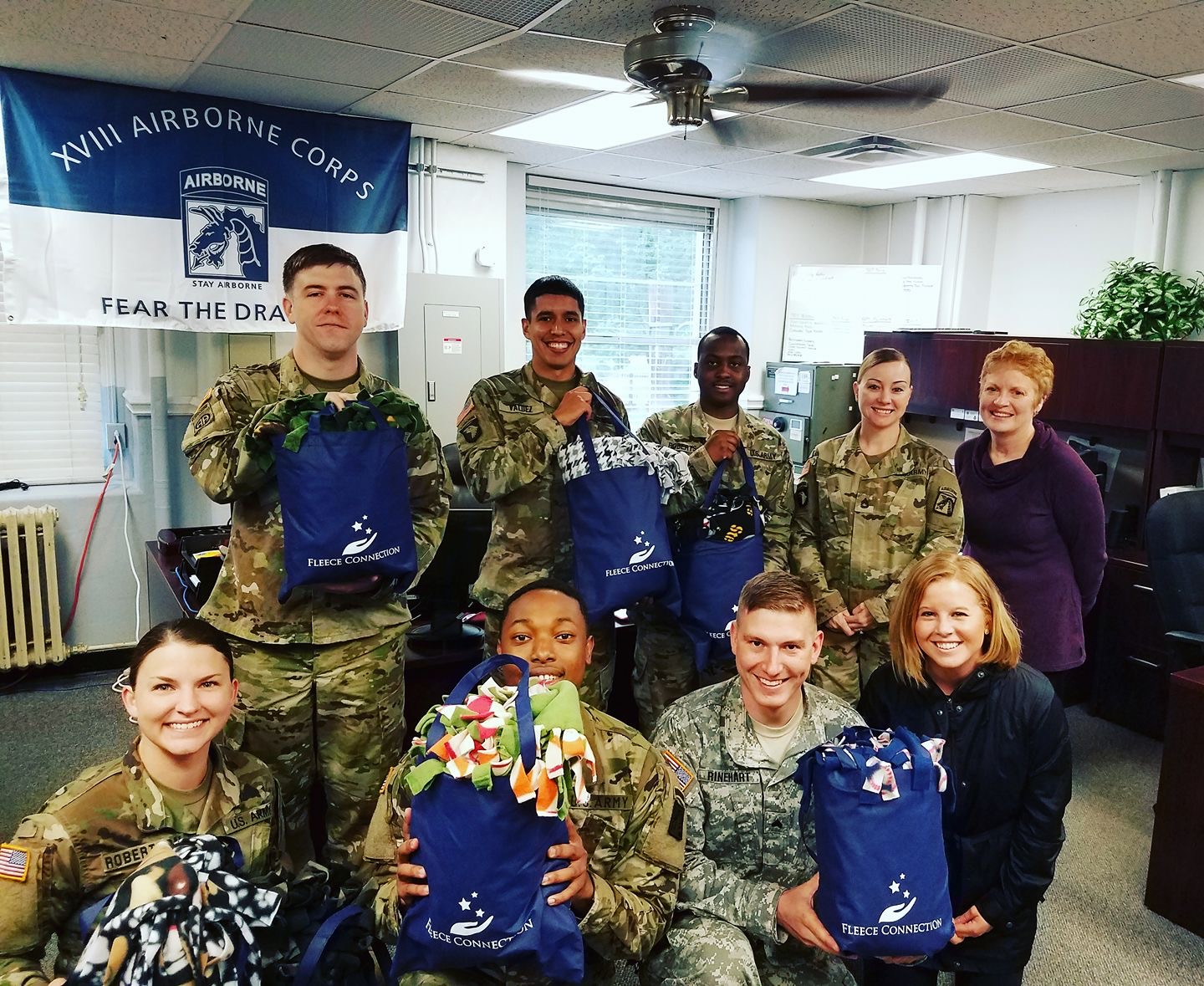 In 2017, Fleece Connection enlisted a total of 400 volunteers from the East Coast help to make blankets and hold workshops. Volunteer bases included numerous Western Pennsylvania Brownie and Girl Scout Troops, law students from Harvard University's Federalist Society, John Carroll University's Raleigh Alumni Chapter, Palm Beach Atlantic University students and alumni, Fortune 500 corporations including SAP Ariba, WESCO Distribution, and Integrity Wealth Consulting, as well as many other schools, universities, businesses, and organizations. Fleece Connection blankets were distributed to over 200 veterans and active military in 2017. Fleece Connection blankets reached hospitalized troops and veterans at the VA Pittsburgh Oakland Hospital (Pittsburgh, PA); Walter Reed National Military Medical Center (Washington, DC); Fort Bragg Military Base, (Fayetteville, NC); and the New England Center & Home for Veterans, (Boston, MA).  Blankets were also shipped to active duty troops in Iraq and Afghanistan.
Upon graduation from Long Island University's Homeland Security and Counterterrorism Institute, Murchak's desire is to enter the into the Homeland Security field as a counterterrorism analyst working for a three-letter government agency. She attributes her dedication to pursuing a Master's degree in Homeland Security and Counterterrorism at LIU to all of the men and women she has met throughout her journey with Fleece Connection.
"I have gained a new sense of pride for my country, and am extremely passionate about helping to protect our homeland," she says.  "I have had the privilege of meeting some of the bravest men and women who have sacrificed everything to keep our country safe and free. Fleece Connection is a small way to thank them for their service, and provide a bit of comfort and support while recovering. My goal is to one day grow Fleece Connection into a nationally recognized charitable organization that serves every single Veteran recovering in VA hospitals throughout the United States."
As a recognized non-profit organization, Fleece Connection relies 100% on financial donations from generous donors and volunteers like you. We have no paid positions on staff, and all who serve are volunteers. If you feel called to make a donation to help further Fleece Connection's mission, you can make a donation here https://donorbox.org/support-our-troops-and-veterans. All donations are tax-deductible.
Contact Fleece Connection to learn how you can support our troops and Veterans by hosting a Fleece Connection workshop!