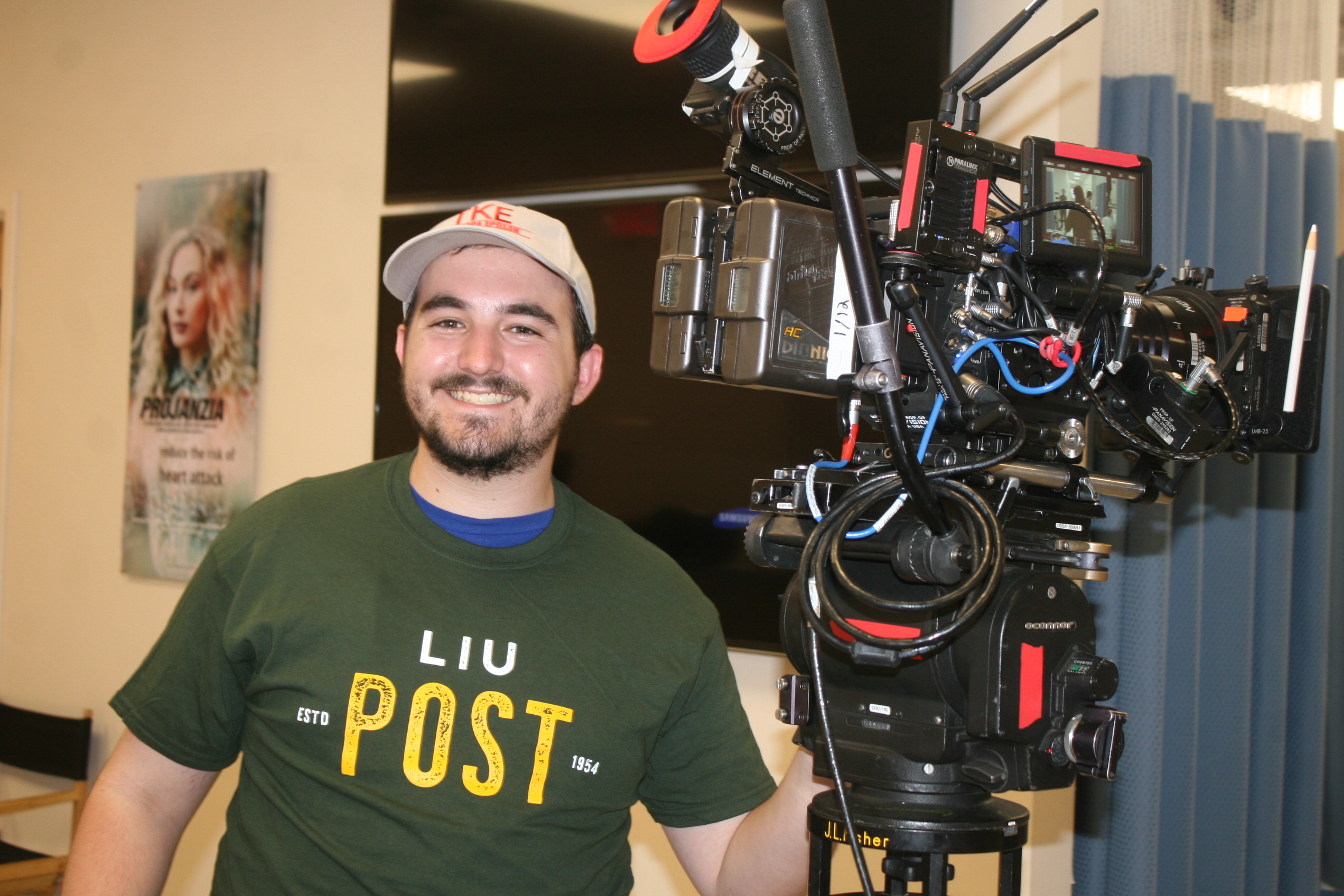 The LIU Post campus has a starring role in an independent movie now being filmed by Sean Hayes, best known for his role as Jack McFarland on the NBC sitcom "Will & Grace."
Several scenes have been filmed at campus facilities, including a new hospital wing for nursing and health science majors, the student union (Hillwood Commons) and a residence hall.
"Sean Hayes has been great about including LIU Post students as extras and production assistants on the movie," said Rita Langdon, an adjunct professor of communications and film and dean of professional education and transfer and graduate enrollment at LIU Post. "Sean is providing an invaluable opportunity for the next generation of Hollywood actors, producers, screenwriters and publicists to become part of the energetic, creative process of TV and filmmaking."
One of the movie's production interns is LIU Post film major Robert Banish, a sophomore from Ronkonkoma. He was working at the campus Concierge Desk and learned about the filming through the university's Film and Entertainment Division.
"To be working on an actual set with industry pros has been an amazing experience," Banish exclaimed.
Since 2013, the LIU Post Film and Entertainment Division has been working with location scouts to film movies and network television shows on the Brookville campus. In many cases, students are involved with production activities: acting and musical theater majors serve as extras, film majors work as production assistants, and journalism and photography students produce stories and visuals for social media and news outlets.
Still actively involved in the Film and Entertainment Division, Langdon founded the program along with LIU Post's Conference Services director Theresa Duggan and associate director Jennifer Silvero-Lopez.
Over the years the beautiful Brookville campus has been the location of many movies and TV shows.
For the new documentary series, "Abuse of Power," premiering May 12 on the Oxygen Network, the crew filmed in Nassau residence hall and Hillwood Commons. The host is esteemed Los Angeles-based television journalist Laura Sivan ('10 AC), a graduate of LIU Riverhead Homeland Security Management Program.
LIU Post has also hosted "Blacklist" with James Spader; "Madam Secretary" with Tea Leoni, Tim Daily and Bebe Neuwirth; "The Following" featuring Kevin Bacon; "Instinct" with Allan Cumming; "Royal Pains" with Henry Winkler, Mark Feuerstein, Paulo Costanzo, Hal Linden and Gary Cole; and "The Rewrite" with Marissa Tomei, J.K. Simmons, Chris Elliot, Allison Janney, Bella Heathecoat and Hugh Grant, who played an ambivalent adjunct barely teaching a screenwriting course for a semester. Tellingly, "The Rewrite" renamed the LIU campus Binghamton University for the film.
Occasionally, students get to be paid extras in a production.
"For one scene of 'Blindspot' we were asked to run and scream from Pell Hall after a refrigerator—fake, of course—was thrown out of a third story window," recalled Langdon.
What they'll be doing for the new Sean Hayes flick is yet to be revealed. So, stay tuned.