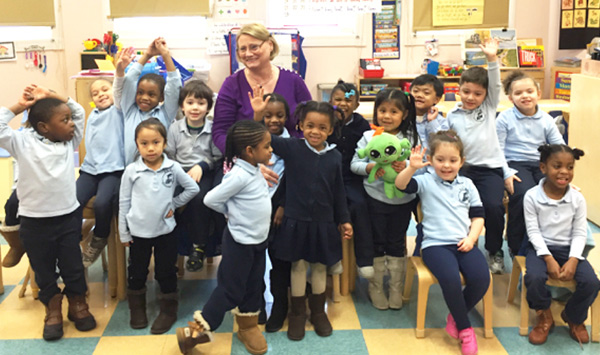 At P.S. 65 in Staten Island, social and emotional learning (SEL) has been a core part of the school's identity ever since it opened 10 years ago under the leadership of Principal Sophie Scamardella and Guidance Counselor Liz Rodriguez. The underlying premise of P.S. 65's approach to learning is that before children can perform well academically, their basic physical and emotional needs must be met. The school is a mosaic of the community that surrounds it, representing a mix of high-income and low-income families, though about 60 percent of students live below the poverty line.
As LIU continues to advance the Sanford Education Programs, P.S. 65 introduced Sanford Harmony last year and teacher response has been enthusiastic: "Empathy and tolerance are school goals," says fifth-grade teacher Patty Brady. "Sanford Harmony lets us achieve these goals on a higher level."
Last year, Brady taught fourth grade, a time when students can be cliquish. A few times a week, she'd start the day with a Sanford Harmony Buddy Up exercise. She would pair unlike students and hand them a card with an assignment, such as to work on a task or discuss a topic.
"Instead of letting kids pick their own friends, Sanford Harmony makes us focus on kids building skills to be friends with anyone," she says.
In P.S. 65's pre-K and kindergarten classes, the morning might begin with a story featuring "Z," an adorable green alien who has arrived on Earth and needs help understanding human relationships. While bonding with "Z," students learn about the Sanford Harmony themes that foster a culture of acceptance, empathy, and improved communication.
This year, Brady is teaching one of the two fifth-grade classes. She has found that her students are more responsible, respectful, and focused on their work. "I keep saying both classes are very mature for their years. They work out their problems. They are not as reactionary. Sanford Harmony has added to this."
"I love the program," says Rodriguez. "It gives a positive message to students: people have things to give to others; we are a lot more alike than different; we can work together. And it reminds teachers to remember the focus of our school."