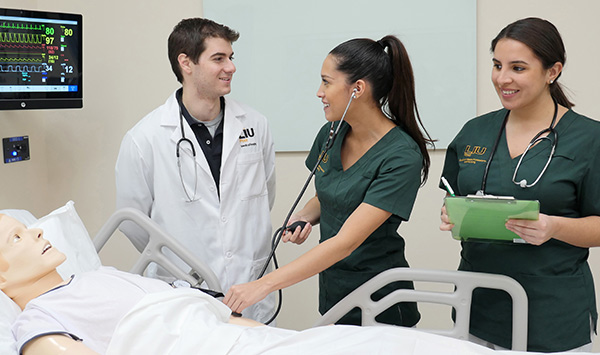 In the fast-growing and fast-changing health care field, collaboration between health professionals is increasingly crucial to delivering effective patient-centered care. LIU Post's Interprofessional Simulation Lab prepares students to play impactful roles on successful health care teams, grooming them for key roles in shaping the future of health care in the U.S.
The Interprofessional Simulation Lab curriculum is defined by case-based scenarios that identify common domains among health care professionals, while focusing on the unique roles and responsibilities of each health care provider. The team-focused learning experiences of the Interprofessional Simulation Lab complement the elite classroom education provided by LIU Post's world-class faculty and the professional experience developed with LIU's network of more than 250 affiliated clinical partner organizations.
LIU Post's School of Health Professions and Nursing is home to a Nutrition department recognized as among the top three in the New York City area, a Medical Imaging program with a 100 percent board pass rate, and a Nursing department that equips students with the Bachelor of Science in Nursing that is fast becoming the gold standard among the nation's leading health care systems. For more information, click here to read about the Interprofessional Simulation Lab's interactive mannequin patients in LIU Post's award-winning student newspaper, The Pioneer.