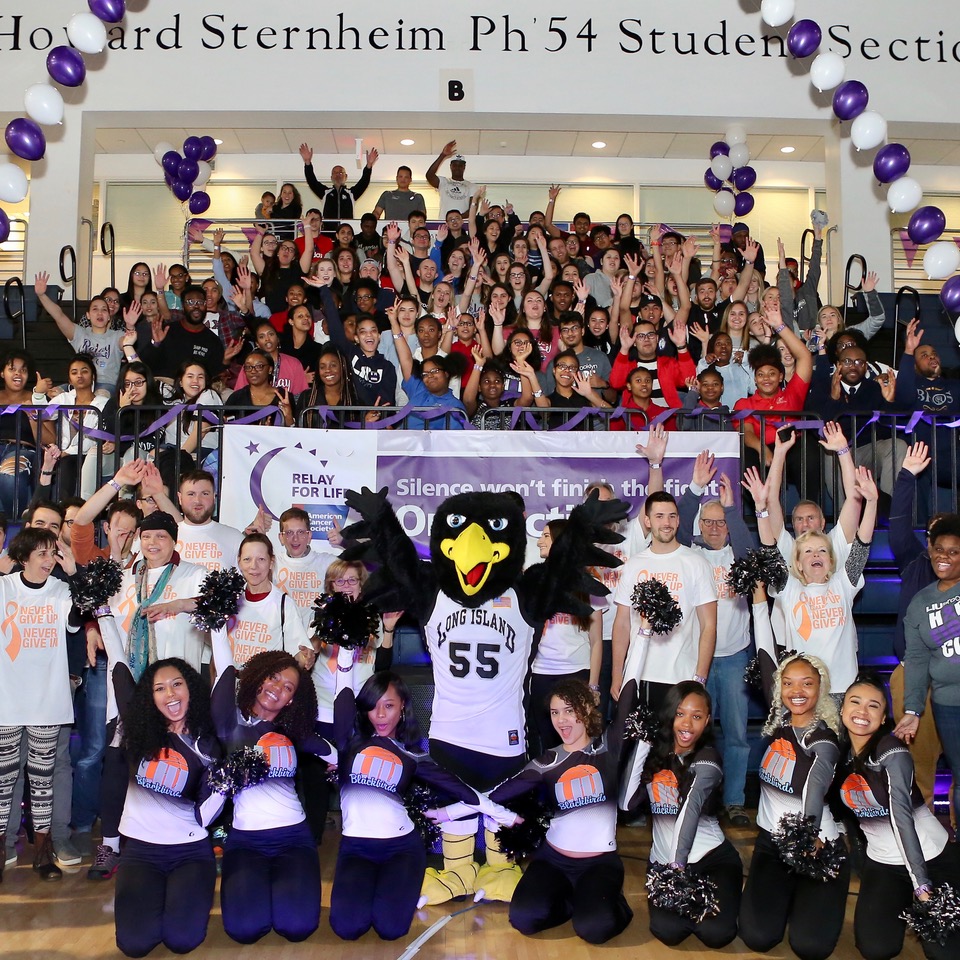 This year's Relay for Life event at LIU Brooklyn raised a record $46,487.47 for the American Cancer Society as hundreds of people packed the WRAC gym on April 19. It was the highest tally since the annual charity fundraiser began on campus in 2016.
The Brooklyn Blackbirds spirit was on full display.
"Relay for Life at LIU Brooklyn really demonstrates how close we are as a community and how we can work together to accomplish any goal!" said Fiona Callagy, a senior.
"Knowing we have each other to lean on when we are struggling in the fight against cancer makes me proud to be a Blackbird," said Jessica Rudick, a freshman.
Margo Potts, a first year student, said she came a long way from home to attend LIU Brooklyn so she truly appreciated how Relay for Life brought the extended campus community together.
"Relay for Life was one of the first ways I was able to connect with my fellow Blackbirds," she said. "Planning this event and participating in fundraising for the American Cancer Society has been a truly amazing experience that I will never forget." She's already looking forward to next year's Relay for Life.
Julianna Morse, a recent graduate, felt so strongly about the connection that she returned to campus so she could join in.
"Relay for Life is one of my favorite LIU Brooklyn traditions," she said. "I graduated in January but had to come back for this incredible event. I was a part of Relay for Life since its start in 2016 and it's truly amazing what we've accomplished in three years."
Since 2016, LIU Brooklyn's Relay for Life events have raised more than $100,000 for the American Cancer Society.
"I am grateful to be connected to a community that's this passionate about a cause so close to my own heart," Morse said.