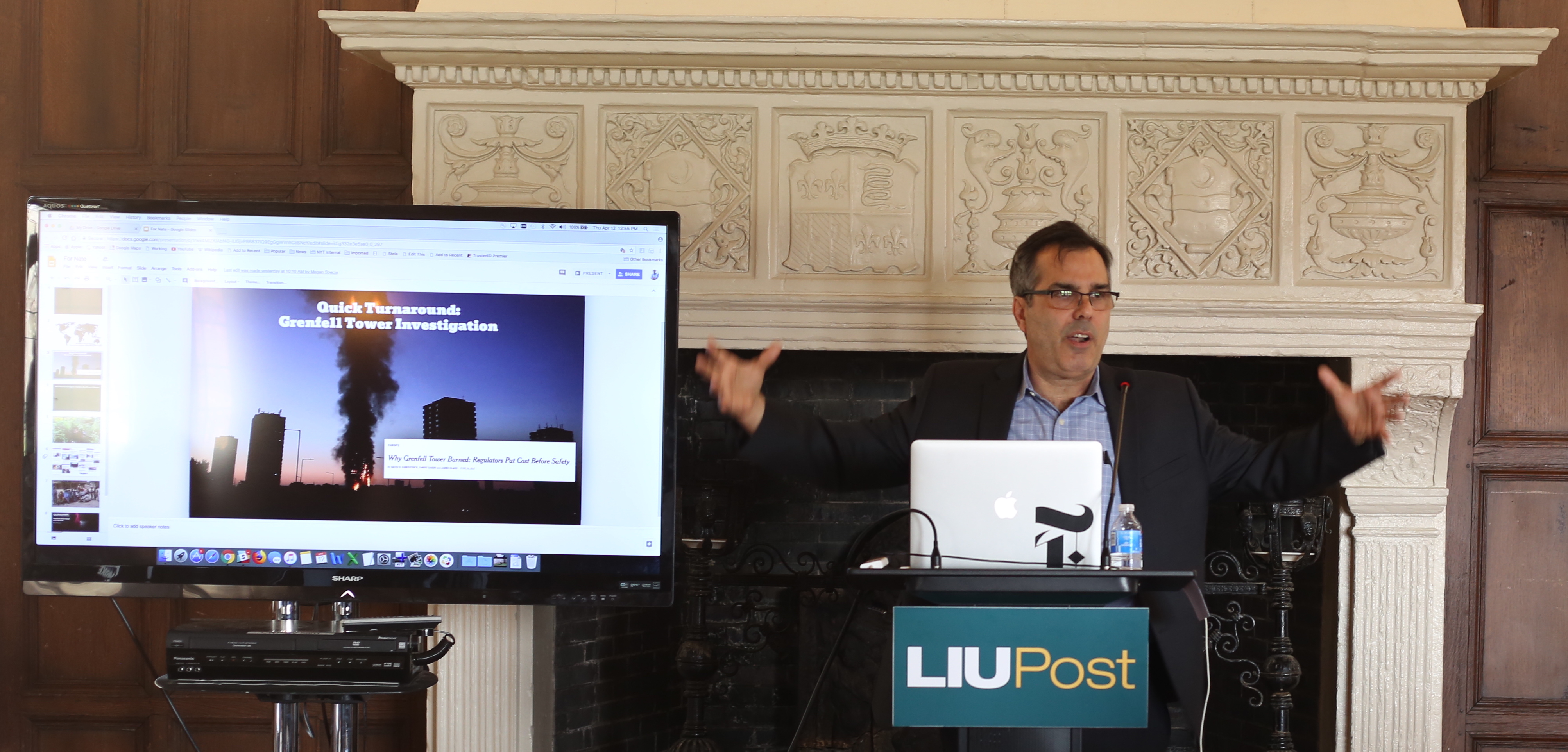 Pulitzer-Prize winning journalist Michael Slackman, currently the international editor of The New York Times, shared his insights gained from a long career that has taken him from covering murders on Long Island to dodging bullets fired at him by a government helicopter during a protest in the kingdom of Bahrain.
As dozens of students lunched on pizza in the Great Hall at the Winnick House on April 12, Slackman recounted his experiences in other countries, talked about his work at Newsday and The Times, and took questions that ranged from the value of the written word in the age of social media to his opinion on President Donald Trump's flagrant use of the term "fake news" to describe his present employer.
Slackman's appearance at LIU Post was co-sponsored by the College of Liberal Arts and the College of Arts Communications & Design. He was introduced by Nathaniel Bowditch, Dean of the College of Liberal Arts and Sciences, who first met Slackman in Egypt when he was then The Times' Cairo bureau chief and Dr. Bowditch was Dean of the School of Humanities and Social Sciences and an Associate Professor of Philosophy at the American University in Cairo.
Since being named international editor in September 2016, Slackman now oversees more than 30 bureaus scattered across the globe as well as three hubs in London, Hong Kong and New York City. He admits he spends a lot of time traveling between them all.
"If you view the world through the prism of your experience, you're going to get things wrong," the seasoned journalist told the students. "Here we are, in a world more interconnected than at any time in human history, yet we often don't really hear what is being said because we don't know how to listen. Words matter. Language matters. Cultural context matters."
Asked about the changes he's seen now that journalism has firmly entered the digital era, Slackman was sanguine.
"I guarantee you that you are reading more news than I did when I was your age," Slackman told the students, referring to Facebook, Twitter and Reddit, to name a few sources. "I no longer think about print; I think about content. I'm platform neutral."
One student asked Slackman how he felt as an editor at The Times whenever President Donald Trump lets loose a tweet attacking his "failing" paper as a purveyor of "fake news."
"I'm proud to be part of an American tradition that is about holding the powerful to account," Slackman said. "We don't view our role as opposition to Donald Trump. If the other side comes in, what are we, lackeys for the other side? When the president declares us 'fake news,' it's propaganda as far as I'm concerned."
Slackman admitted that the old days of relying on advertisers to bankroll journalism are long gone, but quality journalism is far from dead in America.
"I can tell you that there are more people that pay for The Times today than at any time in its history," he said, citing some 3 million subscribers.
He asked the students what kind of country they want to live in.
"How important is it to you that we have a free and open press that sometimes may say things that make you uncomfortable but will give you a vehicle and those who are on your side or in your community an opportunity to be heard as well?" he said. "I hope we don't lose that!"