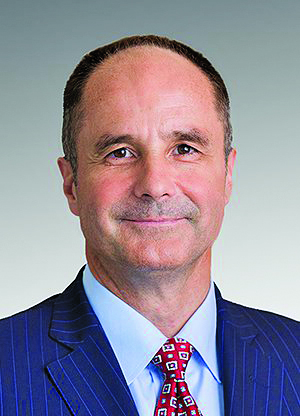 As a member of the board of management and president of Pharmaceuticals at Bayer AG, Dieter Weinand described his experience earning his master's degree at LIU Pharmacy in 1987 as "essential" to his career.
He remarked that his education at LIU gave him a foundation of "solid scientific understanding required to identify unmet medical needs and opportunities for medical or pharmaceutical intervention," and reinforced that "seemingly minor scientific nuances can make a meaningful clinical difference."
Looking forward, Mr. Weinand stated, "We are moving from population-based medicine to individualized personal medicine yielding better outcomes." He reflected on the evolution of the industry and the unmet medical needs around cancer and complex cardiovascular or neurological conditions, as well as the growing and consequential body of research on stem cell technologies and artificial intelligence. Under Mr. Weinand's leadership, Bayer is focusing on two primary therapeutic areas: cancer and cardiovascular diseases. In hemophilia, women's health care, and ophthalmology, he sees Bayer uniquely positioned in the respective disease segment. As such, the company is well prepared to confront, and one day perhaps even overcome, some of the top health concerns impacting patients and health care systems today.
For the pharmaceutical industry to successfully deliver solutions for today's major health concerns, Mr. Weinand says the true focus must be on the best science and delivering true value. "We have become agnostic as to whatever the cutting-edge science is and go to where it comes from, be that at academic institutions, small or large companies, or internally. Our focus is on providing health care solutions that benefit societies."
For aspiring pharmacists, Mr. Weinand advises, "Continue your education, share your knowledge and learn from perspectives of others. Most importantly, go where the science is. In our globalized environment, scientific excellence has no geographic boundaries. Young scientists need to embrace flexibility to get the best out of all the different approaches to deliver true innovation that benefits patients."