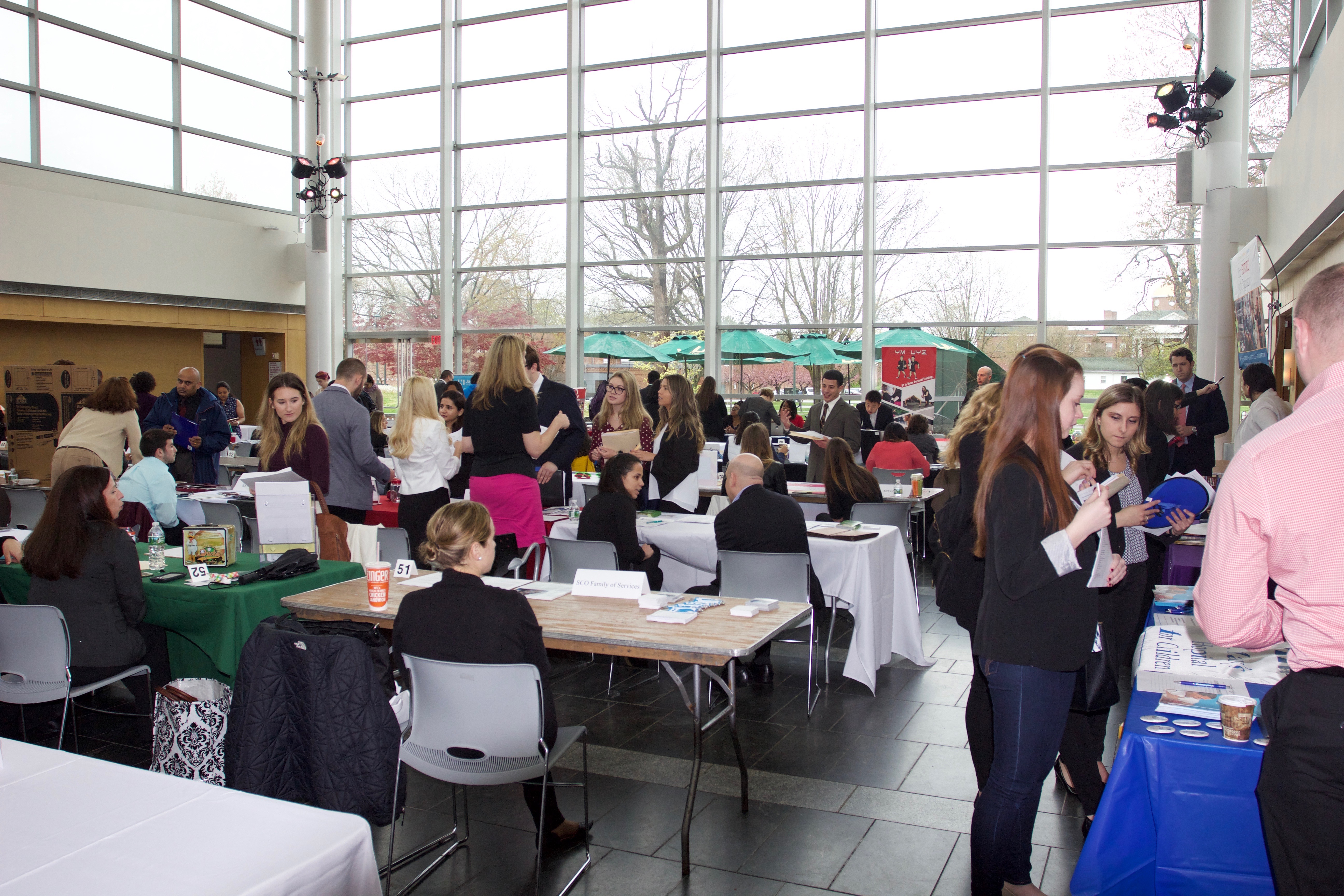 Long Island University aims to take students not only through collegiate life, but to prepare them for the post-college world, which includes finding a rewarding career.
LIU has implemented a new career web-based platform to provide all current students and alumni access to internships and jobs with employers. LIU Handshake connects students with jobs in many helpful ways, including acting as a job-site portal, pairing students with valuable internships, alerting students to job fairs and events, and engaging alumni employers to build rewarding relationships with students and graduates. In Fall 2017, 1,325 internships and 4,249 full-time positions were posted on Handshake for both students and alumni.
Holding an internship during a student's college career provides valuable work experience (and money), experience in time management, prioritization skills, and a head-start into professional life.
The Importance of Internships
Internships allow students to gain real world working experience without  committing to a full-time job.  This is extremely important to do early in a students' career for the following reasons:
Expectations. Internships allow students to figure out if the job is what they expected. Students may begin an internship and find themselves surprised at the real-world work which may change the way they view their current career path. It is important to figure this out as soon as possible so that there is still time to change majors.  In contrast, if students are still questioning what they want to do after graduation, internships can help determine what they are interested in.  The more students experience, the better they can determine their career goals after graduation.
Experience can be more valuable than good grades upon graduation and job search. When applying to jobs after graduation, hiring managers are more likely to interview a candidate who has average grades partnered with real-world experience over a person with a 4.0 GPA and no work or extracurricular experience.
Internships help students build their professional network outside of the classroom.  The people they meet during an internship can potentially become co-workers, or they can assist in connecting them with other professionals when job searching.  Making a good impression and staying in touch with the people they meet can be a big help down the line.
Time Management. Learning how to balance and prioritize coursework and an internship is a valuable skill. This will help them later in their academic and professionalcareers.
Full-time work. Lastly, if students find their internship to be fulfilling and they can see themselves working in that field after graduation, it is possible for the company to hire them in a full-time role if they have proven to be a valuable employee.
Job Fairs and Employment Events
Job fairs and job-related events offer added value to a college education. LIU hosted 12 Career Fairs/Events last Fall and will host 11 more this Spring.
In Handshake, students can view and register for upcoming Employer Engagement events such as Career Job Connections, Employer Information Sessions, Employer in Residence Program and LIU "Career Day in the City."  The LIU "Career Day in the City" provides a group of students the opportunity to visit companies in NYC to gain an inside view of the organization, hear from a panel of employees, learn about potential internship and job opportunities, and participate in a guided tour.  Last Fall, on-site "Day in the City" events were held at Microsoft and Twitter. Spring Handshake events will take place at the Brooklyn Navy Yard, JP Morgan and Canon.
"As a person who is in love with technology, having the chance to go to Microsoft was extraordinary," said Kymani Kerr, Computer Science Major, after attending the LIU "Career Day in the City" event.  "Not a lot of people get the chance to experience Microsoft first hand. During the event, we spoke to employees who worked in various departments. Going to Microsoft helped me figure out what I want to do after I graduate college."
All enrolled students already have a Handshake account pre-leaded. To log in to your Handshake account, visit handshake.liu.edu and sign in with your LIU credentials.