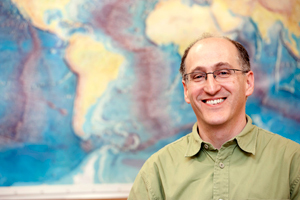 The UN Chronicle published an article by Dr. Scott Carlin, an LIU Post Associate Professor of Geography and Chair of the Campus Sustainability Initiatives, in its January 2018 issue on Global Citizenship.  Dr. Carlin co-authored the article with Dr. YuKang Choi, founder and CEO, Dream Touch for All.
Click here to read the article, "The Role of Civil Society in Advancing Global Citizenship," which discusses the importance of the concept of global citizenship for civil society, emphasizing its role in achieving Sustainable Development Goals.
As the story says:
"Despite its flaws and differing perceptions, global citizenship is one of the most defining paradigm shifts of the contemporary world. We share three complementary viewpoints:
It is a way of living that recognizes our world as an increasingly complex web of connections and interdependencies, in which our choices and actions may have repercussions for people and communities locally, nationally or internationally.
A global citizen is someone who identifies with being part of an emerging world community and whose actions contribute to building this community's values and practices.
Global Citizenship Education (GCED) aims to empower learners to assume active roles to face and resolve global challenges and to become proactive contributors to a more peaceful, tolerant, inclusive and secure world."
In 2016 Drs. Carlin and Choi served as co-chairs of the 66th DPI-NGO Conference in Gyeongju, Republic of Korea.
The UN Chronicle, a quarterly journal published by the Department of Public Information since 1946, covers information and debate on activities of the United Nations system. It features essays and opinions from official, non-governmental, academic and policymaking groups connected with the Organization. The journal covers a wide-range of topics including: human rights; economic, social and political issues; peacekeeping operations;  international conferences; youth related matters; women and children; and global health.