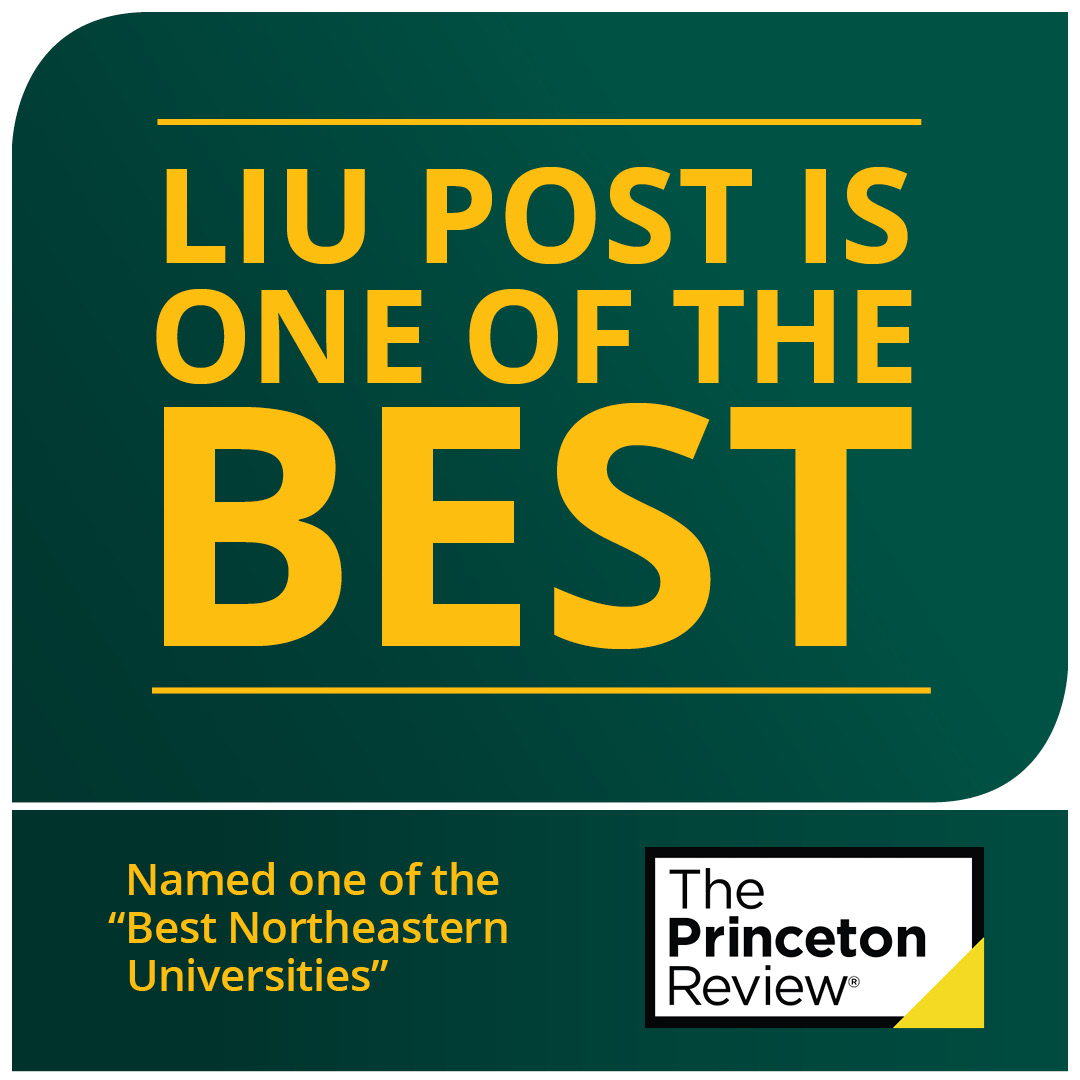 BROOKVILLE, N.Y.— LIU Post was rated for the first time in the school's history by The Princeton Review as one of the "Best in the Northeast" for 2017.
LIU Post was rated as one of the top Northeast universities by The Princeton Review.  According to The Princeton Review, the colleges on its lists are those "that we consider academically outstanding and well worth consideration in your college search."
"LIU Post is proud to be rated by Princeton Review as one of the best universities in the Northeast," LIU President Dr. Kimberly R. Cline said.  "This is an important milestone on the continued upward trajectory of our University.  LIU Post's distinguished faculty offers students a world-class education with a focus on experiential learning that prepares them for success."
The Princeton Review selected universities for their prestigious list based on academics, staff visits, and 137,000 student surveys.
As part of its rating process, The Princeton Review conducts anonymous student surveys to get unfiltered student views.  LIU Post students surveyed said that LIU Post is a school that's brimming with "opportunities to further your educational experience." Academically, undergrads benefit from "personalized attention" and "individualized instruction" as well as a "wide range" of course selection.
LIU Post students surveyed also describe the student body as "hardworking, helpful, intelligent, [and] creative." They also tend to be "very friendly." And another individual adds, "Walking through campus you constantly see familiar faces, and there is always someone willing to talk to you. It [is] effortless to spark a conversation with someone on the Starbucks line about an upcoming event."  LIU Post undergrads are also incredibly "dedicated" and are always looking "to get involved on campus."
In terms of Campus Life, The Princeton Review notes, students are active in "athletics and intramural[s]." And many undergrads can also be found using the university's fantastic gym facilities. Additionally, "sororities and fraternities are very popular." "During the late spring and early fall, students love to go up the Patio of Hillwood Commons to lay out on the lounge chairs and soak up some sun."  Finally, undergrads here appreciate how "accessible" New York City is for them. Any time they want to experience the excitement of the city, students can simply hop on a train and be there in no time!
And students proudly report that "everyone generally gets along well with one another." As one impressed undergrad illustrates, "Athletes not only respect those who are not involved in athletics, but also study, hangout, and participate in extracurricular activities with each other, and vice versa. [Conversely,] those [who are] not on a sports team often come and support the athletes in their games and competitions."
The LIU Post College of Management has been rated by The Princeton Review as a "Best Business School" for the past 15 years. LIU has also been hailed by Forbes as one of 10 "Hot Colleges in the Making Under Innovative Management," honored by US News and World Report as a Top Regional University, and recognized by the Equality of Opportunity Project as one of the top 20 selective private colleges on the "Overall Mobility Index."