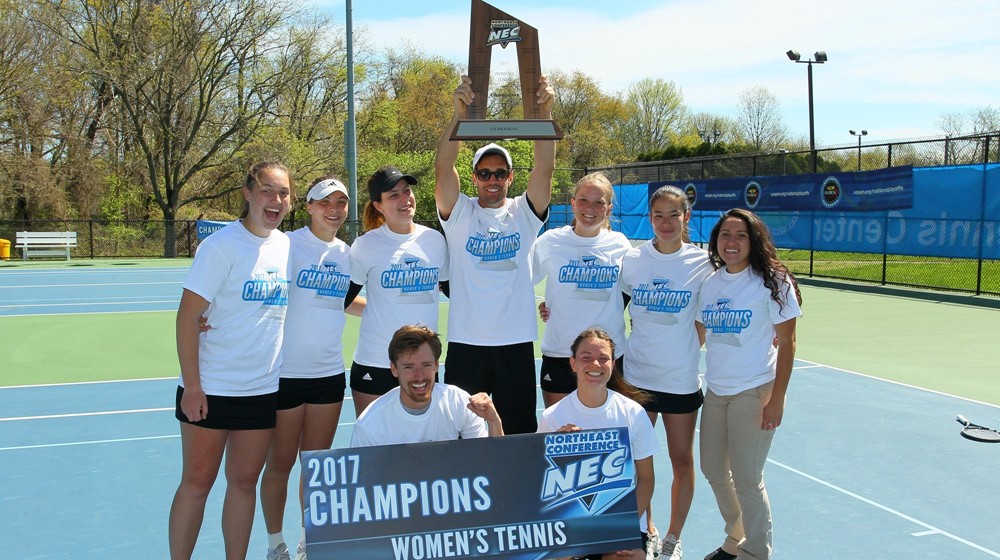 NEC CHAMPS! Women's Tennis Shuts Out FDU, 4-0, to Win NEC Title
WEST WINSOR, N.J.
– The LIU Brooklyn women's tennis team won their first Northeast Conference championship in seven years Sunday morning, shutting out the No. 3 seed and defending champions Fairleigh Dickinson, 4-0.
LIU Brooklyn capped a dominating run through the three-day event as the Blackbirds did not surrender a single point in the tournament.
LIU, which won its third NEC crown (2009, 2010 and 2017), became just the eighth team in conference history to sweep all three of their tournament matches en-route to the title. Heading into NCAA Tournament play, the Blackbirds have won eight straight matches.
LIU opened the match by taking the double point from the defending NEC champions. In the No. 3 doubles spot, freshman Jennifer Gogova and senior Isabella Wagener had a dominating 6-1 win to shift momentum to the Blackbirds. Sophomore Anna Grigoryan and freshman Ana Leonte clinched the doubles point by winning their match in the No. 1 spot, 6-2. And sophomore Malin Leysen and her partner freshman Sasha Bollweg led at No. 2 doubles when the point was called, 4-1.
The Blackbirds had a 1-0 lead heading into singles, and Bollweg made it 2-0 with her sweep at the No. 2 flight, 6-1, 6-3. Leysen increased the lead to 3-0 when she won in straight sets, 6-2, 6-3 in the No. 4 singles spot.
With FDU up a set in three other matches, all eyes turned toward the stadium court and a battle between two of the NEC's best in FDU's Shreya Pasricha and LIU's Anna Grigoryan. Pasricha had won a third-set super tiebreaker over Grigoryan when the two met nine days ago, but the Moscow native evened the score this morning with a 7-5, 6-2 win at the #1 spot to clinch the title for the Blackbirds.
The Blackbirds will now go on to represent the NEC in the upcoming NCAA Championships in mid-May.
LIU Brooklyn 4, Fairleigh Dickinson 0
Doubles
1. Anna Grigoryan /Ana Leonte (LIU) def. Shreya Pasricha/Marta Ruszczynska(FDU) 6-2
2. Malin Leysen/Sasha Bollweg (LIU) vs. Tatiana Eftenoiu/Katarina Pavlocic (FDU) 4-1, unfinished
3. Jennifer Gogova/Isabella Wagener (LIU) def. Liza Rachenko/Patricia Eftenoiu (FDU) 6-1
Singles
1. Anna Grigoryan (LIU) def. Shreya Pasricha (FDU) 7-5, 6-2
2. Sasha Bollweg (LIU) def. Marta Ruszczynska(FDU) 6-1, 6-3
3. Jennifer Gogova (LIU) vs. Tatiana Eftenoiu (FDU) 5-7, 1-4, unfinished
4. Malin Leysen (LIU) def. Katarina Pavlocic (FDU) 6-2, 6-3
5. Ana Leonte (LIU) vs. Liza Rachenko (FDU) 5-7, 3-1, unfinished
6. Isabella Wagener (LIU) vs. Patricia Eftenoiu (FDU) 3-6, 4-4, unfinished