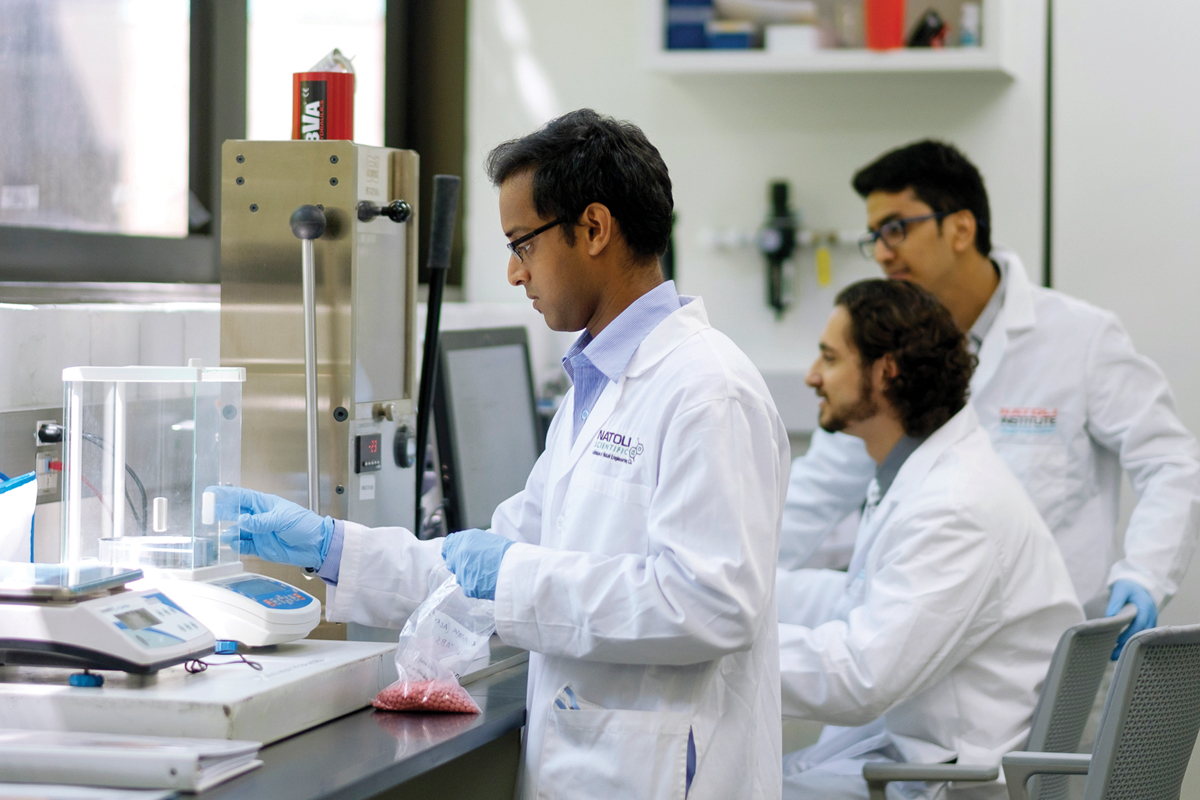 Established in 1886, only three years after the opening of the Brooklyn Bridge, the Arnold & Marie Schwartz College of Pharmacy and Health Sciences was the first school of its kind in the New York City metro region. Yet even more important than LIU Pharmacy's illustrious history is its continuous innovation in research and education.
Led by Dr. John Pezzuto, dean of the College, LIU Pharmacy faculty is comprised of globally recognized researchers who make important contributions in drug discovery and development as well as molecular pharmacology. Dr. Pezzuto, winner of the prestigious Volwiler Research Award from American Association of Colleges of Pharmacy, serves as the editor-in-chief of Pharmaceutical Biology and is widely known for identifying the cancer-prevention aspects of resveratrol, a chemical found in grapes and grape products.
The University recently tapped Dr. Bhaskar Das, a world-renowned researcher, to lead the new Core Facility in Medicinal Chemistry at LIU Pharmacy. Dr. Das joins LIU from The Icahn School of Medicine at Mount Sinai. He has received 20 grants from the National Institutes of Health, while his 18 patents have earned more than $100 million.
Dr. Jeffrey Idle, a world leader in the metabolomics and pharmacogenetics fields, is the co-discoverer of the first genetic polymorphism of cytochrome. His work has been instrumental in moving therapeutics towards precision medicine. He is a Fellow of the Royal Society of Chemistry, the Royal Society of Biology, and the British Pharmacological Society and founder of the academic journal Pharmacogenetics.
The College recently opened a new, state-of-the-art Metabolomics and Pharmacology laboratory. The lab boasts liquid chromatography–mass spectrometry (LC-MS) and gas chromatography–mass spectrometry (GC-MS) capabilities.
The lab's high-powered instruments allow for the measurement of the large array of metabolites necessary for breakthroughs in the science. Amalgamating the faculty and resources of LIU Pharmacy paves the way for breakthroughs in research surrounding precision medicine.
"We believe that the way to provide precision medicine in the future is not just to measure genetic difference between people to explain individuality, but the interactions with the environment," said Dr. Idle.
Dr. Idle points out that numerous other factors play a prominent role in the comprehensive analysis, such as prescription drugs, over the counter medicines, lifestyle factors, smoking, alcohol. "They all move the needle," he said. "Genetics don't really completely predict your behavior with a particular drug and what dose of the drug you need."
Over the past two years, LIU Pharmacy has collaborated with labs in the Netherlands, Czech Republic and at other top universities in the U.S.
Additionally, LIU is one of five universities participating in a wide-ranging research project with The U.S. Food and Drug Administration (FDA). The project awards $1.7 million to the five universities. Once completed, the research will help the FDA better understand how to employ its quality management resources when inspecting drug companies' manufacturing operations, thus benefiting consumers.
LIU's primary role is to provide manufacturing plants with pharmaceutical product and regulatory expertise. This ensures that product characteristics contributing to potential risk are identified and included in overall assessed risk– recalls, warning letters, adverse events, etc. — are identified and included in overall assessed risk.
Locating the "right" data from public and FDA sources also requires reconciling terminology so that the correct data are included. In turn, the relative potential impact on risk is accurately captured. FDA oversite effectiveness requires data curation and modeling of diverse and various sized data sources, and data scraping must be an efficient and iterative process.
"Our team goal is to be able to let the FDA know which problems are running a good return on investment, specifically in terms of best ways to promote product quality and availability," said Dr. Kenneth Morris, Director of the LIU Lachman Institute for Pharmaceutical Analysis. "By in large the quality is very good, and while all oversight vehicles have their place, not all oversight vehicles are equally beneficial."
There are two aspects to the project. Initial efforts will be directed towards developing a statistical model that will provide insights into the effectiveness of FDA efforts. Researchers will draw upon data from public sources as well as FDA-provided information to predict which inspection activities lead to higher drug product quality.
Given the challenges of inferring cause with observational studies, the second project will be comprised of behavioral experiments to develop a better understanding of the trade-offs between, and conditions under which, collaborative or adversarial approaches are more effective.
"Success means assisting the FDA in maximizing their resources more effectively. FDA budgets have historically been underfunded, so it is crucial for our team to provide help for best ways to demonstrate utility and continuous improvement," Dr. Morris said. "Adverse drug events cause nearly one million emergency room visits each year while serious drug product recalls have increased each year over the last decade."
From the Victorian era to the digital age, LIU Pharmacy continues to play a notable role in advancing pharmaceutical research and education.