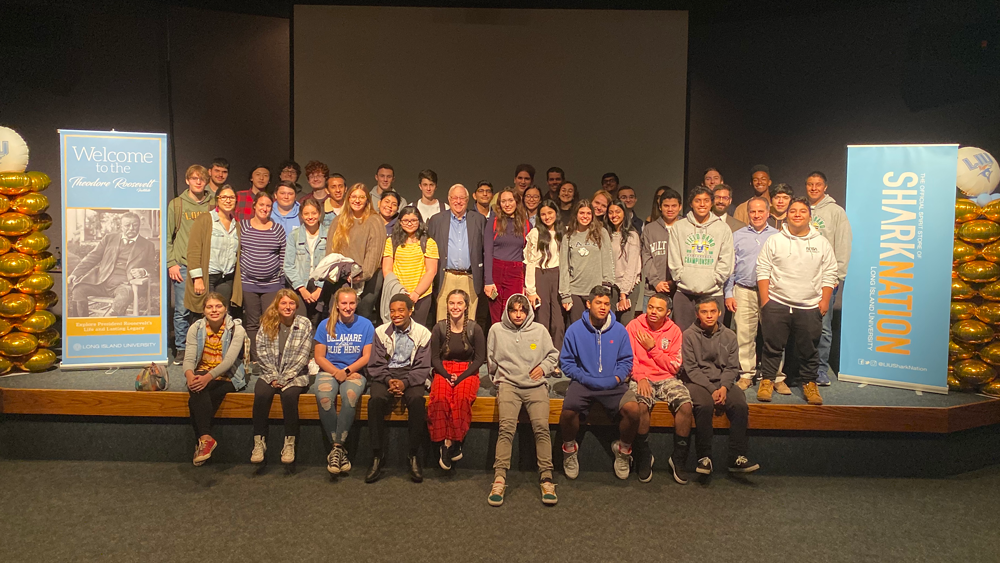 Centenary Celebration
In a time when political differences threaten to divide, a collective commemoration of
proud moments and figures in America's history serve as potent amelioration for the
country. Few presidents are more beloved on both sides of the aisle than Teddy Roosevelt.
When he was only 42 years old, the charismatic Trust Buster assumed his post during a
tumultuous time at the turn of the century. President William McKinley had just been
assassinated and the expanding country needed courageous leadership and shrewd policy.
Roosevelt established national parks, orchestrated the Panama Canal's construction and
won a Nobel Peace Prize.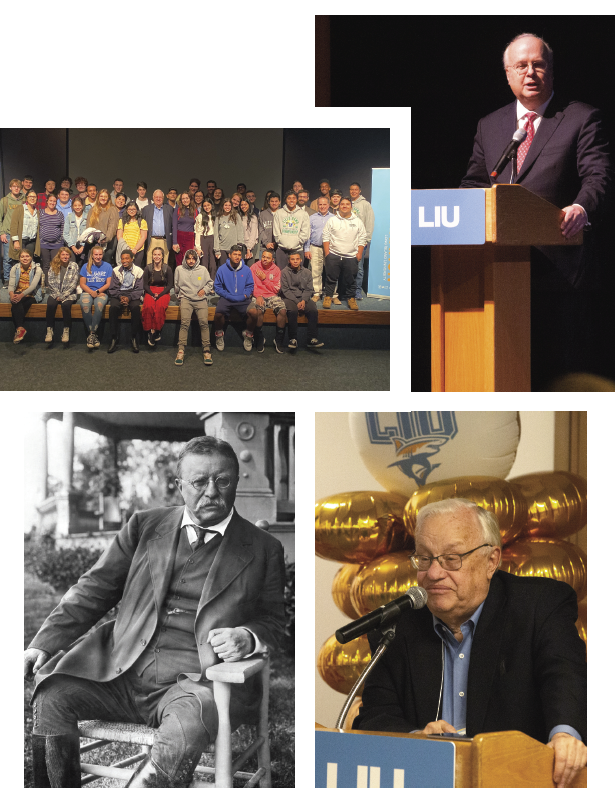 The Theodore Roosevelt Institute (TRI) at Long Island University held a special centenary conference to celebrate the legacy of America's 26th president. The event, held at Tilles Center,
recognized one hundred years since his passing.
National experts on Roosevelt shared scholarly insight on his charismatic personality,
forward-thinking policy and enduring influence. Speakers included: Karl Rove, Geoffrey
Cowan, Colombian Ambassador Francisco Santos, Historian Jorge Orlando Melo, Michelle
Krowl, Susan Sarna, Todd Brewster, Dr. Michael Cullinane and Tweed Roosevelt. The
three-day event also featured a film festival, breakout sessions and presentation of the
Roosevelt Medal to New York Governor Andrew M. Cuomo.
Among the talking points, the distinguished speakers covered:
• Roosevelt's diplomacy and foreign policy
• Roosevelt as a master strategist
• Roosevelt as a reformer
• Roosevelt's enduring influence on the American mind.
"TR was far-sighted enough that much of what he had to say then is just as relevant
today," said Tweed Roosevelt, the president's great-grandson, Chief Executive Officer of the
Theodore Roosevelt Association, and head of the Theodore Roosevelt Institute.
Tweed Roosevelt explains that one of the Institute's goals is to show how Theodore
Roosevelt's ideas can play a vital role in educating today's youth on how to wrestle with
this country's present challenges. The Institute serves as a dedicated source for educational
programs, lectures, research, public seminars, international scholars and conferences, focused
on highlighting Roosevelt's extraordinary life and the ideals to which he was committed.
Theodore Roosevelt continues to fascinate Americans a century after his death, and his
legacy impacts us to this day. Long Island University is excited to honor him with this
centennial event.