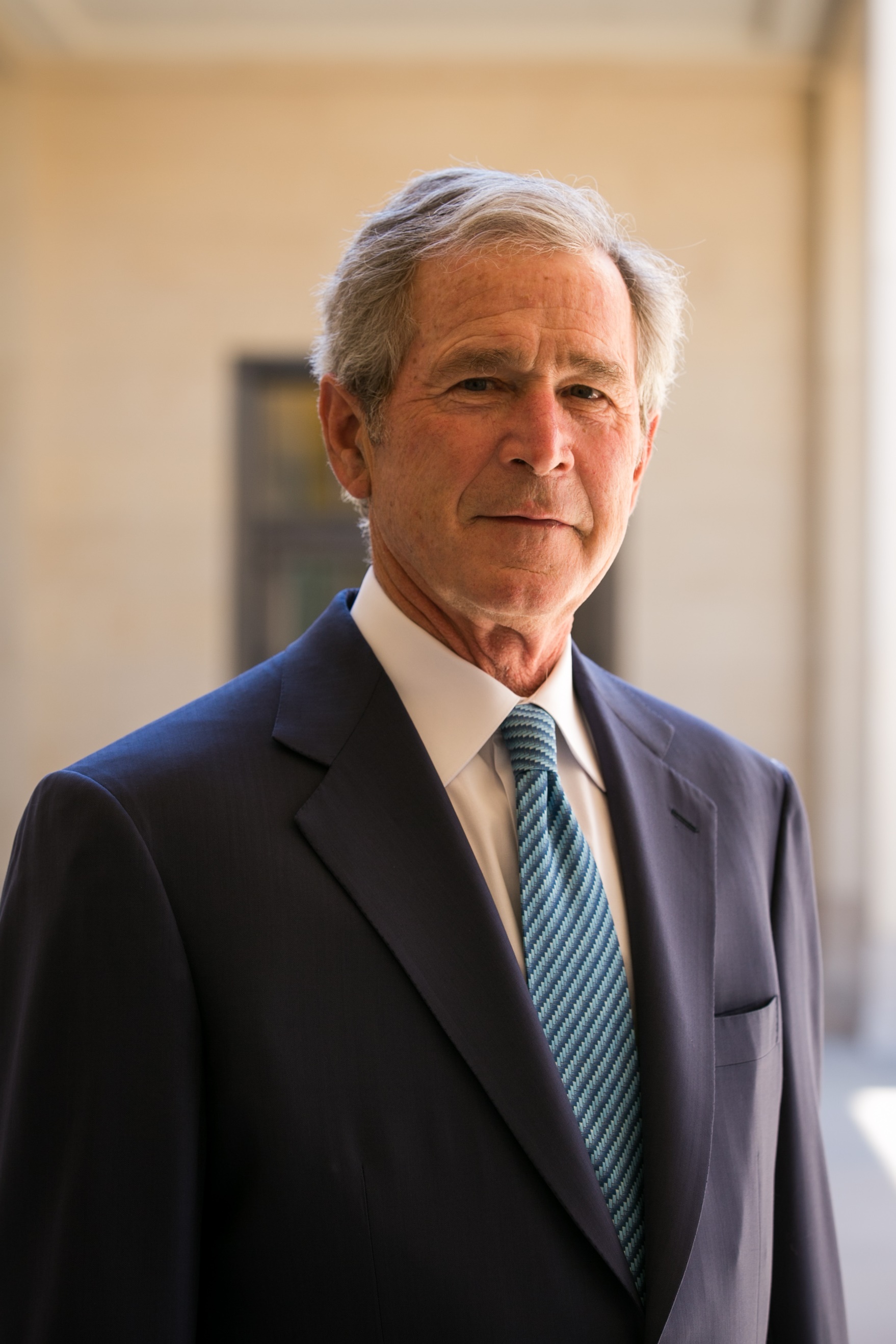 Former President George W. Bush, who left office a decade ago, spoke to a nearly full house at the Tilles Center for the Performing Arts at LIU Post on Oct. 25th.
His appearance in Brookville was presented by Tilles Center and the LIU Global Institute, whose chairman, former Long Island Congressman Steve Israel, joined Bush on stage for an evening of enlightening conversation in front of a very appreciative audience.
As people streamed through the crowded Tilles lobby before the 7 p.m. event began, a few shared their expectations for the evening.
"I think George W. is an icon," said Allan Kaplan from Roslyn. "He should be heard so we can remember it for posterity."
"I'm here to support the Republicans," said his wife, Ellen. "I'm interested in hearing what they have to say."
The last person the Kaplans saw at Tilles Center was the comedian Jackie Mason. They didn't expect the president to be quite as funny but they said they appreciated his sense of humor. They were not proved wrong that evening as the former president made the audience burst out loud in laughter many times at his own expense.
John and Kim Dooney from Massapequa Park came to see the president under different circumstances.
"My husband didn't know I was taking him here—this was a surprise!" exclaimed Kim Dooney from Massapequa Park.
"A pleasant surprise," said her husband John with a big grin. "We are interested in hearing the insights of the 43rd president. He was president for eight years so he went through a lot. I'm sure a lot of it will focus on 9/11."
"I would like to hear what he thinks about the current climate now in the political arena with all the hostility going on between the two parties," added Kim, "and if he has any words of wisdom since 'he's been there, done that.' "
The Dooneys said they frequently attend Tilles Center events.
"I knew he would enjoy it," Kim continued, "because he's very knowledgeable about politics and the history of all the presidents." Her husband smiled as they took their seats inside.
"I'm here because I'm a desperate Democrat and I would give anything to have George W. Bush back!" exclaimed Eileen Morgo of Bayport.
"I understand that sentiment, considering who's in the White House now," said her husband, Jim Morgo, a former Suffolk County chief deputy county executive. "Most former presidents are seen with a kind of affection and nostalgia, but the current president makes this president look so much better."
"I think there is genuine affection for W," said Eileen, referring to the president. "I always thought he was a fine man. I didn't always agree with him, but he did do some great things."
Seated in their sofa chairs on stage, Congressman Israel in a blue suit and President Bush in a brown suit conversed with each other like two old friends. When both politicians were in office, Rep. Israel had been to the White House to meet with the president upon occasion. Their amiable hour-long conversation ranged from the political to the personal—each of their daughters had recently gotten married in fact.
When the time was up, the former president was given a standing ovation.
On the way out of Tilles Center, a middle-aged man in a dark blue windbreaker was overheard telling his wife, "We needed that!"