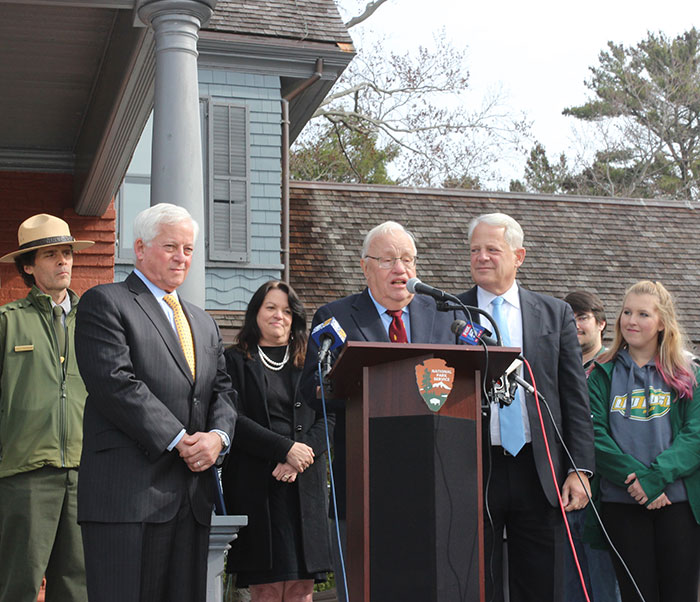 Sagamore Hill, once the home of President Theodore Roosevelt, set the stage last week for a major announcement on Oct. 26 by Long Island University: the formation of the Theodore Roosevelt Institute, which will contain many of his writings and archived material. Starting next fall, the new institute will serve as a dedicated resource for research, public seminars, lectures, international scholars, educational programs and conferences focused on the enduring legacy the 26th president.
Standing on the porch where TR once addressed the nation when the Oyster Bay mansion served as his "summer" White House were LIU President Dr. Kimberly R. Cline; Assemb. Charles D. "Chuck" Lavine (D-Glen Cove); former Congressman Steve Israel, chairman of the Global Institute at LIU; Sagamore Hill National Historic Site Superintendent Kelly Fuhrmann; and Tweed Roosevelt, the president's great-grandson, who is chief executive officer of the Theodore Roosevelt Association (TRA) and will head the new institute.
Assemb. Lavine helped secure $250,000 in state funds to renovate and expand Lorber Hall at LIU Post so it can house both the institute and the association. Israel is a member of the board of the TRA.
Interestingly, the Friday announcement came a day before TR's 160th birthday: Oct. 27, 1858. Though TR was born in Manhattan, he died at Sagamore Hill, now run by the National Park Service, on Jan. 6, 1919. He was president from 1901 until 1909.
"Long Island University is committed to working with its partners to preserve and grow the legacy of Theodore Roosevelt through the Institute's programming, sponsored research and other events that highlight President Roosevelt's extraordinary life and the ideals to which he was committed," said Dr. Cline. "We are sincerely grateful to Assemblyman Charles Lavine for his hard work in obtaining significant funding to assist in renovating Lorber Hall, the Institute's new home."
Tweed Roosevelt, who remembers spending his childhood at Sagamore Hill with his grandparents, explained that one of the new institute's goals is to show how TR's ideas can play a vital role in teaching young people how to wrestle with this country's present problems.
"TR was far-sighted enough that much of what he had to say then is just as relevant today," said Roosevelt. "This country is in very difficult times. It's going to be these young people who are going to take us, I hope, to greatness."
As his great-grandson put it, "TR essentially created the modern presidency—the active president, who believes that if the Constitution didn't say he couldn't do it, he could do it. The old presidents said, 'Well, did they say I could do it?' They asked for permission. TR asked for forgiveness afterwards."
"President Theodore Roosevelt's history on Long Island is a critical piece of our region's identity," said Israel. "As a passionate student of history, and especially as a fan of Theodore Roosevelt's legacy, I am proud to have facilitated a linkage between the TRA, LIU, and Sagamore Hill that allowed for the formation of the Theodore Roosevelt Institute. TRI's ability to offer critical institutional and cultural supports will ensure that this period can continue to inspire future generations."
Sagamore Hill's Superintendent Kelly Fuhrmann noted that Roosevelt was a prolific writer, producing more than 35 books and 150,000 pieces of correspondence. "He could read a book a day," said Fuhrmann.
"The existing collection of Theodore Roosevelt archival material curated at LIU will complement the collections held by the National Park Service at his former home," Fuhrmann added. "The creation of the TRI will further advance the legacy of this legendary figure in American history."
The announcement was also covered by Fox 5 News, CBS Channel 2 News, and local cable outlet Fios1.