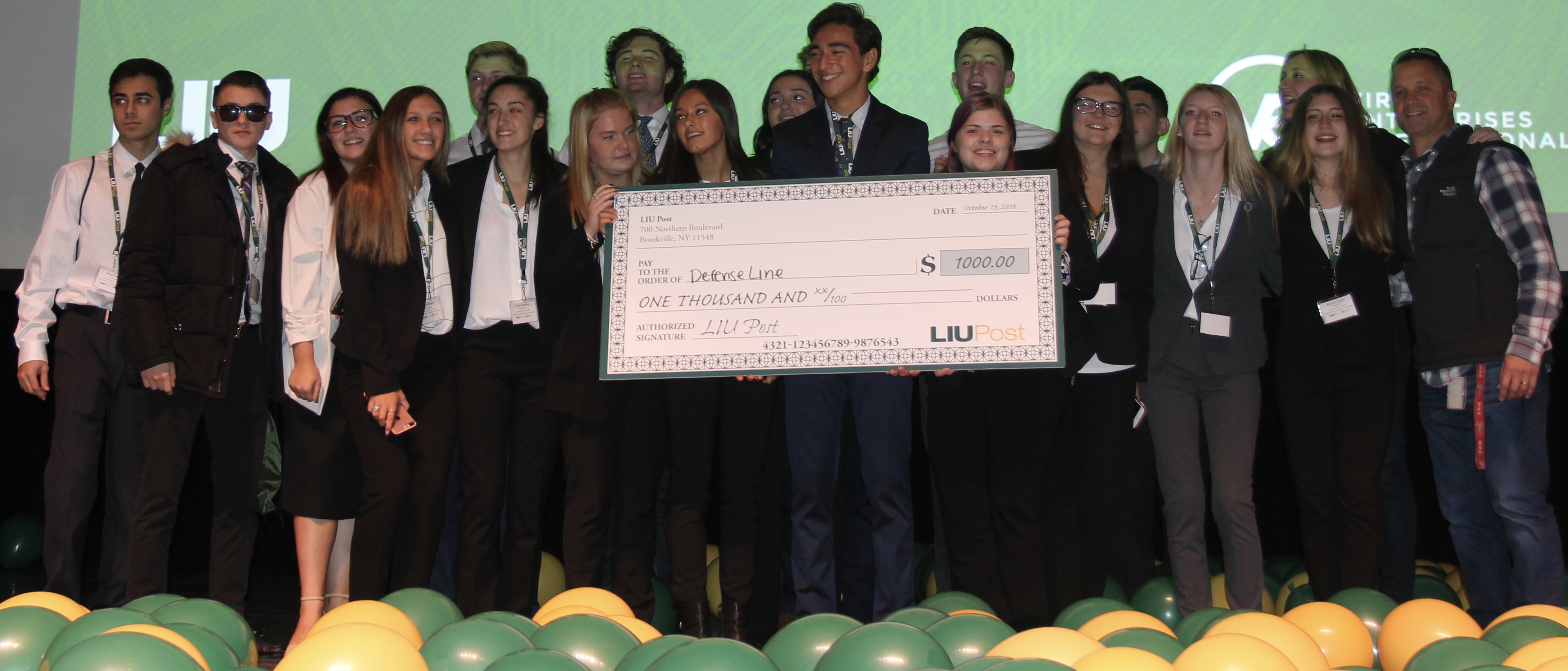 More than 1,500 students from over 60 high schools on Long Island came to the Brookville campus on Oct. 19 to see who'd win the Elevator Pitch Contest sponsored by LIU Post and Virtual Enterprises International at the Business and Entrepreneurship Leadership Conference.
For making a successful pitch in a New York minute, the top three winners would receive generous cash prizes for their schools' enterprises. The products being promoted ranged from a brand-new mix of pretzels to a date-rape drug detector. It's the third time LIU Post has hosted this event.
The first rounds of the contest took place at the Gold Coast Cinema and the Krasnoff Theater in Hillwood Commons, the Main Stage at Tilles Center, and the College of Management Incubator in the Library.
Following the morning sessions that featured panel discussions on key business issues, the students eagerly filled Tilles Center's auditorium for the final pitch contest on the Main Stage and then the awards presentation. The place was rocking with anticipation as if it were a sporting event, and not a virtual business competition. While the contestants waited for the judges to make up their minds, they were treated to a pitch for attending LIU made by Dean Scholars Matthew Betz, Angeline Carlo, Teji Vega and Samantha Piccolo.
The 13 finalists were "Coffee Cubed" from Wantagh High School, "DefenseLine" from Calhoun High School, "OronEats" from Southold High School, "Glow Games" from Mattituck High School, "Munchkins" from Clarke High School, "Poppy" from Huntington High School, "Sweet Obsession" from Elmont High School, "Stealth" from Bethpage High School, "The Party Project" from Herricks High School, "Tota Vita" from Syosset High School, "What's in the Box?" from Centereach High School, "WorldWide Water" from Longwood High School and "Outlast Outerwear" from Carle Place High School.
Choosing the winners was no easy task, as Iris Blanc, executive director of Virtual Enterprises International, made clear. The judges and panelists included Dr. Kimberly R. Cline, president of LIU; Dr. Edward Weis, vice president for academic affairs, LIU Post; Dr. Robert Valli, dean of the College of Management, LIU Post; Graziela Fusaro, assistant dean, College of Management, LIU Post; Ray Pullaro, interim dean, School of Business, Public Administration and Information Sciences, LIU Brooklyn; Chuck Garcia, assistant dean, School of Business, Public Administration and Information Sciences, LIU Brooklyn; Chris Bates, adjunct professor, College of Management, LIU Post; Stacey Denoyior, vice president, national sales, Broadridge Financial Solutions; Kimberly Branch, vice president of marketing, American Portfolios Financial Services; Lisa DiBella, vice president of human resources, American Portfolios Financial Services; Melissa Grappone, vice president of marketing and corporate communications, American Portfolios Financial Services; Tim Howe, COO, Spectrum Designs Foundation; Michael Katz, co-chief executive officer, Sterling Equities; Jay Lewis, co-founder, president and CEO, Nathan & Lewis Securities; Marie Moody, founder and CEO of Stella & Chewey's; Mary Pisarkiewicz, founder and chief creative officer, MSI Media Group; Edward P. Nallan, Jr., SVP, loan supervisor, middle market banking-metro New York, Wells Fargo & Company; and Adrian Kerrigan, president, Xavier Society for the Blind.
Announcing the final results produced cheers, shouts and hugs in the aisles as the exuberant winners made their way to the stage. Calhoun High School's project team led by Brenden Rosario, who came up with the concept for "DefenseLine," won a $1,000 check for first place. Herricks High School's "The Party Project," led by Yashi Ladhani, came in second, and received a $500 check. In third place and getting a $250 check was Syosset High School's "Tota Vita," led by Ethan Feder.
Asked who was involved in his firm's winning entry, Calhoun High School senior Brenden Rosario beamed, "Everyone!" He credited sophomore Christie McBride for coming up with the concept for DefenseLine, which would market a line of products like key chains and nail polish that would turn different colors in the presence of a date-rape drug.
"I saw the idea of nail polish that changes colors," she explained. "With college coming around the corner, parties will be part of our life style and safety will be our No. 1 priority."
Rosario said the prize money would be invested in the company.
"I thought it was the best idea because it was not only original, but it was also realistic," said Dean Valli afterwards. "A lot of times you can get a great idea, but how realistic is it to implement?"
Located in Merrick, N.Y., Calhoun High School can claim to at least one very noteworthy entrepreneur: Ben Cohen of Ben & Jerry's ice cream fame.