There was twice the talent on campus earlier this month when twins Kora and Ava Duvall made the trip from Kentucky to LIU Brooklyn to tour the Performing Arts program.
Kora and Ava, currently seniors at the Youth Performing Arts School in Louisville, Kentucky, have been accepted to the new B.F.A. in Acting for Theatre, Film & Television at LIU Brooklyn. Starting next year, LIU Brooklyn's acting program will provide conservatory-style training, focusing on stage, camera, film and television acting with the students' future careers in mind.
While on campus, the twins and their mom were escorted by Elin Eggertsdottir, director of Performing Arts at LIU Brooklyn, and greeted by Scott Krawczyk, the Dean of the Richard L. Conolly College of Liberal Arts and Sciences. First, they saw LIU Brooklyn's on-campus TV Writer's Studio (TVWS), created by Emmy-Award winner and "Blazing Saddles" screenwriter Norman Steinberg. The fully equipped studio provides a space for real-world television acting experience.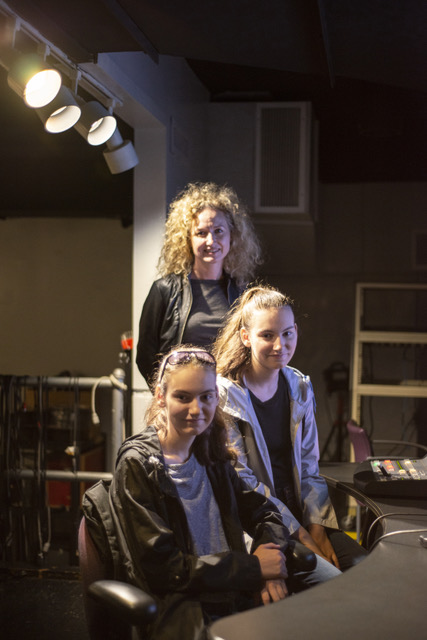 Later Kora and Ava had the opportunity to explore Kumble Theater, LIU Brooklyn's 320-seat venue. The twins also got a behind-the-scenes tour of Paramount Theatre, which is undergoing renovation. From 1928-1962, the Paramount served as a live performance venue where artists such as Frank Sinatra, Ella Fitzgerald and Miles Davis appeared.
Near the LIU Brooklyn campus is an array of other popular performance spaces, including Brooklyn Academy of Music (BAM); Theatre for a New Audience (TFANA); Brooklyn Arts Exchange (BAX); The Independent Film Industry; and Steiner Studios, which is Brooklyn's Film and Television production and support facility.
LIU Brooklyn has formed a partnership with The New Group, a theater-company based in Manhattan. In the new Acting B.F.A program, students will study with faculty members and The New Group. One highlight of their visit was the chance to see The New Group's production of "The True," starring Edie Falco and Michael McKean.
Kora and Ava were enthralled by the artistic opportunities at LIU Brooklyn. "I like how welcoming the whole environment is," Kora said, "and how much freedom all the students have." Ava said she noticed "how much the teachers care about the artistry of the individual student."
In the photo above, LIU Brooklyn's Elin Eggertsdottir gives the twins a behind-the-scenes look.