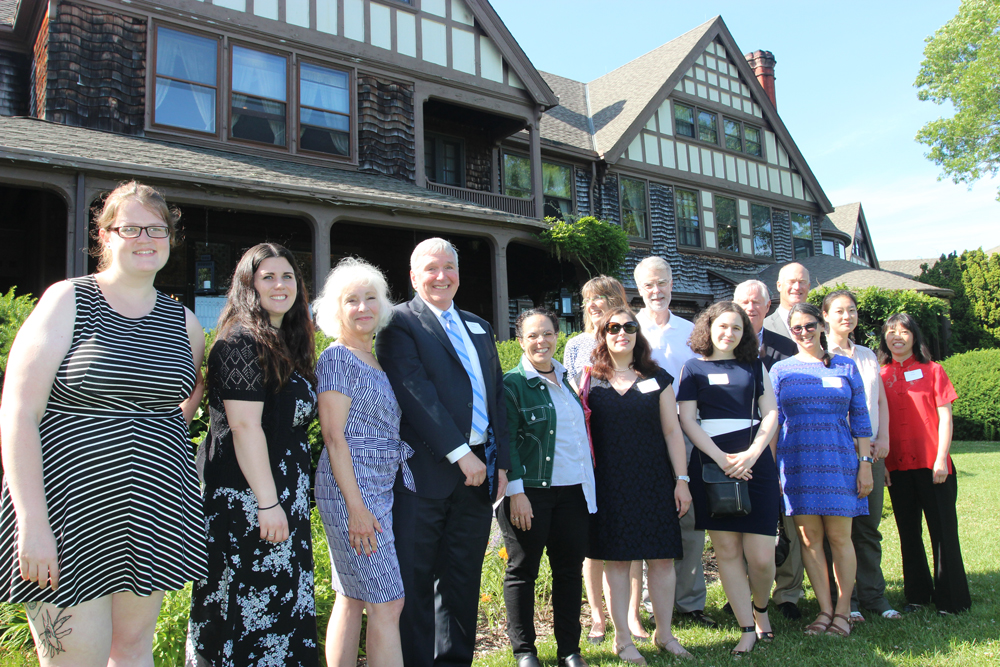 By using state-of-the-art digitizing equipment, more than 20,000 images from Long Island's historical societies are now preserved forever.
LIU's Palmer School of Library and Information Science couldn't have asked for a more perfect summer afternoon to kick off the inaugural Gardiner Foundation Symposium held at the historic Bayard Cutting Arboretum estate, with a gentle breeze blowing off the Connetquot River on Long Island's South Shore.
The event, held on June 26 at the 600-plus-acre New York State Park in Suffolk County, celebrated the first year of the Digitizing Local History Project, an ambitious archival program funded with a $1.5 million grant from the Robert David Lion Gardiner Foundation and administered by the Palmer School at LIU Post. Gathered at the Upper Carriage House on the arboretum's spacious grounds in Great River were foundation board members; students, faculty, and staff; as well as representatives from many of Long Island's historical societies and public libraries.
"From Huntington to the Hamptons, from Fire Island to Gardiners Island, the history of Long Island is rich and varied," said Dr. Kimberly R. Cline, President of Long Island University, as she welcomed the invited guests. "Through the Digitizing Local History Project we are now bringing that history to life."
Dr. Cline singled out the vision of Kathryn M. Curran, the Gardiner Foundation's executive director, for helping to make sure that "so many treasures that might have been lost will be preserved for future generations." And she also praised the project's director, Dr. Gregory S. Hunter, a nationally renowned archivist, who has helped the Palmer School become "a national leader in library and information science." Dr. Hunter was part of the team that built the Electronic Records Archives for the National Archives and Records Administration in Washington, DC.
"We're lucky to have him," said Dr. Cline.
"Mother Nature has been very kind to us today," observed Dr. Hunter, smiling broadly. He serves as the director at the Palmer School of Library and Information Science's Ph.D. in Information Studies and the Certificate of Advanced Study in Archives and Records Management. The digitization project's goals, he explained, are to safeguard Long Island's historical materials, increase access to the materials, and give Palmer School students the necessary technical skills for their professional careers.
Thanks to the grant, Dr. Hunter was able to set up a graduate student class of Gardiner Foundation fellows.  Master's and Ph.D. students receive six credits of tuition remission for each semester they participate in the project. Dr. Hunter was also able to purchase the DT Atom, a state-of-the-art digitization system that can be adapted to handle a wide range of materials. "I've yet to see a better scanner on Long Island," he said.
When the program started in the fall semester of 2017, there were six master's students, two doctoral students and two faculty members, including himself and Information Studies Professor Dr. David Jank. Students worked on-campus and in the field. Since its inception, the program has now captured more than 20,000 images and accumulated 4 terabytes of data from the collections of about a dozen historical societies. And they've only just begun.
Dr. Hunter outlined the scope of the project, currently funded through 2022.
"I'm not building a collection for me or for Long Island University," he told the audience, adding that the local groups retain control of their archival material. "Let the historical societies do what they want with the images. At no cost, they can get their materials preserved in a cloud-based archival system called Preservica."
One of those who spoke at the symposium was Kelsey Renz, a member of the initial group of students dubbed "the Pioneers" to honor the Post mascot as well as their trail-blazing efforts. She is about to finish her Master's Degree in Library and Information Science this summer and receive her Certificate in Archives and Records Management. With fellow Palmer graduate student, Drew Fullshire, who received his master's in January, they went to the Southold Historical Society and Sagtikos Manor in Bay Shore, working carefully with very fragile materials. At Sagtikos Manor, they scanned a ceremonial ribbon distributed at President Abraham Lincoln's funeral procession.
Through this process, Renz said she got an experience she never would have had just in the classroom. But that's not the only benefit. "Long after I'm done working on this project," she added, "I'll know that many people will have access to these resources—and the originals will be in good shape without any further damage. Of course, this would not have been possible without the Gardiner Foundation and we're so grateful for their support."
Among the participants in the digitization project who spoke at the symposium was Evelyn Vollgraff, president of the Lake Ronkonkoma Historical Society, one of the smallest societies on Long Island. "Our main goal was to bring the history of Lake Ronkonkoma to our community," she said. "Without this program it would have been impossible for us."
"What we're doing is timeless!" enthused Dr. Hunter. "Thomas Jefferson saw the need for it, Lin-Manuel Miranda saw the need for it. Really what we're trying to do is use this project to tell the stories of Long Island."
Newsday highlighted the local interest in the ongoing project with its coverage.
For more information about the Digitizing Local History Project, contact Dr. Gregory S. Hunter at LIU Palmer School by clicking here.