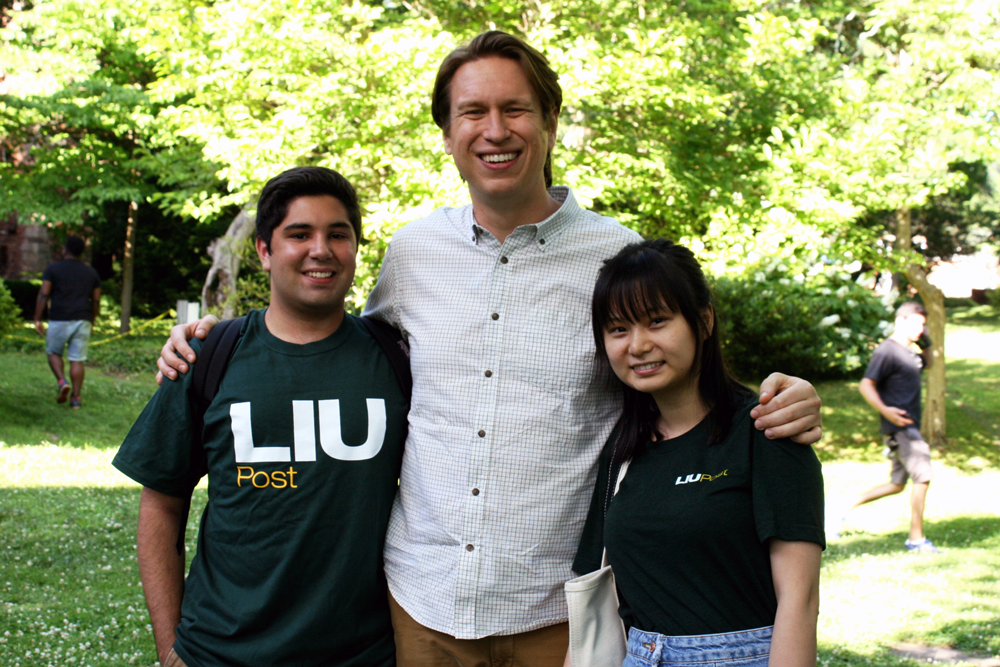 For the third time in as many months, a popular television star has filmed their latest project on LIU Post's scenic campus.
On Monday, June 25th, standup comedian Pete Holmes visited LIU Post to shoot a scene in the gardens for his hit HBO show Crashing, which is produced by Long Island native Judd Apatow, who grew up in Woodbury. Holmes is the creator and primary writer for the semi-autobiographical show, now shooting its third season. He's been a Late Night TV regular appearing on Comedy Central, VH1, Conan O'Brien, and "The Tonight Show Starring Jimmy Fallon."
In Crashing, Holmes plays himself, depicting a fictionalized version of his own personal struggles in the past of trying to make it as a comic after an early divorce. Other well-known standup comedians make recurring appearances, including Sarah Silverman and Artie Lange.
"My parents still have no idea how this is a comedy!" Holmes told Yahoo last year. His show just finished its second season in March.
Current LIU Post students, Matthew Betz of California and Sue Ye of Shanghai, China, both Accounting majors, got the chance to meet and talk to Holmes during a break on the set. No word yet on the specifics behind the scene, but Barnes and Ye should expect some familiar sights if they tune in for Season 3.
Earlier this month, the Emmy-nominated Netflix comedy Unbreakable Kimmy Schmidt, starring Ellie Kemper, filmed at the Humanities Hall on the LIU Post campus. In May Will and Grace star Sean Hayes shot scenes for his new movie at the Winnick House and in the rose arbor nearby. Other television shows that have filmed at LIU Post include Royal Pains, Madame Secretary and Blacklist.
LIU Students are often able to meet actors and the production team on set and even gain experience by volunteering or participating in some capacity. In this instance, one might call it a crash course.