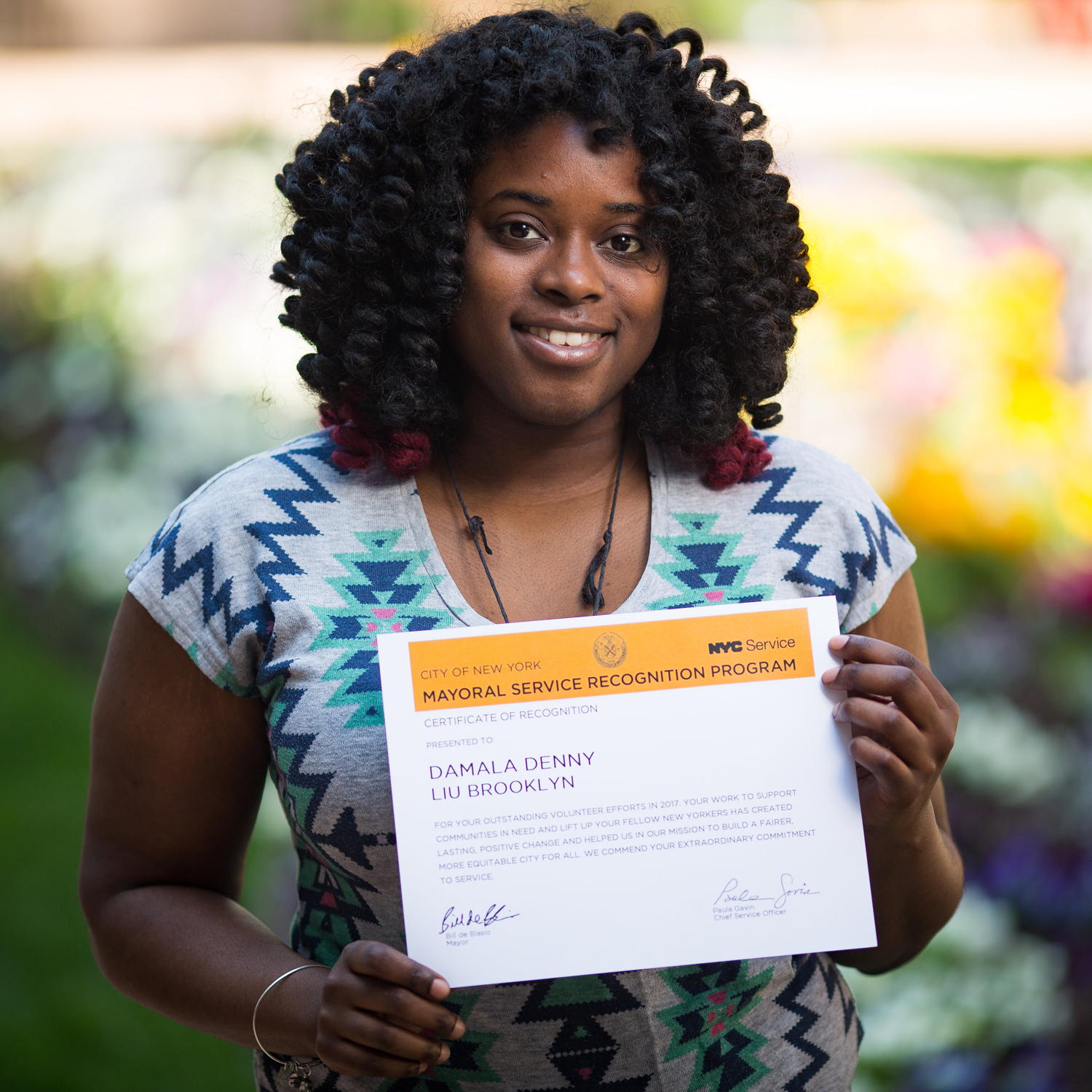 Five LIU Brooklyn students have been recognized by the City of New York for their outstanding volunteer efforts in 2017.
Thanks to their selfless endeavors on behalf of others, Alexis Rodney, Esther Smalling, Marisa Fuentes, Damala Denny and Thelma Herbert received honorary certificates from the City of New York Mayoral Service Recognition Program, signed by Mayor Bill de Blasio and Chief Service Officer Paula Gavin.
"I've loved being involved in community service throughout my time at LIU Brooklyn," said Damala Denny. "One of my favorite experiences was Jumpstart For A Day. I was able to introduce children to new activities related to books they love. Making real world connections to reading makes learning fun for all!"
"I really enjoy participating in community service because of the warmth I feel in my heart from helping others in need," exclaimed Marisa Fuentes.
"Volunteering at LIU has helped me realize that it is an essential part of preparing me to take responsibility as an open-minded, principled citizen in a global community," added Esther Smalling.
The Mayoral Recognition program honors volunteers and board members who contribute 500 or more hours of volunteer service to NYC organizations in 2017.
"For your outstanding volunteer efforts in 2017, your work to support communities in need and lift up your fellow New Yorkers has created lasting positive change and helped us in our mission to build a fairer, more equitable city for all," the certificate reads. "We commend your extraordinary commitment to service."
For the many opportunities LIU Brooklyn offers students who want to serve the city, the university is listed in the NYC Service program's 2017 Volunteers Count report.
NYC Service, a division of the Office of the Mayor, launched in April 2009 in response to President Barack Obama's national call for volunteerism. New York City was the first "City of Service" and since NYC Service launched, over 200 U.S. cities have joined the Cities of Service network.