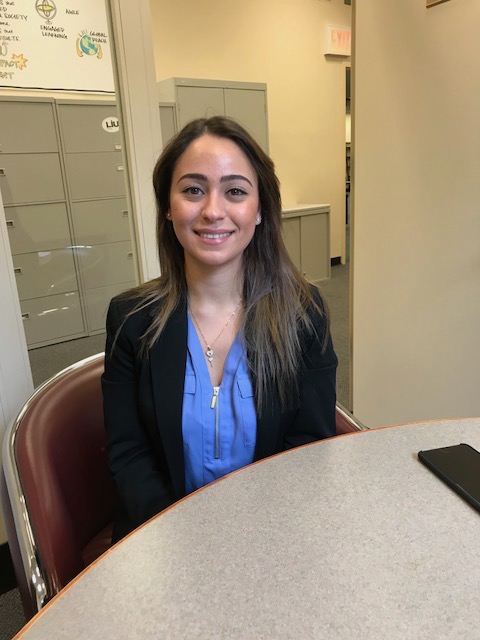 Julia Raie came to LIU Post as a student who knew exactly what she wanted.  She enrolled in LIU Post's School of Professional Accountancy — part of its prestigious College of Management — because of its established network with the Big Four accounting firms.
Excelling in her studies, Raie approached her Accountancy professor Dr. Jeffrey Hoops, a former partner at Ernst and Young, for an internship opportunity with the prestigious corporation. Dr. Hoops connected Raie with key associates who facilitated the challenging entry into this exclusive program, which included an interview for the EY Emerging Leaders Program, a three-day session that consisted of formal meetings and interviews within the company, attendance at a professional baseball game, and a barbecue at a partner's home.
"The whole process was like an informal interview – although there were formal parts where we had to interview, there were informal parts where they were watching how you would behave in different settings," Raie said. "Like the baseball game was informal where we were dressed in jeans and a t-shirt, but the whole process was an interview so we were on our toes."
Raie shined in the Emerging Leader's Program and was accepted into the discriminative summer internship program that commenced with a week-long training in Chicago, where interns were introduced to a rigorous learning session that prepared them for the work ahead. They were taught the specific systems practiced by Ernst and Young, the rules and regulations, and the tax code information that they put to use throughout the summer. Each intern was assigned a mentor to help navigate the corporate atmosphere, creating an ideal learning environment.
Raie knew that she wanted to work in international tax law and was therefore assigned to that department, where she gained valuable experience meeting with clients and inputting data. Ernst and Young concluded the internship period by sending the students to Orlando for four days where they experienced more training, along with visiting Disney World and meeting with partners, senior managers, recruiters and Marc Weinberger, Global Chairman and CEO of Ernst and Young.
Today, Raie has her BS degree in Accountancy, and she is forging ahead through LIU's accelerated Global MBA program with a coveted internship experience and a full-time position awaiting her at esteemed Ernst & Young.
"This two-month process confirmed that this is what I want to do and this is the company I want to launch my career from," Raie said.
The job offer confirms that the feeling is mutual.