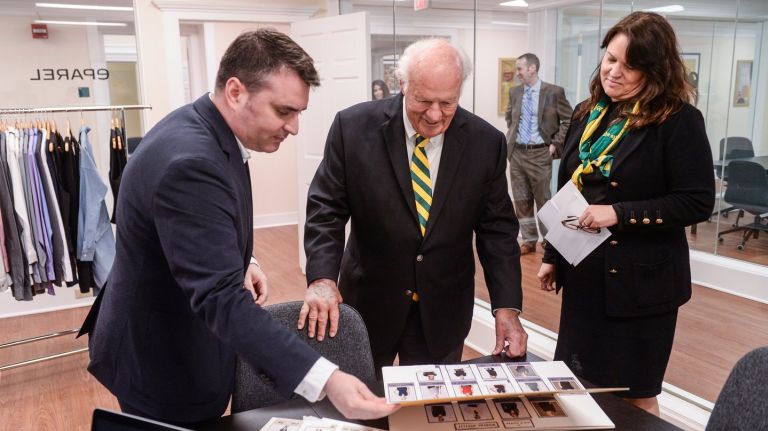 The businesses located within the T. Denny Sanford Innovation and Entrepreneurship Institute are contributing to the vibrant culture of entrepreneurship at LIU Post.
The T. Denny Sanford Innovation and Entrepreneurship Institute, located in historic Bush-Brown Hall, is the first high-tech business incubator in our community connected with a nationally-ranked business school, and is stimulating economic growth and development through new company formation and incubation, creating local jobs, and linking companies with entrepreneurial and experiential learning programs at LIU Post.  It is the result of a powerful public-private partnership made possible through New York State and celebrated philanthropist and entrepreneur, T. Denny Sanford.
It affords businesses access to both a student and faculty population. Both provide valuable resources: the students are a workforce invested in learning business skills from the ground up; LIU Post College of Management faculty members came from widely successful careers in business and finance and provide mentoring expertise as well as valuable contacts within related industries.
We spoke with the founders of three of the companies in the incubator– Sage Marketing, The Kobi, and eParel– to see learn more about their plans:
Kevin Schiesz, eParel
Can you give me a brief summary of your business?
eParel, L.L.C. administers an innovative web-based uniform platform that serves as a management tool for hotels, restaurants, and catering companies. Our Bib & Tucker apparel line empowers employees to take charge of their appearance with comfortable and stylish uniforms. Our proprietary technology makes managing uniforms simple, saving employers time and money.
Where are you now?
We're in our soft launch phase, and have been working deliberately with a small number of clients to refine our product.
What do you hope to achieve?
Over the next year, we envision working with a small group of LIU student interns to canvas hotels and restaurants in Manhattan and Brooklyn—door-to-door with tablets in hand. We also have plans for a small, pop-up showroom akin to a Bonobos "Guideshop." Once there, prospective clients could view samples and employee-customers could try on garments from our capsule collection, shop accessories, and leave garments for alteration.
Why were you interested in working in the incubator space?
The extraordinary commitment to entrepreneurship and innovation at the highest level of the University, through the vision of Dr. Cline and leadership of Dr. Valli.
What are you looking to get out of it? How can LIU help you get to the next level?
Just-in-time intellectual capital from the many disciplines on the Post campus, including management, accountancy, computer science, and fashion merchandising. Also, support and direction from advisors in LIU's vast alumni community who have experience building successful companies.
 Andrew Ewen, The Kobi
Description of our business:
Robotics is a trend that has now undeniably entered almost every industry imaginable. Currently, many robotic developments are still in their beginning stages; however, the robotics industry is set for rapid growth with more complex robots. At The Kobi Company, we are at the forefront of this robotics transition with our multi-functional, scalable, robotics platform that will disrupt the lawn and garden, agriculture, construction, golf, cleaning and mining industries, just to name a few.
Why the LIU Incubator:
One of the reasons why we chose the LIU Incubator is because they were the most responsive of all the five incubators we reached out to. Additionally, as their Incubator program is relatively new, we felt we could help to shape it. Most importantly, the opportunities offered by the LIU Incubator were more in synch with the strategic endeavors of our company.
Where are we now and what we hope to achieve:
We are currently beta testing our lawn module and will be rolling out a minimal number of products for next summer for some advanced beta testing. Our goal is to disrupt the manual labor space by creating efficient automated solutions to meet the needs of commercial and residential consumers. How will we do this? We aim not to outperform competitors but to understand how to deliver a leap in value, via value innovation, to buyers.
Dan Klein, Sage Marketing
Description of the business:
 Sage Marketing provides turn-key branding and digital marketing support for small businesses and entrepreneurs. We are currently working in the financial services, real estate and healthcare industries.
Mini Biography:
Two founders – Dan Klein, President and CEO has over 25 years of experience working in financial services and has worked with thousands of financial advisors all around the country helping them to grow their businesses within the warehouse and RIA channels. Stephen Finkel (CFO), was just in profile magazine as one of the top CFOs in NY has been a CFO for many years and was previously the CFO of a national company with over $ 300 million in sales.
Why you choose LIU Incubator:
We believe that aligning with the thought leadership at LIU will help us grow faster. We are also excited to work with the students at LIU by providing internships which will equip them with practical experience while they are studying at LIU. The digital marketplace is changing so rapidly and we can introduce these new tools to the students to help compliment what they are learning in the classroom. Dan and Stephen are also alumni of LIU and are excited to be back on campus. We hope that by partnering with LIU we will have credibility as we speak to potential new clients as well as having great thought leadership around us at the college to help guide us as we look to expand our business.