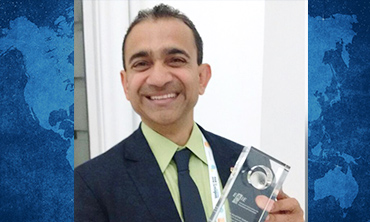 Dr. Deosthale's professional journey has taken him across the globe in academia, into the start-up world of Silicon Valley, and back home to higher education at LIU where his unbridled enthusiasm is matched only by his vast experience and deep expertise.
Dr. Deosthale is the co-Founder & former Vice President of the Silicon Valley-based Admission Table and the former Dean and Professor of Humanities & Interim Dean at the School of Business at Manipal International University in Kuala Lumpur, Malaysia. He has served as Vice President for International Education at the Manipal Global Education (India) and oversaw all international education initiatives of the Manipal group of universities in India, Dubai, Malaysia, Nepal, and Antigua. He was President of the New York-based study abroad company KEI (Knowledge Exchange Institute) and has been a professor at both Marist College and the University of Alabama at Birmingham and worked as a visiting professor (MBA program) at the Fachoshule Tecnik Esslingen, Germany.
Dr. Deosthale believes that a global experience lends itself to a multitude of skills that transfer into a post-graduation life and career, including communication, entrepreneurship, and a renewed focus on diplomacy and international relations, which are more important than ever. In creating true global citizens, the whole world opens to possibility.
LIU Global provides exactly that pathway—offering a four-year global educational journey unmatched by any other university. LIU Global students are fully immersed in the cultures of eight or more countries on five continents through a unique program that combines classroom instruction, field study, and professional internships. This makes LIU Global's Bachelor of Arts degree in Global Studies the only one of its kind in the world.
What brought you to LIU?
In the last several years— and in my past life in academia—I encouraged students to go abroad. They would start off with a few weeks, then a semester. Some would go for a year. And some would make the unusual request, asking if they could enroll in a third semester? So obviously, there is great interest from students. When I found out about LIU and the program here, I said, "Wow! This is amazing. Is this a new program?" I found out that
LIU Global has existed for several decades. It was a coming together of my personal belief in terms of what students should be doing and how it would be beneficial to what is happening around the world today.
Why is it important for students to travel abroad?
We live in a truly a global society. There should be no boundaries and no limitations. We are human beings, and we need to create a seamless society. But, for that
to happen, we need to understand that every society, every country, every culture, every human being, and every family has elements which makes them different. You need to be able to live in that. Scratch the surface. Go deeper. Get uncomfortable. I always say, get more uncomfortable and you will find out more. Because when fear dissipates – the desire to learn becomes that much stronger. When you start appreciating this, you realize that the person on the other side is probably feeling the same way. If we all have our defenses up, we will never understand each other. When you learn how to let your defenses down, you realize that it is not a scary world. It is a world of people; we just need to understand them. We must communicate with them, engage them, be in touch with them, reach out to them–allow a two-way dialogue to happen.
What kinds of careers do you see for graduates of LIU Global?
LIU Global Graduates have gone on to secure positions with leading organizations including the United Nations, OXFAM, UNICEF, the Earth Institute, the World Health Organization, The Metropolitan Museum of Art, and many international nonprofits concerned with the developing world. They have built successful careers as linguists, analysts, scientists, journalists, teachers, social workers, diplomats, and professors. Many of our alumni have pursued graduate degrees in a variety of fields.
LIU Global creates tremendous opportunity to network across the world. When you look at the details of the program, you will see we have many opportunities to engage with local businesses, communities, governments, and the arts. We encourage each student to cultivate and move in the direction of whatever they feel is important and relevant, impressive, fascinating, or exciting for them.
Can you think of a place you visited where the culture initially intimidated you?
Many years ago, I developed a program on AIDS in South Africa for the NIH. I had an opportunity to go there and set up the program. I was studying how widespread the disease was and how it impacted communities, particularly, isolated communities.
I wanted to explore the life of Zulus in South Africa, so I spent several days with
a family in a Zula homestead. I was placed with a very large patriarchal family–in a very isolated and remote area. There was no TV, no electricity, barely any running water, and to top it all off, none of them spoke English! I spent several days with them—doing a lot of pointing and gesturing and smiling, trying to figure out what everyone was trying to say. It was a very challenging situation.
But, it was truly exciting and remarkable.
I learned a lot, and came away humble, learning that happiness and survival and things that we look at from our perspective are very different in remote cultures. There is an abundance of peace, quiet, tranquility, happiness, and excitement. All the things we are looking for, but prioritized differently in everyday life. The Zulus do much of the same things that we do, but we have our urban trappings. There, they have no limitations.
We are our own limitation.