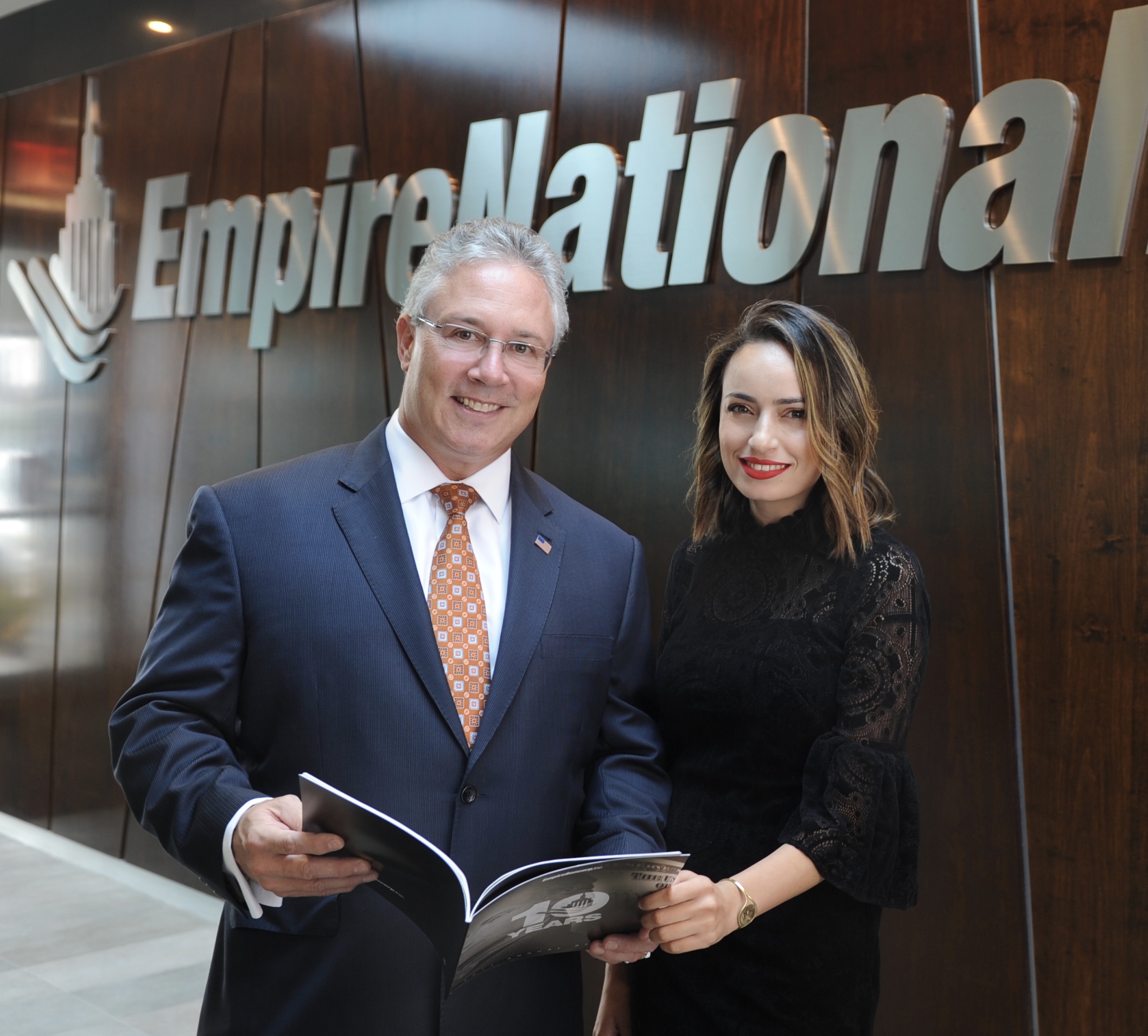 Thanks to LIU Post alumnus and University Trustee Thomas M. Buonaiuto, president and Chief Operating Officer of Empire National Bank, Asma Khadhraoui, who came from Tunisia on a Fulbright scholarship to earn her master's degree in accounting at LIU Post, got a coveted internship at the community bank so she could put what she'd learned here to good use after her graduation.
She had always wanted to attend LIU because of its high ranking in accounting.
"LIU Post was my first choice," said Khadhraoui. She credited Dr. Robert Valli, Dean of the College of Management, with helping her connect with Buonaiuto (Post '87).
"It's not easy for Fulbright Scholars to get internships after graduation," she explained. "If the organization feels it is not the right fit or will not provide a good educational experience, they won't approve the position." She was very grateful that the Fulbright Program, which is run by the U.S. Department of State's Bureau of Educational and Cultural Affairs, approved her internship so she could remain on Long Island.
"I felt right at home when I first met the bank's president, Tom Buonaiuto," Khadhraoui said. "The entire staff also welcomed me with open arms. Coming from a different part of the world and from a very different culture, it was very comforting."
Serving as a University Trustee as well as on the College of Management's Executive Board of Advisors, Buonaiuto welcomed the opportunity to "give back" to the LIU community by creating a position for her.
"As a LIU Post alum, I can speak to the educational foundation I received at the school," he said. "It has been a mainstay throughout my professional career."
During her internship, Khadhraoui worked with the senior vice president and director of marketing and investor relations to help create a 10th anniversary product brochure for the bank. Under the guidance of Senior Vice President and Co-Chief Credit Officer Raffaella Palazzo, she also handled background checks, loan renewals, credit reports and compliance with new banking regulations.
"She joined us in a particularly busy season and was a quick learner and always eager to help," said Palazzo. "She demonstrated excellent prioritization skills in managing projects and daily work assigned."
"Working in a community bank provided me a great opportunity to learn many aspects of the industry," Khadhraoui said. "I would not have gotten such a well-rounded education in a larger financial institution."
Buonaiuto was glad he could help support this LIU alumna in this early stage of her career.
"It is my hope that the collaboration I set in motion between LIU and Empire National Bank will pave the way for other successful graduates to embrace the culture of 'giving back' to their alma mater," he said.
After volunteering at the United Nations in New York, Khadhraoui was offered a job as a finance assistant at a UN agency based in Tunisia. Having started in October, she's glad she has the chance to help her native land.
"Being part of the positive change in my country and all around the world gives me a sense of accomplishment," she said, "and pushes me to be the best version of myself personally and professionally."