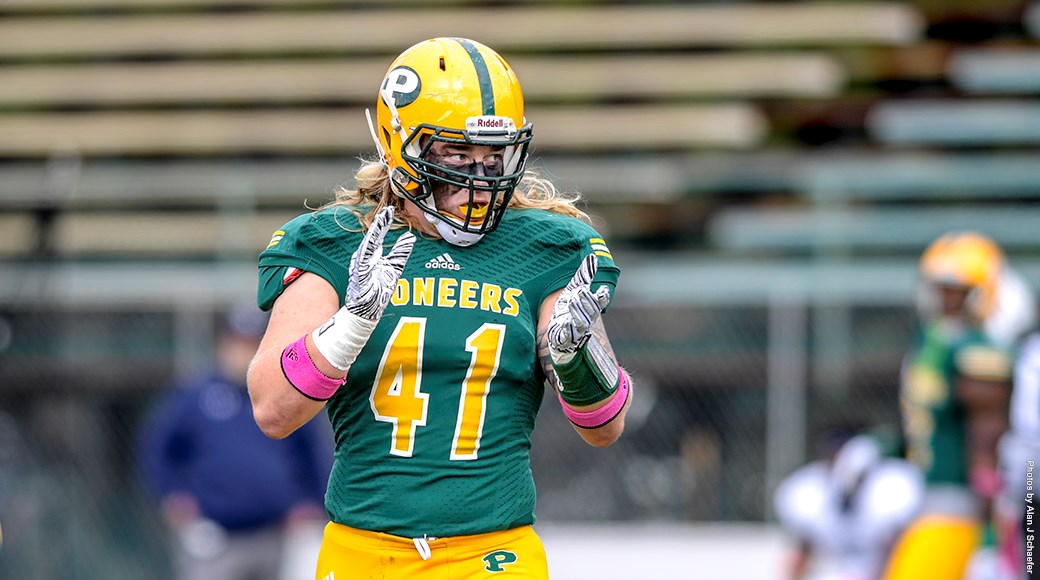 The LIU Post Pioneers football team are one win away from going undefeated in 2018. But their last game of the season won't be a walk in the park. This Saturday they play at home for the Northeast-10 Conference title against the University of New Haven—and both teams are 8-0 as they prepare for their final showdown.
As LIU Post Coach Chris Collins told Newsday, "I think the kids are happy with where we're at right now. We're hitting our goals with one game left in the season."
On Nov. 3, the Pioneers beat Northeast-10 rival Southern Connecticut State University 24-13 on the road. The win at Jess Dow Field gives the Pioneers a new program record: 14 consecutive victories.
Post quarterback Chris Laviano completed 17 of 28 passes, including two touchdowns and one interception. Receiver Michael Richardson made both touchdown catches. Running back Jonathan DeBique rushed for 114 yards on 21 carries. His teammate, primary back Malik Pierre, had 18 carries for 54 yards and a touchdown.
As Newsday reported, the Pioneers' two running backs bring different styles to the gridiron, in no small part, Collins explained, because DeBique has a bigger physique than Pierre.
"Malik is a shifty, move-people-around type of back," Collins said. "Jonathan is more of a slashing type of running back that gets down to pad level very well and is powerful."
All told, the Pioneers are 9-0 overall, and 8-0 in the Northeast-10 Conference.
One key to their winning record is the skillful performance of their talented quarterback, Chris Laviano.
"We've had two weeks in a row where it's become very challenging to put the ball in the air," said Collins, adding that the QB had to combat wind gusts of up to 45 miles an hour. "Chris has such a good arm and tight spiral that he's able to throw a little bit better than other quarterbacks when they have wind conditions like this. It was hard to play but I thought he was great."
The forecast for Saturday's game is partly sunny, windy and turning colder as the day goes on, with some gusts of wind up to 45 mph. The kickoff is slated for noon at Bethpage Federal Credit Union Stadium. The NCAA Division II playoffs begin Nov. 17. According to Newsday, the Pioneers were ranked third in Super Region 1.