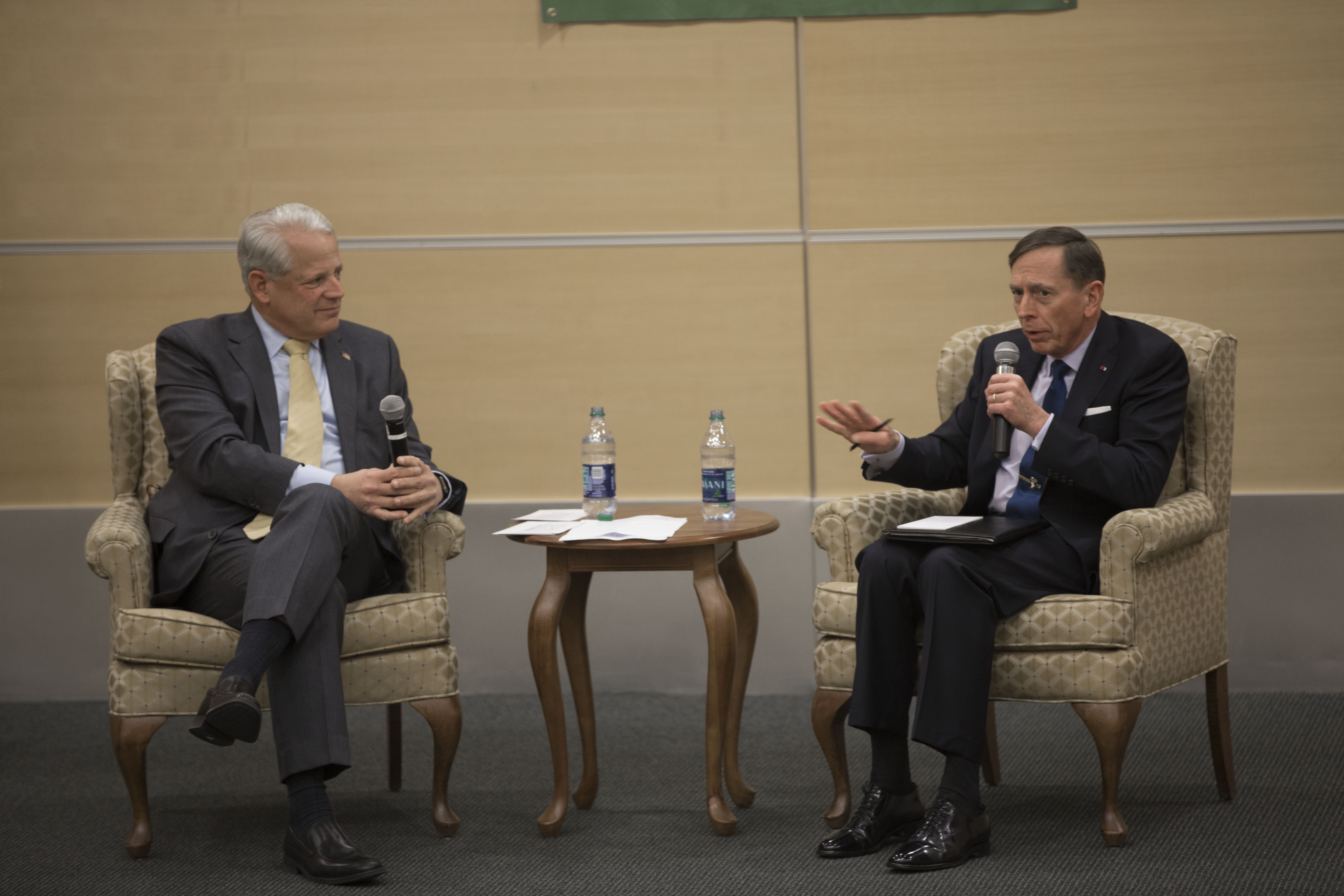 BROOKVILLE, N.Y. (December 7, 2017) — The Global Institute at LIU hosted General (ret.) David Petraeus at Humanities Hall on the LIU Post campus for a conversation with the Institute's Chairman, former Congressman Steve Israel.
General Petraeus is a partner in the global investment firm KKR, chairman of the KKR Global Institute, a Judge Widney Professor at
the University of Southern California, a member of the board of Optiv (a global cyber security solutions provider), and a personal venture capitalist.
Congressman Israel began the program by discussing the critical role the Global Institute at LIU plays in the region. Congressman Israel explained the deep perspective he gained on global issues as a member of Congress because of the firsthand access he had to world leaders who could explain the complexities of different issues.  He noted that when he left Congress, he wanted to create a forum for our region to have access to that insight that proved so valuable to understand a complex world.
"So we set up the Global Institute as a place to understand what is happening in the world and understand it not from whichever tribal media that you happen to watch or listen to, not from tweets and not from Facebook, but from the people who have been at the center of gravity of those challenges and the people who continue to be at the center of those challenges," Congressman Israel said.
General Petraeus spoke with Congressman Israel about the global conflicts that the United States has and continues to face in a lengthy Q&A, including threats from ISIS and North Korea. He noted that ISIS will remain a threat even after they cease occupying physical space because of the threat they pose in cyberspace, and how we will need to adjust to that challenge.  And while he laid bare the stark challenges we face as a nation and a world in light of those threats, he also made a point to discuss how optimistic he felt.
"How can you not be optimistic, especially on a college campus on Long Island's Gold Coast?" he asked.
After taking many questions from an audience primarily composed of  veterans and students, along with members of the community and political leaders, General Petraeus answered what he believed was the important unasked question of the night: What have we learned from the last 16 years of war since the events of September 11, 2001.
"I think there's lessons," he said. "And I think if you accept these, that the policy that falls out is actually very straightforward and this is also a lesson perhaps for the students in here of why you want to get the overarching big ideas right up front. So, for example with the surge in Iraq, the surge that mattered most was not the addition of forces, but the surge of ideas. We changed all the ideas of what our strategy had been 180 degrees. For one example, securing the people was job one. And we recognized that you could not secure the people by doing what we were doing, which was consolidating them on big bases and getting out of the neighborhoods. We had to go back into the neighborhoods and we ended up establishing seventy-seven more locations."
That adaptability speaks to what Congressman Israel had mentioned in his introduction: that instead of focusing on "hardware," he instead put resources into feeding the intellectual minds of the soldiers and worked on changing hearts and minds on the ground.
Prior to joining KKR, General Petraeus served over 37 years in the U.S. Army, including command of coalition forces during the Surge in Iraq,
 command of U.S. Central Command, and command of coalition forces in
 Afghanistan. Following his service in the military General Petraeus served as Director of the Central Intelligence Agency.
"General Petraeus is a longtime friend and colleague I am honored to host at Long Island University," said Congressman Israel. "His wealth of experience in global affairs is virtually unmatched and brings depth and perspective to the global conflicts in the past and how what we've learned can help mitigate our involvement in the world going forward."
Congressman Steve Israel is Chairman of the Global Institute at Long Island University, a university Writer-In-Residence. During his sixteen years as a Member of Congress, Israel's office recovered nearly $9 million in retroactive benefits for New Yorkers who served in the Armed Forces. As a member of both the House Armed Services Committee and the Appropriations Defense Subcommittee, Israel has unique expertise in national and global security issues. He maintains strong relationships with military, intelligence and national leaders at home and abroad. He's experienced in the areas of missile technology, cyber defense and professional military education. Israel is also a widely sought expert on the National Intelligence Council's quadrennial forecasts of future conflict. He created the Democratic Study Group on National Security and has lectured at West Point and the National Defense University, and delivered the commencement address at the Navy War College.