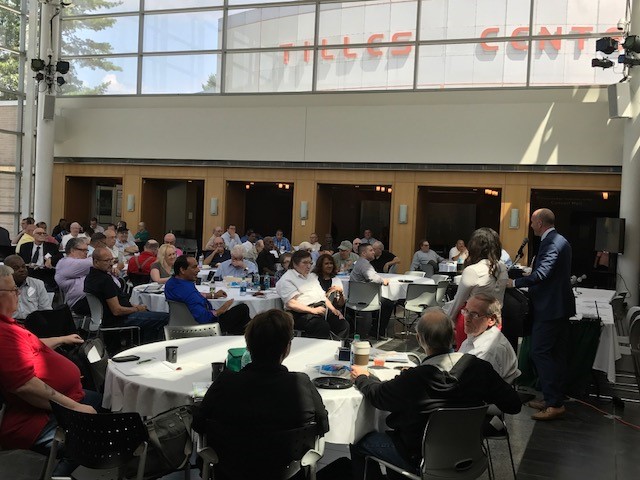 On August 17, the LIU Post School of Professional Accountancy's Tax and Accounting Institute hosted a Civil and Criminal Tax Controversy Forum in the atrium of the Tilles Center for the Performing Arts.
Approximately 100 people attended the forum, which served as a valuable learning experience for tax professionals and an opportunity to earn continuing education credits. The event brought together all of the stakeholders in the tax system, including return preparers, enrolled agents, CPAs and attorneys, with stakeholders from the government, including the Internal Revenue Service and the New York State Department of Taxation and Finance.
The Tax and Accounting Institute is a division of the School of Professional Accountancy in the LIU Post College of Management. The Institute runs approximately 10 to 12 seminars per year where CPAs have the opportunity to earn their CPE credits to keep their licenses current, as required by New York State.  LIU alumni often attend, as do area accounting professionals.
Frank Agostino, Esq. of Agostino and Associates, one of the key organizers of the event, believes that these seminars represent an important opportunity to not only educate tax professionals, but to voice their questions and concerns and to implement important industry improvements.
"We have a forum here where we can discuss updates, what's been going on in the last year, taxpayers' challenges, as well as the enforcement challenges that the government has," Agostino said. "We go over current events and topics with a free exchange of ideas: how can we all help each other and make the system better? We all serve the taxpaying public."
These seminars aim to both educate and advocate for the industry professionals and for the people they serve.  Agostino's fellow panelists on August 17 included William Cheung, IRS Criminal Investigation; Bernard S. Mark, Esq., Kestenbaum & Mark; Noelle Geiger, Esq., Grassi & Co.; Barry Horowitz, CPA, Withum; Brian Skarlatos, Esq., Kostelanetz & Fink, LLP.; James D. Robnett, IRS Criminal Investigation; Margaret Neri, NYSDTF Taxpayer Advocate; and Darol Tucker, IRS Local Taxpayer Advocate. Topics included Federal Criminal Tax updates, both international and domestic, IRS Collection Division updates, and IRS Examination Division updates along with NYS Collection updates and NYS sales tax and residency audits.
Attendees earned eight New York and New Jersey CPE or CLE credits or four enrolled agent CE credits.
"It's high-quality learning," Agostino said. "They go away with materials they can use in their day to day practice as well as getting to meet and network with the government people they may have only previously met on the phone."