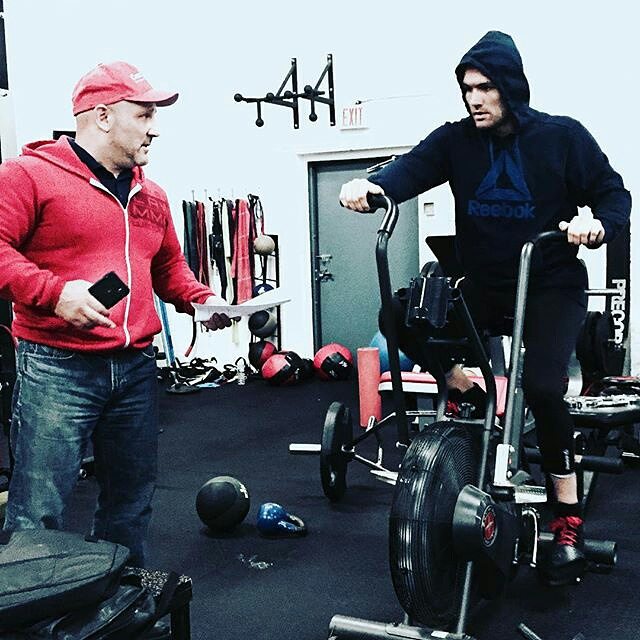 LIU Brooklyn assistant professor Tony Ricci hasn't exactly "gotten away from it all" this summer. In fact, some of his biggest moments in recent months have come just a short train or subway ride from LIU Brooklyn, where he teaches exercise biochemistry and nutrition.
On June 24, Ricci was at Madison Square Garden as a performance coach for WBC International Super Bantamweight Champion Heather "The Heat" Hardy, who made a successful transition to mixed martial arts with a win over Alice Yauger at Bellator 180. Four weeks later, he was at NYCB Live, Home of the Nassau Veterans Memorial Coliseum, watching another of his athletes, former UFC Middleweight Champion Chris Weidman, defeat Kelvin Gastelum for his first win in more than two years.
"It's been a nice summer," Ricci said with a laugh.
Ricci wasn't in either fighter's corner, but as a performance coach, Ricci is a vital part of the fight preparation process for Weidman, Hardy, and several other fighters, including former WBO Junior Welterweight Champion Chris Algieri.
While Ricci leaves the specifics of what happens in the ring or the cage to the fight coaches, "I do pretty much everything else," he said. "Cardiovascular conditioning, strength training…I make sure that the athlete is trying to optimize all the variables of performance and recovery."
For an athlete changing disciplines – as Hardy did in moving from boxing to MMA, or as Weidman did following his collegiate wrestling career – optimizing those variables often means a significant change in training styles.
"You have to change the strength program and the power program," Ricci said. "Boxers aren't used to having level changes with their bodies, or having to use their arms to hold somebody. Wrestlers don't like going up and down [on the mat], and then having to throw a punch."
Ricci's success comes in helping his fighters adjust to new challenges from a physiological perspective, and he draws on his work when teaching his students in LIU Brooklyn's School of Health Professions, many of whom were on hand in May, when Hardy defeated Edina Kiss in a boxing match held at the LIU Brooklyn Paramount Theater.
"When they come with me," Ricci said, "we discuss the physiology of what went on, and what energy systems were used. One of the most exciting things about it is that everything they've learned, they can apply to what happened. They understand why it's different to train a fighter than it is to train an athlete for football or hockey: how do we take the protocols from our class and apply them to three to five minutes of continuous activity? They get to see it live."
And, as Ricci gets Hardy ready for her next MMA bout in October, he'll continue to share his experience with his students.
"It's a wonderful way to have an interactive education," Ricci said.