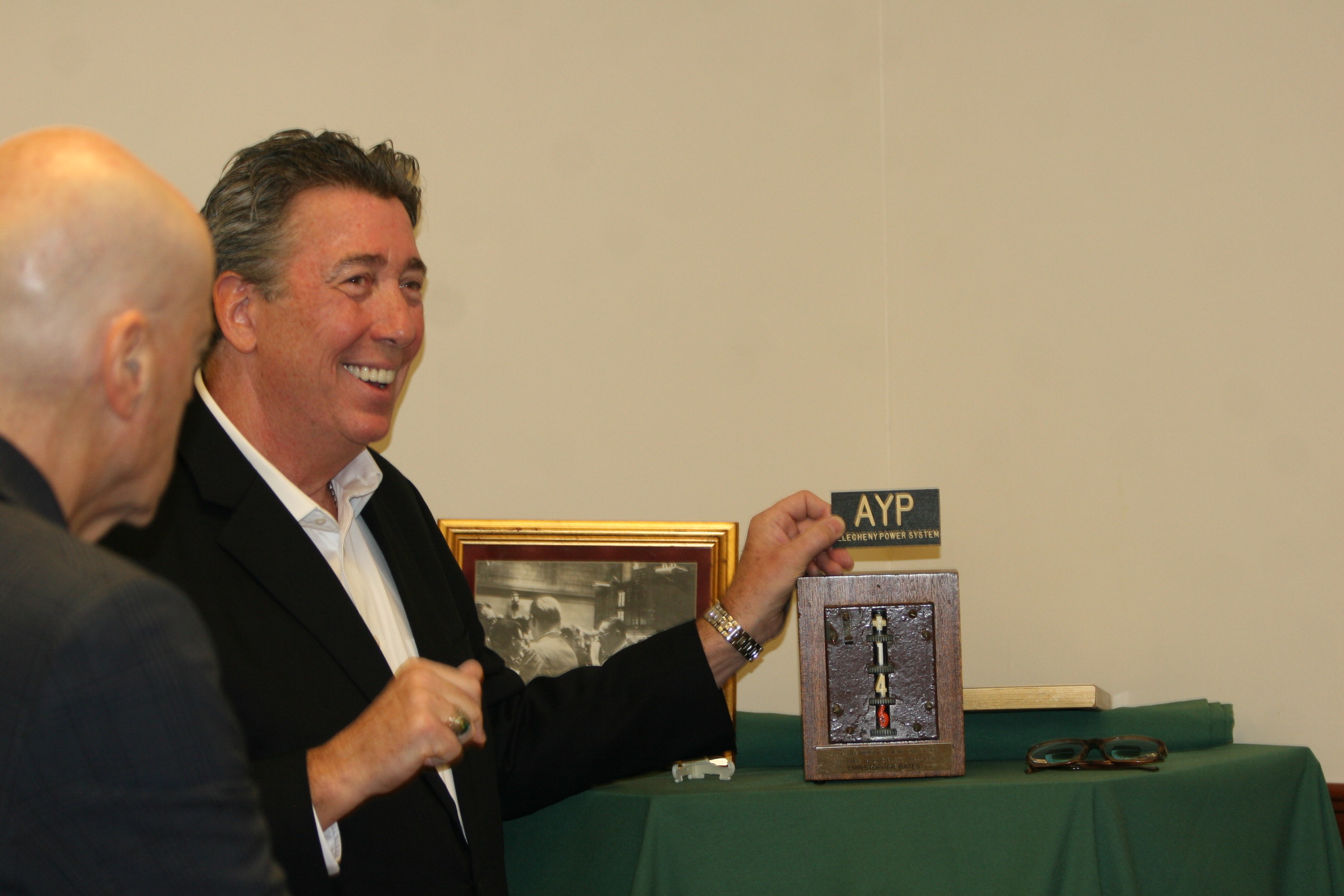 Christopher Bates, an esteemed LIU Post alumnus, gifted the LIU Post College of Management with an antique New York Stock Exchange sales indicator that had once belonged to his grandfather, the late George F. Robb, founder of Robb, Peck, and McCooey, Inc.
In front of a crowd of students, alumni, and faculty, Chris Bates presented the sales indicator and a framed black and white photograph of his grandfather on the trading floor in front of the indicator. He described the old days on the Exchange, where manual stock trading was the norm before digital technology overtook the financial landscape.
"This place looks great," Bates said of the school's trading floor, where LED screens show a running stock ticker, flat screens keep students briefed on national news, and students can utilize the same Bloomberg terminals they would find at top financial firms. "It's like coming back home [to the trading floor on Wall Street]. The only thing missing is the noise!"
Bates enjoyed a successful career as a stock trader, inheriting his grandfather's seat on the Exchange. In 2012, Bates went back to college at LIU Post to earn both his Bachelor's and Master's degrees in Criminal Justice. He chose LIU Post, he said, because of the supportive and enthusiastic culture of the school. His ties to the University continue into the next generation as two of his daughters have earned degrees, and the third plans to attend this fall.
Dean Robert Valli, of LIU Post's College of Management, spoke of the importance of history in the context of a business education. "I think that there's a lot to history," Valli said. "And to have a symbol of history in this room speaks volumes to what we areas an institution here at LIU. And that is an institution that is engaged with industry in a meaningful way."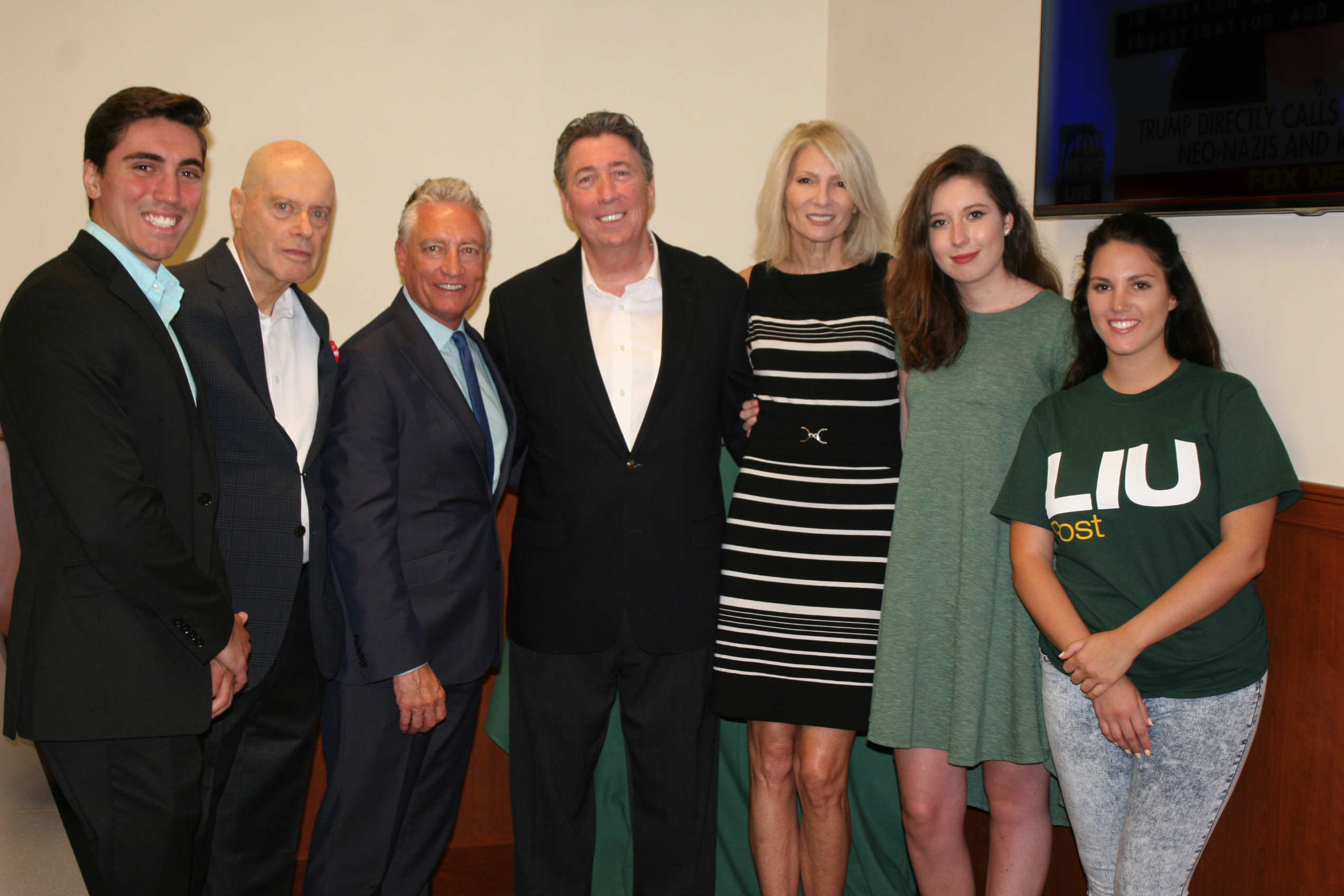 Photo Caption: L to R– Student Michael Nicosia, Dr. Harvey Kushner, Dr. Robert Valli, Christopher Bates, Sonia Bates, incoming LIU Post student Tara Bates and student Angelina Litterello at a ceremony to dedicate an antique Last Trade Indicator.
Dr. Harvey Kushner, Chair of the Criminal Justice department at LIU Post, described his relationship with Bates as "earth-shaking."
"Every once in a while," Kushner said, "you meet up with a student that teaches you something—not only about education, not only about learning, but about life, and about who that person is as an individual. As a man, as a family man, [Bates] is someone to admire."
Bates discovered a profound connection when a Criminal Justice professor whose class he was taking referred to a case the professor had worked on as a detective back in 1980. The case he was discussing turned out to be the apprehension and arrest of the man who had murdered Bates' grandfather.  Dr. Kushner became aware of the story and the shared realization of that connection became the foundation of a friendship the two treasure to this day.
"That's what life is about," Kushner concluded. "Not just to make money, not just to make a name for yourself, but when you're gone, for someone to say, 'I remember. I knew this man. I knew what he stood for. I knew his heart.'"
The Last Sale stock indicator will be on display for students to enjoy at the School of Business.