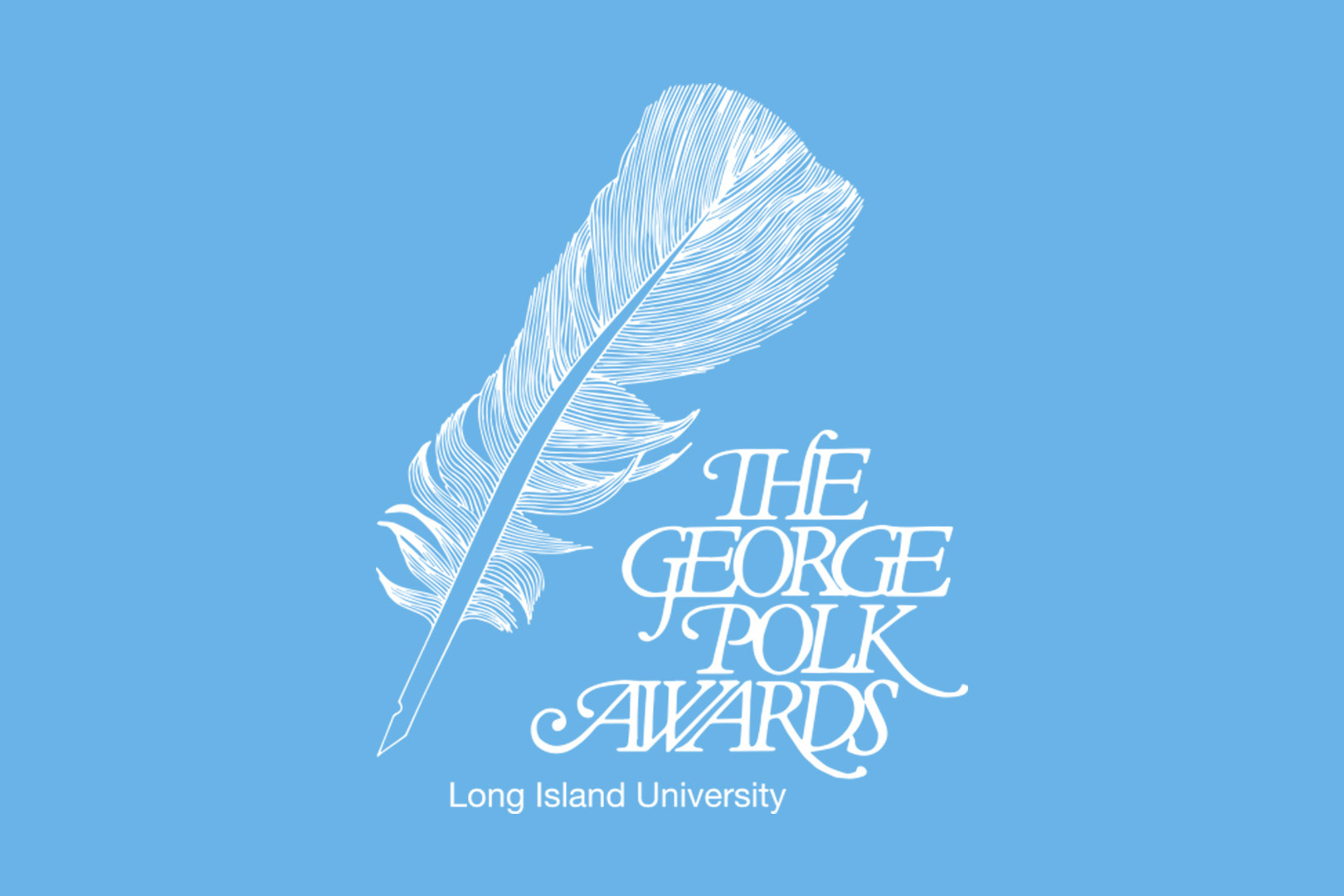 Coverage of the War in Ukraine, Corporate Subterfuge, Victimized Children and Exploited Migrants Among Subjects of 15 Winners
NEW YORK (February 20, 2023) – Long Island University (LIU) has announced the winners of the George Polk Awards in 15 categories for reporting in 2022, citing three recipients for coverage of the war in Ukraine.
George Polk Award winners also unmasked the false underpinnings of a crypto currency empire; disrupted a private equity giant's plan to glean huge profits from homes for disabled patients; examined lethal plundering of the Amazon rainforest; detailed the use of hapless migrants to help a governor score political points; revealed allegations of irregularities in a prominent university president's scientific research; highlighted a growing prosecutorial tool that lacked scientific basis, and published the leak of a controversial U.S. Supreme Court ruling on abortion.
Two winners were honored for revelations that put an end to abuses in Alabama: a local police force's scheme to enrich its coffers by bombarding drivers with phony traffic violations and nationally known companies employing migrant children as young as 12 in their factories. Others demonstrated that religious schools in New York were depriving thousands of students of a basic education, established that an inexplicable delay in police intervention contributed to the deaths in a Texas school shooting, and attributed the fatal shooting of a revered Palestinian-American reporter in the West Bank to unprovoked fire from an Israeli sniper.
The George Polk Awards committee has also awarded the second Sydney Schanberg Prize to an American-born British war correspondent who examined a deadly terrorist attack in northern Mozambique from multiple points of view.
The George Polk Awards were established in 1949 by LIU to commemorate George Polk, a CBS correspondent murdered in 1948 while covering the Greek civil war. The awards, which place a premium on investigative and enterprising reporting that gains attention and achieves results, are conferred annually to honor special achievement in journalism. The latest winners were selected from 515 submissions of work that appeared in print, online or on television or radio, nominated by news organizations and individuals or recommended by a national panel of advisors.
"We were deluged with so many worthwhile entries it was difficult to choose among them," said John Darnton, curator of the awards. "Interestingly, a lot of reporters went after large, thematic stories, like the role of private equity companies in buying up hospitals, private homes and apartment complexes. And the war in Ukraine produced superb war reporting, done at great peril."
Long Island University Board of Trustees Chair Eric Krasnoff stated, "The 2023 George Polk Awards continues a rich tradition at LIU of honoring the journalistic excellence that continues to support equity and truth as pillars of a democratic society. LIU is humbled to help curate these awards that celebrate achievements built on a firm foundation of integrity and bravery."
The award for Foreign Reporting goes to the staff of The New York Times for coverage of the war in Ukraine. Two massive endeavors complemented daily contributions from Times reporters, photographers and visual investigators: "The Making of Vladimir Putin," a 6,750-word opus by Paris bureau chief Roger Cohen, traced Putin's "22-year slide from statesman to tyrant," and "Putin's War," the 13,000-word product of two-months of research replete with invasion maps, cell phone intercepts and diaries from Russian soldiers, exposed the vaunted Russian military as unprepared, ill equipped and badly managed.
Videojournalist Mstyslav Chernov, photographer Evgeniy Maloletka, video producer Vasilisa Stepanenko and reporter Lori Hinnant of the Associated Press have won the award for War Reporting for sharing horrific narratives and images during the siege of Mariupol. The only journalists from a Western news organization in the besieged city once the bombardment began, Chernov, Maloletka and Stepanenko hid from the Russians until friendly troops could escort them to safety in a harrowing escape through 15 enemy checkpoints. Ukrainian authorities credited the AP reporting with saving many lives by helping to open a humanitarian corridor for people to leave.
The award for National Reporting is presented to Josh Gerstein, Alex Ward, Peter Canellos and the staff of Politico for revealing Supreme Court Justice Samuel Alito's draft opinion overturning Roe v. Wade in a story that sent shockwaves across the country. After Chief Justice John Roberts acknowledged the draft's authenticity, Politico built on its reporting coup with a spate of stories on fractured trust among the justices and behind-the-scenes accounts of tactics to create and cultivate a conservative majority, including one detailing how wealthy couples were recruited to wine and dine the justices after being coached on how to influence their thinking.
John Archibald, Ashley Remkus and Ramsey Archibald of the website AL.com have won the Local Reporting award for revealing how the police force in Brookside, Alabama (pop. 1,253) used proceeds from fines for nefarious citations and arrests and forfeitures to bilk poor residents of thousands of dollars, increasing revenue by 640% over two years. The police chief, his top lieutenant and more than half of the force resigned or were forced out within two weeks of AL.com's initial story. Two months later, the state legislature passed a law restricting Alabama towns from using revenues from fines and fees to supply more than 10 percent of their budgets.
The State Reporting award is presented to Joshua Schneyer, Mica Rosenberg and Kristina Cooke of Reuters for revealing how staffing agencies in Alabama cashed in on lucrative commissions in a tight labor market by using fake documentation to put migrant children as young as 12 to work in Hyundai auto parts factories and poultry slaughterhouses, subjecting them to injury and abuse. Their series, "Undocumented and Underage," sparked increased scrutiny from federal and state agencies and led Hyundai to demand more accountability from its suppliers.
Kendall Taggart, John Templon, Anthony Cormier and Jason Leopold of BuzzFeed News have won the Health Reporting award for demonstrating how the quality of care diminished after the global private equity firm KKR purchased hundreds of homes for people with severe disabilities. When publication of their series, "Profit, Pain, and Private Equity," caught the eye of regulators and legislators, KKR cancelled a planned initial public offering.
The Financial Reporting award goes to Ian Allison and Tracy Wang of the digital currency news source CoinDesk for stories that brought young Sam Bankman-Fried and his supposed $32 billion crypto currency empire crashing down in just 10 days. Allison exposed suspicious dealings between two entities Bankman-Fried controlled and Wang portrayed the indulgent lifestyle of those in his inner circle, causing the cyberspace equivalent of a run on the bank and leading to bankruptcy and extensive federal charges of fraud.
Terrence McCoy of The Washington Post has been honored with the Environmental Reporting award for his eye-opening six-part series, "The Amazon, Undone," which examined the illegal and often violent exploitation of a vital global resource nearing the tipping point of irreparable destruction. The series, produced by over a year's reporting, highlighted shortsighted government policy, lax law enforcement and criminal impunity for violators. McCoy received the 2015 Polk Award for regional reporting for exposing how some lenders convinced unsophisticated victims to accept pennies on the dollar for court-ordered compensation.
The Education Reporting award goes to Eliza Shapiro and Brian M. Rosenthal of The New York Times for detailing the abject failure of New York's Hasidic yeshivas to provide 50,000 boys with a basic education despite receiving more than a quarter of a billion dollars in public funds annually. Spurred by a stunning if barely noticed revelation that not one of 1,000 students at one yeshiva could pass a standardized test in reading and math, the reporters pierced the insular world of Hasidism to portray a system leaving students ill equipped to function in society. State officials vowed to hold the schools more accountable. This is Rosenthal's third Polk award in six years. He was cited for education reporting in 2016 at the Houston Chronicle and local reporting in 2019 at the Times.
ProPublica reporter Brett Murphy has earned the Justice Reporting award for "Words of Conviction," a two-part report debunking "911 call analysis," a prosecutorial technique developed by a retired police chief purporting to indicate the guilt of callers reporting the death of someone based on their voice patterns during the call. Despite overwhelming evidence that the concept is baseless junk science, Murphy documented more than 100 cases in 26 states where supposed experts used it against criminal defendants, including one that helped lead a jury to convict a mother of suffocating her son. The Exoneration Project and the Center for Integrity in Forensic Sciences have volunteered to handle her appeal.
The award for Political Reporting goes to Sarah Blaskey, Nicholas Nehamas, Ana Ceballos, Mary Ellen Klas and the staff of the Miami Herald for exposing the cruel calculus behind two flights taking 49 misled South American refugees from Texas to Martha's Vineyard at the behest of Florida Governor Ron DeSantis. The stories traced the operation to recruiters who lured them and other migrants with false promises of work in a political stunt the Herald calculated cost Florida taxpayers $1.565 million.
Correspondent Sharif Abdel Kouddous, Senior Producer Kavitha Chekuru and Executive Producer Laila Al-Arian have won the Foreign Television award for "The Killing of Shireen Abu Akleh," a segment on Al Jazeera English Fault Lines. Through forensic accounting, interviews and footage previously shared with other networks, the program established that the Palestinian-American journalist was felled by one of several shots from a military sniper into a group of journalists who arrived in the aftermath of a raid by Israeli Defense Forces in the West Bank city of Jenin. The U.S. and Israel have resisted calls to refer the case to the International Criminal Court.
The award for National Television Reporting goes to Shimon Prokupecz and his CNN crew for groundbreaking coverage of the failed law enforcement response to a mass school shooting in Uvalde, Texas. Through recorded evidence and in interviews with survivors and relatives of the 19 children and two teachers who died before the gunman was shot dead, CNN's coverage disputed official accounts and demonstrated that an inexplicable delay of over an hour in challenging the gunman probably cost lives.
Lynsey Addario of The New York Times has been honored with the Photojournalism award for an iconic photo of the bodies of a woman and her two children alongside a friend who lay dying moments after a mortar struck them as they sought to flee Ukraine. A veteran of combat photography around the world, Addario dove for cover as the shell landed and then took the gruesome photo on instinct. Despite qualms over its intrusive nature, she argued for its publication, a view the husband and father of the slain woman and children affirmed after she sought him out.
Theo Baker of The Stanford Daily has received a Special Award for uncovering allegations that pioneering research co-authored by Stanford President Marc Tessier-Lavigne, a renowned neuroscientist, was supported in part by manipulated imagery and that Tessier-Lavigne and his associates failed to avail themselves of opportunities to correct the record. Baker's reporting spurred the university to engage an outside counsel who has assembled a panel of experts to investigate the allegations.
Freelance journalist Alex Perry is the winner of the Sydney H. Schanberg Prize for his epic 20,000-word investigative account in Outside Magazine of a 2021 ISIS attack on the remote town of Palma in northern Mozambique that left an estimated 837 dead. The piece focused on foreign workers, contracted by an oil company, taking refuge in a hotel as terrorists surrounded them. The Schanberg Prize was established last year by the journalist Jane Freiman Schanberg to honor long-form investigative or enterprise journalism embodying qualities reflected in her late husband's legendary career. It comes with a $25,000 award funded by Freiman Schanberg, who stipulated that it honor "highly distinguished, deep coverage of armed conflicts; local, state or federal government corruption; military injustice; war crimes, genocide or sedition; or authoritarian government abuses" of at least 5,000 words "that results from staying with a story, sometimes at great risk or sacrifice."
"The fearless work of these distinguished journalists proves that diligent reporting will always have the power to affect positive change throughout the world," said Long Island University President Kimberly R. Cline. "Long Island University is pleased to recognize this year's George Polk Award winners for exceptional work that will be remembered over the course of history."
The 2022 George Polk Award winners will be honored Friday, April 14 at a luncheon ceremony at the New York Athletic Club, following an evening seminar April 13 on LIU's Brooklyn campus, "When Covering War Gets Personal," allowing several winners to delve more deeply into their stories.
Media contacts:
John Darnton, Polk Awards Curator, 917-306-8046, John.Darnton@gmail.com
Ralph Engelman, Polk Awards Faculty Coordinator, 718-757-9294, Ralph.Engelman@gmail.com
For more information about the George Polk Awards visit here.
About Long Island University (LIU)
Long Island University, founded in 1926, continues to redefine higher education, providing high quality academic instruction by world-class faculty. Recognized by Forbes for its emphasis on experiential learning and by the Brookings Institution for its "value added" to student outcomes, LIU has a network of over 285,000 alumni, including industry leaders and entrepreneurs around the globe. Visit liu.edu for more information.