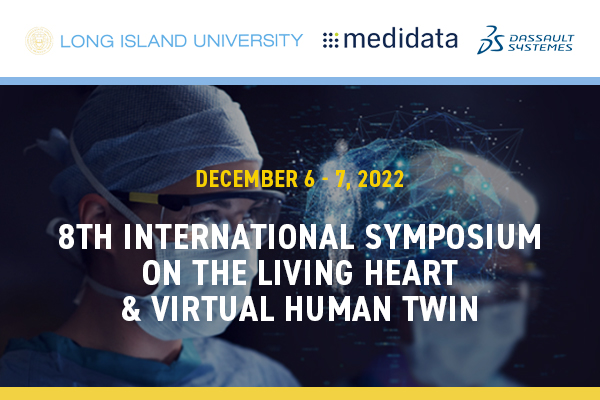 Brooklyn, N.Y., (Nov. 23, 2022): Long Island University will host the 8th Annual International Symposium on the Living Heart & Virtual Human Twin on December 6-7, 2022. The event will bring together the world's largest gathering of experts dedicated to using virtual human twins in biomedical research, regulatory science and clinical care. The Symposium will be held at LIU Brooklyn's Kumble Theater.
The Dassault Systèmes Living Heart Project, started in 2014, has grown to be the leading initiative in the world focused on creating a digital twin of a human. The project delivered the first-ever whole heart simulation, sparking a transformation of medical research. This success inspired the subsequent creation of the Living Brain and Lungs.
In addition to Living Heart, Brain and Lung developments, this year's Symposium will feature a kickoff for the Living Liver Project, led through Long Island University's Center of Excellence for Life Science in partnership with Dassault Systèmes.
"We are honored to host this gathering of global leaders who are transforming medical and pharmaceutical research as well as the launch of the Living Liver Project on our campus," said Long Island University President Kimberly R. Cline. "Our ongoing partnership with Dassault Systèmes offers our faculty and students unprecedented opportunities to participate in this significant research to find new treatments for a myriad of major health issues."
Long Island University is in the top 7% of research institutions in the United States, as designated by the Carnegie Classification. The University's growing portfolio of high-impact investigations, world-renowned faculty and dynamic partnerships are helping to shape the future of health care and life sciences.
According to Dr. Mohammed Cherkaoui, LIU's Vice President of Research, "Virtual twins enable researchers to accelerate the development and testing of new therapies, devices and medications. Our Center of Excellence will serve as a research hub of this project—which ultimately enables more cost-effective, faster and safer development and delivery of public health care solutions."
"We are without a doubt at an inflection point," said Rama Kondru, co-CEO of Dassault Systèmes Medidata and the executive sponsor of the LIU Center of Excellence in Life Sciences. "Technological advancements such as clinical trial decentralization and the creation of virtual twins are transforming research and development, enabling unprecedented data-driven collaboration between all stakeholders, regardless of where they are. At Medidata, we predict that the next 10 years will see more innovation in life sciences than in the past 100."
Participants in the International Symposium on the Living Heart & Virtual Human Twin will be able to:
Discover the progress toward the virtual twin of the human body
Learn the latest information about the use of virtual patients and regulatory science
Hear the latest from the FDA on the use of simulation for in silico clinical trials
Converse with peers working in the medical device and pharmaceutical industries, research centers and clinical practice
Learn best practices from members of the Living Heart, Brain, Lung and Liver Projects
Directly contribute to the development future of the virtual human twin
The symposium will be held at the Kumble Theater on Long Island University's Brooklyn campus, located at 1 University Plaza, Brooklyn. Participants will be able to attend morning keynote and plenary sessions as well as on-site workshops, networking, 3DEXPERIENCE Demo Center & COE Lab tours. A live streaming option is also available for those who are unable to attend.
For more information on the International Symposium on the Living Heart & Virtual Human Twin or to register, please visit here: https://liu.edu/center-of-excellence/international-symposium-on-the-living-heart-and-virtual-human-twin.
About Long Island University (LIU)
Long Island University, founded in 1926, continues to redefine higher education, providing high quality academic instruction by world-class faculty. Recognized by Forbes for its emphasis on experiential learning and by the Brookings Institution for its "value added" to student outcomes, LIU has a network of over 285,000 alumni, including industry leaders and entrepreneurs around the globe. Visit liu.edu for more information.