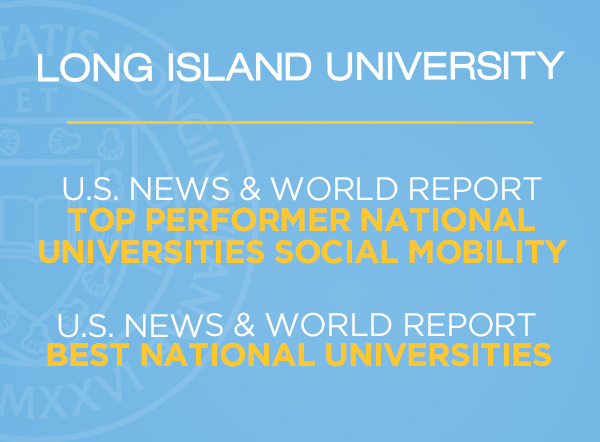 For the fourth consecutive year, Long Island University has been ranked on U.S. News and World Report's list of Best Colleges for 2021. The distinction represents excellent performance and is widely recognized as a reliable indicator of excellence in higher education conferred by an unbiased trust agent. LIU earned additional recognition as a top national performer in social mobility. The prestigious ranking follows recent accolades from The Princeton Review and Colleges of Distinction.
With more than 15 measures of academic quality, the U.S. News 2021 Best Colleges provides data-driven information and guidance to help prospective students and their families understand their higher education options. In addition to the online announcement made in September, U.S. News will also publish most of the rankings with robust datasets in the "Best Colleges 2021" guidebook.
The 2019-2020 academic year was one marked by profound accomplishments and significant growth for LIU. Last fall, the University received approval for the College of Veterinary Medicine – the first in the New York metropolitan area and only the fourth in the Northeast, joining the University of Pennsylvania, Cornell University and Tufts University.
In May, LIU announced the George Polk School of Communications, building upon the 71-year legacy of the George Polk Awards in Journalism and ushering in a new era of reporting, broadcasting, writing and production.
This summer, the University announced the Roc Nation School of Music, Sports & Entertainment. The Roc Nation School will serve as a globally renowned destination for world-class education, exceptional career development, cultural initiatives and philanthropic endeavors.
LIU faculty achieved numerous successes, including prestigious awards from organizations like the National Science Foundation, the National Institutes of Health, the United States Department of Agriculture and the Research Council of Norway, among others.
The University launched new, in-demand academic programs, headlined by the Artificial Intelligence (AI) program, led by Dr. Mohammed Cherkaoui, Vorzimer Chair Professor and Deputy Chief Research and International Officer. In conjunction with international partners, planning is underway for novel academic and research linkages with LIU's Digital Health and Engineering Initiative. Targeted collaborative research linkages will place LIU at the forefront of Artificial Intelligence, Machine Learning, Personalized Medicine and Cybersecurity.
Renowned researcher Dr. Bhaskar Das joined LIU Pharmacy from the Mt. Sinai School of Medicine to lead the University's core facility in medicinal chemistry. Dr. Das has received more than 20 grants from the National Institutes of Health and his 28 patents have earned over $100 million. He has conducted groundbreaking research in cancer therapy, obesity, cardiovascular and neurodegenerative diseases and Alzheimer's disease.
The Global Service Institute continued the momentum early into the 2020-2021 academic year by announcing groundbreaking initiatives and new leadership. ABC's Good Morning America featured Institute Chair Rita Cosby, renowned Emmy-winning TV host, veteran correspondent and best-selling author, who unveiled a comprehensive Global Service app that connects volunteers with nonprofit organizations. The Institute's Board members include Evander Holyfield, Joe Theismann, Dionne Warwick, Susan Lucci, Gary Sinise, Nelson DeMille, Buzz Aldrin, General Wesley Clark, Michael Reagan, Maurice R. "Hank" Greenberg, Robert Irvine, Ken Sunshine and others.