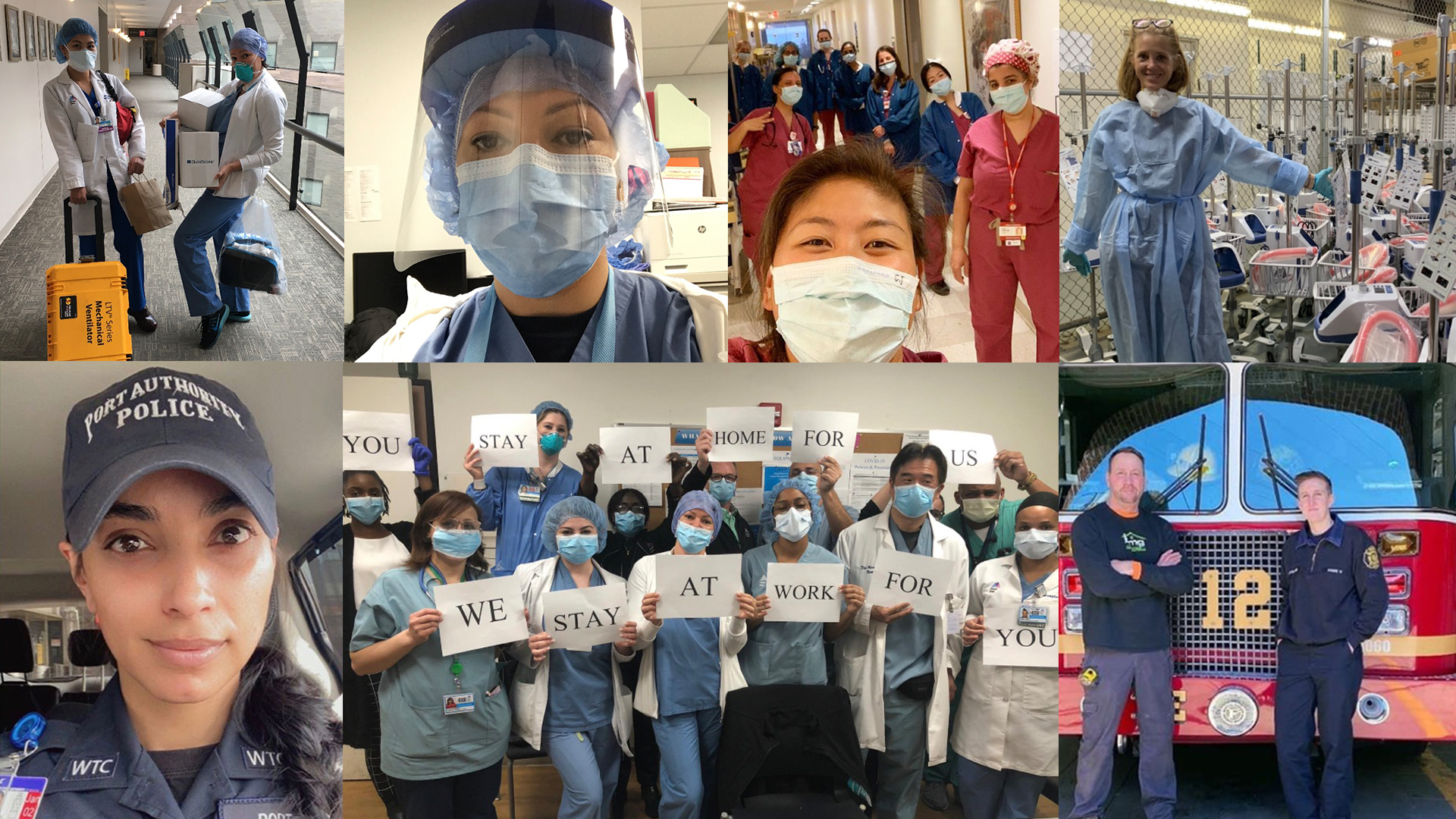 Long Island University has made substantial contributions toward the global mission of combating the COVID-19 pandemic. The extensive list below chronicles many of these inspiring efforts, yet represents only a few of the hundreds of individuals from the LIU community who are making a difference. The University salutes these heroic efforts, and expresses appreciation for alumni who are first responders.
Prominent national media are covering the work of Lisa Shultis, director of LIU's respiratory care program. Shultis is training her students how to operate ventilators and donated the University's 13 ventilators for use in the makeshift hospital set up inside New York City's Javits Center. She has shared her expert insight with several national media outlets, including CNN, NPR and The Huffington Post. LIU's bachelor of science in respiratory care program is one of only four accredited baccalaureate programs in respiratory care in New York.
The LIU Athletics department is utilizing social media channels to post dozens of photos submitted by former student-athletes who are now serving as firefighters, law enforcement officers, nurses, physical therapists and respiratory therapists. In addition to these individuals, Cary Epstein, professor of health and physical education, is working as an Emergency Medical Technician at Lenox Hill Hospital in Manhattan and Steve Kaufman ('77) is the supervising pharmacist at a Duane Reade in Manhattan's Hell's Kitchen neighborhood.
While students continue their semester through online classes, over 90 students from the PhD in Psychology program are contributing to hospitals and clinics across the country by working in telehealth. Trainees and clinicians are currently working in hospitals across the country. LIU students working in the Psych Services Center in downtown Brooklyn came together to create a crisis-oriented, brief counseling program to be delivered via telehealth to fellow students in need. The students have rushed to learn a new model of counseling appropriate to the situation, and how to deliver it via telehealth.
Additionally, over 180 pharmacy students have worked either in a hospital pharmacy, community pharmacy or both. Moreover, hundreds of LIU students in pharmacy, physician assistant and psychological services programs, as well as more than 1,600 nursing students, are participating in virtual clinics.
Molly Yeo, a nursing student in LIU's Honors College, exhibiting her extraordinary writing skills in a powerful Op-Ed for The New York Daily News. Yeo reflected on how COVID-19 has revealed what is most important in life and reminded her why she decided to become a nurse.
In addition to the hands-on work of volunteers and first responders, financial support is essential to relief effort and members of the LIU community displayed both personal generosity and collaborative events to raise money and supplies. Hutton House students are donating their course tuition fees to the Hutton House Endowed Scholarship Fund, which provides annual scholarships to three LIU undergraduate adult students over the age of 25. Coincidentally, this year's three winners are all in the health care field – nutrition major Jonathan Slavik and nursing students Vivien Varga and Amanda Carballo. "It is an honor and privilege to receive the Hutton House Scholarship and I can't thank the members of Hutton House enough for their generosity and for believing in me," Carballo said.
Nassau County legislator Josh Lafazan, adjunct professor in business administration, hosted a donation drive for personal protective equipment (PPE) on Saturday, March 28, with the Syosset-Woodbury Chamber of Commerce and Accounting Brew at the Syosset Library.
In an effort to help educate the public, Dr. Douglas L. Jennings, Associate Professor of Pharmacy, penned an article for Pharmacy Learning Network that reviewed commonly advocated pharmacologic treatment therapies for COVID-19. Jennings serves as the clinical pharmacist for the Heart Transplant and left ventricular assist device (LVAD) teams at NewYork-Presbyterian Hospital/Columbia University Irving Medical Center.
At the same time, LIU alumni working in media are delivering breaking news and ongoing developments to their respective audiences. Brian Kilmeade ('86), Fox News, and Lynda Lopez ('96), WCBS 880 in New York City, are reporting on the latest updates from around the world. Meanwhile, Michael Ozanian ('81), executive editor at Forbes, is covering a number of the financial ramifications of COVID-19. In the spirit of solidarity, Roger Luce ('85), co-host of the long-running WBAB radio show "Roger and JP," was featured in Newsday for his efforts to foster unity amongst New Yorkers.
First Responders Children's Foundation, founded by Long Island University Board of Trustees member Alfred R. Kahn ('84, H'05), teamed up with Fox Corporation and iHeartMedia for a special benefit concert that paid tribute to front line first responders of COVID-19. Hosted by music legend Elton John, "FOX Presents the iHeart Living Room Concert for America" aired March 29th at 9 p.m. on all FOX platforms and iHeartMedia radio stations nationwide. The event raised nearly $8 million for coronavirus relief and attracted some 8.7 million viewers according to Nielsen ratings. The hour-long, commercial-free broadcast featured performances by Alicia Keys, Backstreet Boys, Billie Eilish, Billie Joe Armstrong, Mariah Carey, Tim McGraw and others.
From first responders and regional relief efforts to breaking news updates and a nationally televised benefit concert, members of the LIU community are making positive contributions with a global impact.