By all accounts, the 24th Annual Mary M. Lai Communion Dinner was a remarkable success.
Held at the Interfaith Chapel in late April, the event raised almost $24,000 to support the ongoing community outreach programs launched by the Newman Catholic Campus Parish at LIU Post. This year the Model of Faith Award was presented to long-time volunteer Eileen Paterson, who started working at LIU in 1987 in the development office.
"The award has honored countless lay men and women and clergy, who demonstrated heroic virtue worthy of emulation within our University community," said Father Michael Duffy, University Chaplain. "This year we are tremendously blessed for the opportunity to enroll Eileen into this prestigious list of recipients. We pray that by honoring Eileen with the Model of Faith award, she may continue to be an inspiration to all of us, especially the students and faculty of LIU Post."
"It was such a pleasant experience to know that people really recognize what you do," said Eileen Paterson after the ceremonial dinner. "I enjoyed every bit of it."
Under the auspices of the Roman Catholic Diocese of Rockville Centre, the Newman parish club supports Sunday Mass, Confirmation classes, community mission trips and spiritual retreats. They also sponsor ski outings, special excursions to Broadway shows and seasonal barbecues and other social events that include people of all faiths.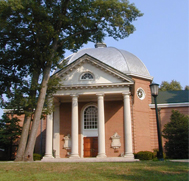 Marked by its high dome and stately pillars upholding the pediment above at its main entrance, the Interfaith Chapel resides on a knoll overlooking Gold Coast Road. Built from 1968 to 1971, the center cost more than $1 million to construct. Its neoclassical style was designed by architects Alfred Shaknis and Peter S. Van Bloem, who had done previous work on campus. Embedded in the white marble panel above the doorway are the Yin-Yang symbol, the Star of David, the Cross of Christianity, and the Star and Crescent Moon of Islam.
From its inception, Mary M. Lai, Senior Advisor and Treasurer Emerita, played an integral role. As the University's first chief financial officer, Lai was one of the first women in America to reach that rank in higher education after beginning her long career here as a temporary bursar.
"In 1967, we had decided we were going to have an interfaith chapel," said Lai (Brooklyn '42, B.S. in Accounting), who recently recounted what it took to get the project off the ground. "I loved the idea myself. I'm one of the original contributors."
Dr. R. Gordon Hoxie, University president from 1964 to 1968, had raised $650,000 for it, but that sum turned out to be insufficient by $350,000 when the bids came back higher. Complicating matters, Hoxie was on his way out by the time the ball got rolling.
"So here I am. I have to raise the money now, but how?" Lai said. "First thing I thought of was that Mrs. Post had given us $300,000 for the law school. We had a dean but he resigned when Hoxie left in 1968… Acting President George Stoddard said forget the law school. So I call Mrs. Post and I ask her if we could use her gift for the chapel and she said yes."
But they were still coming up short. Then fate intervened. Owners of a nearby estate slated for demolition had contacted the administration.
"They said we could take what we wanted before it was torn down completely," Lai recalled. One of the more interesting acquisitions turned out to be a pipe organ, which Post people retrieved and stored in the maintenance building after it proved too big to fit in the chapel then under construction. Fortuitously or not, the maintenance building caught fire. "I didn't start the fire!" Lai laughed. They estimated that the organ was worth $50,000, and the insurance company came through with a check that answered their prayers.
"It was all done with gifts—and without touching tuition," said Lai with pride.
And so the work of the Interfaith Chapel at LIU Post gladly continues to this day and beyond.