When Longtime New York soccer fans hear the name of Giovanni Savarese (Brooklyn '98, BS in Marketing), they may recall the glory days when he played for the Long Island Rough Riders alongside Tony Meola and Chris Armas, winning the league's MVP honors as well as a championship in 1995, or they may remember his inaugural club goal for the MetroStars, now the Red Bulls, in 1996. Venezuelans will recall the 10 goals their countryman scored in 30 appearances for their national team, from 1989-2001. Similarly, the Welsh may recount his 14 goals when he was on loan to Swansea City in 2000.
For members of the LIU community, Gio Savarese embodies the gold standard of the University's rich athletic tradition, which has produced professional athletes in several other sports and given educational opportunities to countless alumni.
Now fans of the Portland Timbers in the Pacific Northwest are enjoying the brilliance of this soccer mastermind who's taking their Western Conference leading team to the MLS Cup final game this Saturday. Atlanta United will host Savarese's Timbers at the Mercedes-Benz Stadium in Atlanta, Georgia. The match to determine the Major League Soccer champion will be broadcast live on FOX at 8 p.m. EST.
Almost exactly a year ago, Savarese became the Timbers' third head coach in the club's history, following his successful yet tumultuous stint coaching the New York Cosmos. He assumed the position on Dec. 18, 2017. This Saturday's match will mark the fifth time that Savarese's teams have reached the final rounds in the last six years.
Exhibiting his usual humble temperament off the field, the coach was quick to deflect praise when a reporter inquired about his thoughts of this impressive feat.
"I've been lucky that the players that I have had have worked very hard together to achieve good things," Savarese told the Oregonian during his press conference last weekend.
When asked whether he was surprised to see his team make the MLS Cup championship game in his first season, Savarese offered a curt response without hesitation.
"No," he said, "because I work, and we work, for this. We work to compete—and we'll compete this coming Saturday."
Savarese also lauded the Timbers' opponent, which finished the season with 69 points. "I think it's going to be a good game," he said.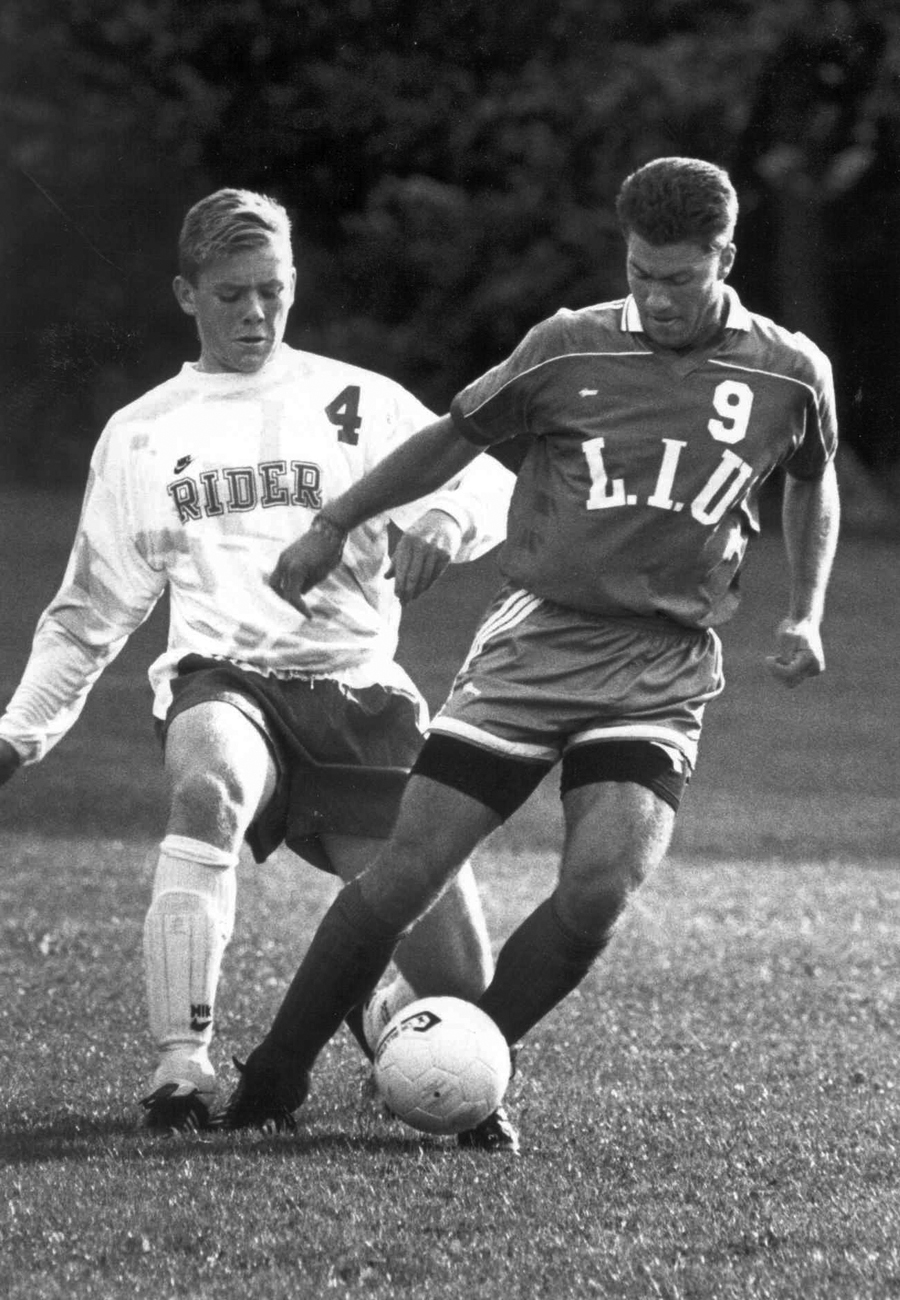 In a recent interview with the University, Savarese reflected on his time playing for the LIU Brooklyn Blackbirds (above), noting the invaluable experience of his going to school in New York City.
"One thing that helps you in being in New York is that you are always in a very diverse environment," he said. "It allows you to understand culture from many different places. That helps me now to understand players and their culture."
Although the school has grown substantially since he graduated, Savarese's advice for current students exhibits the paradigm he employed while at LIU Brooklyn.
"What I think is important is to embrace everything they have around them, what New York City brings," he said.  "Try to find your own path, but also learn from those that already had success."
As his record shows, LIU's Gio Savarese has found many ways to achieve his goal: victory on the pitch.