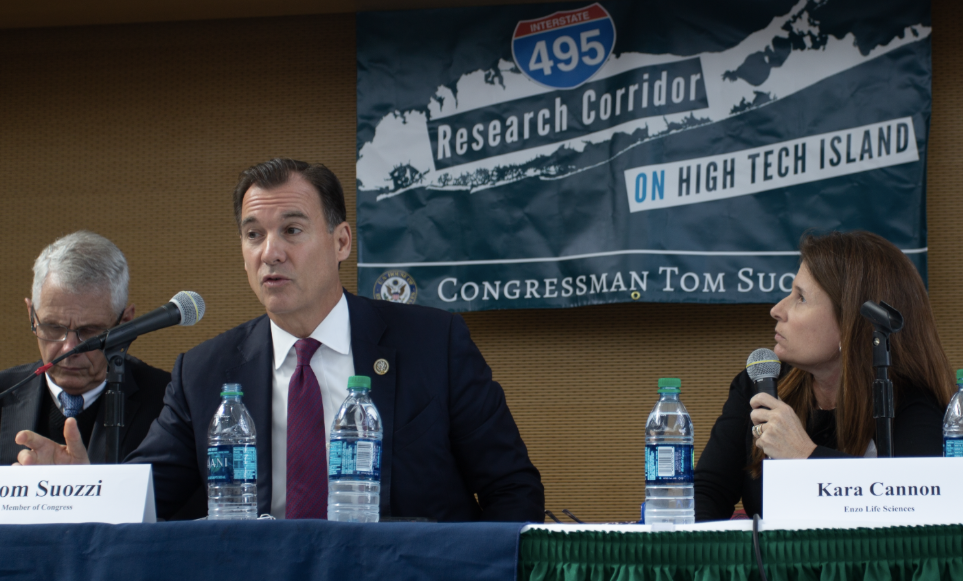 How to turn the Long Island Expressway into "The 495 Research Corridor" was the issue raised here by Congressman Tom Suozzi when he hosted a conference Monday at the Tilles Center for the Performing Arts that brought together more than 70 leaders in the fields of biotechnology and life sciences.
"Today's forum is to promote our region as the premier research destination for life sciences and to provide for the continued growth of Long Island," said LIU President Dr. Kimberly R. Cline as she welcomed the participants. "Innovation is at the forefront of everything that we do at LIU, and our increasingly robust research agenda speaks to our commitment to join with others on Long Island so we will truly be known as High-Tech Island."
She added that the panelists assembled at the LIU Post campus are proof that Long Island is ready for an investment in time, energy and talent to transform our region and make us a driving force in life sciences for decades to come.
"We have a cluster of businesses and research institutions that already exist here," said Rep. Suozzi (D-Glen Cove), who noted that New York State is the third largest recipient of research dollars in life sciences in the country, right behind California and Massachusetts. "The challenge is that the money that comes here is not matched by private sector investment."
As Newsday noted, the state receives $2.2 billion in National Institutes of Health grants, and $1.7 billion of that sum goes to New York City, Long Island and Westchester. Suozzi said that his goal is to demonstrate that Long Island's expertise stretches along the LIE from the Brookhaven National Laboratory to Cold Spring Harbor Lab and the Feinstein Institute for Medical Research in Manhasset. He credited Kevin Law, president and chief executive officer of the Long Island Association, who was also a panelist, with coining the phrase, the 495 Research Corridor.
"We're very fortunate to have LIU participating," said Law, who praised Dr. Cline for her role in promoting the Island's vital transformation. "We have over 25,000 Long Islanders already employed in the life sciences industry," Law noted, "and that is more than Grumman ever had in its heyday." Until its manufacturing facilities shut down on Long Island in 1996, the Grumman Corporation was once one of the nation's largest aerospace contractors. Law told the conference that Gov. Andrew Cuomo has recognized that Long Island has the best chances of any region in New York to take the lead in pushing life sciences to new breakthroughs.
The featured speaker was John Preston, founder of the MIT Technology Licensing Office, who was introduced by Dr. Randy Burd, Senior Vice President for Academic Affairs at LIU.
"He really stands at the forefront of technology transfer," said Dr. Burd, "and he is always pushing the boundaries of innovation."
As Preston told the audience with a smile, "The rate of technological change is insane right now. It's hard for me to even keep up with it, and I spend my life working on technology." Currently, Preston is the managing partner of TEM Capital, a privately held equity investment company, as well as the director of many private companies. He compared Long Island's economy favorably to that of other countries and saw a great deal of potential in Suozzi's initiative if small-dollar investors can be encouraged to get in on the ground floor.
"Right now, only the ultrarich are getting invited to do the founding investment," he said.
Kara Cannon, global head of sales and marketing for Enzo Life Sciences, Inc., a leading life sciences and biotechnology company, said that her division has almost 400 employees working on Long Island. "We're committed to staying here," she said, and praised the forum for connecting established companies, startups and investors. "There's a lot of technology and opportunity on the Island."
And Long Island University is proud to play its part.