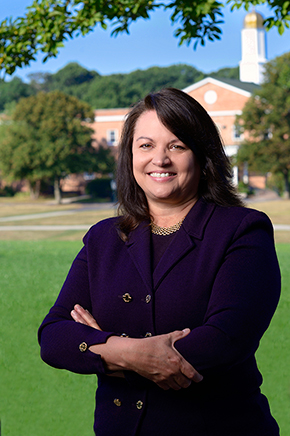 Long Island University President Kimberly Cline submitted the following letter to Forbes, articulating her strong support for libraries.
To the Editor:
As President of Long Island University, I am writing in regard to an article recently published on Forbes.com by an LIU Professor who was writing in his personal capacity, arguing that Amazon should replace local libraries.
I could not disagree more.  I am very proud of our University's strong support of libraries and the important services they provide. In fact, this is a very personal issue to me.
As a young girl growing up in North Carolina, my local library was a home away from home.  I went to the library at least once a week, and the books I read set me on a lifelong journey of education and discovery that continues to this day. I can say without hesitation that I would not be the person I am today if it were not for my library and the librarians who nurtured my imagination.  While times change, today's libraries and librarians are performing an equally vital service for the next generation of young minds.  Anyone who spends time in a library understands that they provide so much more than books, and that librarians are providing a vital and irreplaceable public service.  I couldn't be more proud that we are educating many of those librarians at LIU.
The Palmer School of Library and Information Science at LIU is our region's only member of the elite community of iSchools, an international consortium of prominent information schools with robust research traditions and well-established Ph.D. programs.  The Palmer School is a recognized leader in information and library science and is one of just 62 schools accredited by the American Library Association.  It also offers the only Ph.D. program in Information Studies in the New York metropolitan area.  Throughout our region and the nation, many of our distinguished alumni take great pride in the services they offer to their communities.  In fact, I was recently proud to join many of our Palmer students who are working in partnership with the Robert David Lion Gardiner Foundation on an important program that is helping to preserve Long Island's history, including items that date back to before the formation of our republic.
While everyone is entitled to express his or her individual opinion, Long Island University's vibrant involvement in the library sciences speaks far louder than words about the value we place on libraries.
Sincerely,
Dr. Kimberly Cline
President, Long Island University