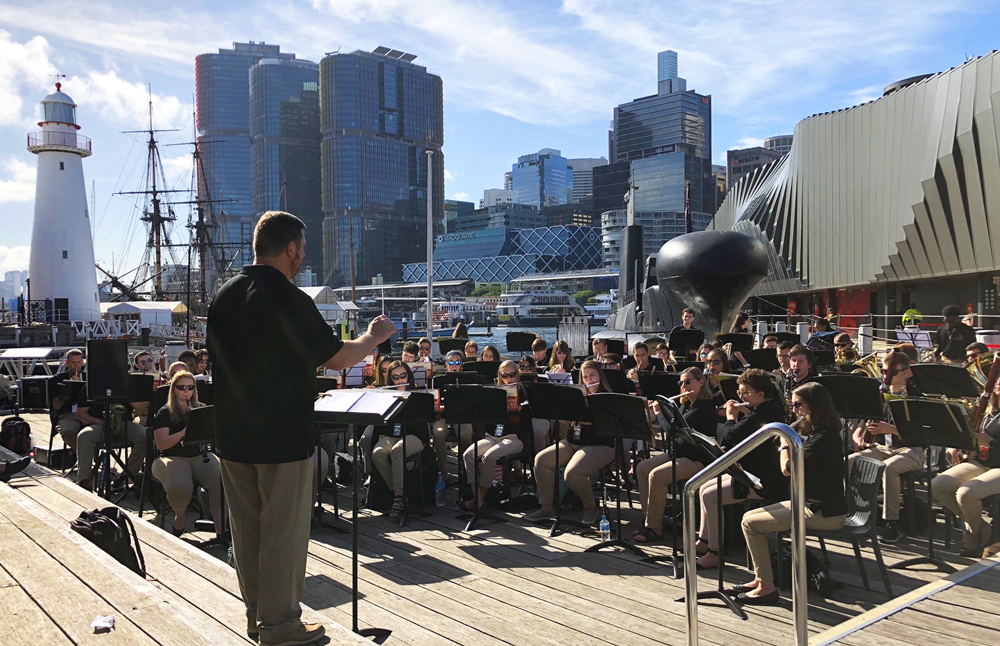 The Long Island Symphonic Winds' tour of Australia is hitting all the high notes down under, says Dr. James McRoy, Professor of Music and Director of Wind Studies at LIU Post, who has taken 66 members for a 12-day goodwill performance trip.
"Everyone is experiencing the time of their lives!" exclaims Dr. McRoy, who conducts the Wind Ensemble and Wind Symphony through the Wind Band Program at LIU Post.
The group arrived in Sydney, Australia, on July 1 and attended the Opening Concert of the Australian International Music Festival at Angel Place City Recital Hall. They participated in a conductor workshop with Colin Touchin, director of music at the University of Warwick, and in a composer workshop with Dr. Ralph Hultgren, the Festival Artistic Director. They performed in the Concert Hall of the Sydney Opera House and outdoors at the National Maritime Museum in Darling Harbour. Then they gave a performance at Sydney Town Hall before journeying to the Great Barrier Reef for swimming and snorkeling followed by a visit to the Tjapukai Aboriginal Cultural Park near Cairns. They are expected to return to New York on July 10.
The 2018 Australia performance tour was orchestrated by World Projects, a California-based organization whose motto is "Explore the world with music."
Under Dr. McRoy's leadership and direction the wind band ensembles at LIU Post have performed by invitation at two New York State Music Conferences and at Carnegie Hall. They have produced 25 CD/DVD recordings, sponsored 13 regional band festivals, hosted multiple performance workshops, and commissioned and premiered seven original works for wind band. They have toured and performed to standing ovations in Europe, Asia and the Caribbean.
Dr. McRoy received the 2012 David Newton Award for Excellence in Teaching from Long Island University.