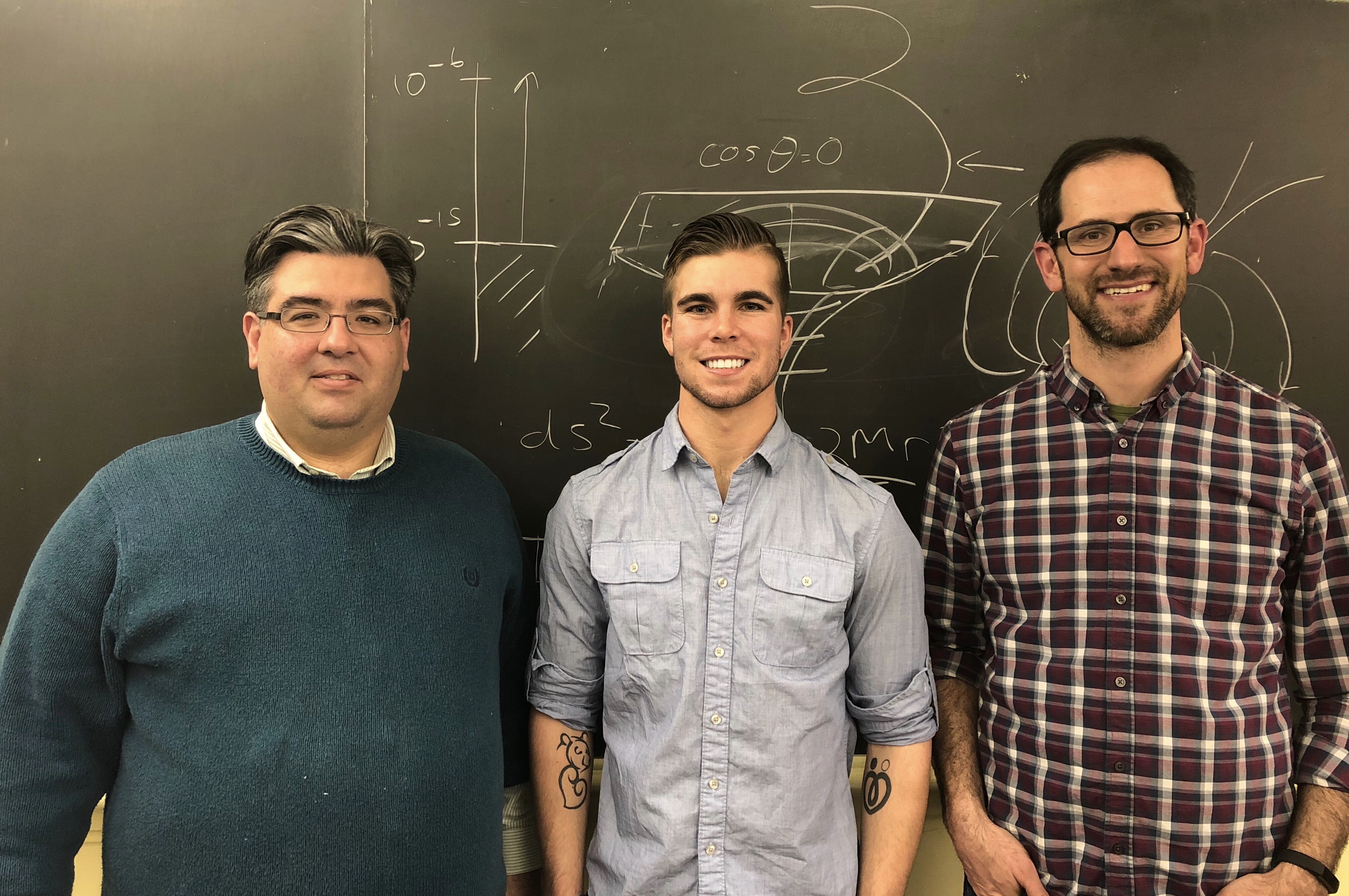 Just reintroduced in the fall semester after a decades-long absence, LIU Brooklyn's new physics major has begun with a big bang.
Michael Ramsey, an Honors College senior triple-majoring in physics, biology and psychology, has just won the Jim Kirby Prize in Physics, Geology and Astronomy at the national honor society Alpha Chi's 2018 convention held April 5-7 in Portland, Oregon. This marks the first time an LIU student has won this prestigious academic award.
Facing a packed conference room on a Saturday afternoon, Ramsey delivered a 12-minute presentation entitled "Energy Extraction From Black Holes by Cosmic Strings," which drew on research overseen by LIU Brooklyn Associate Physics Professor Michael Kavic and Assistant Physics Professor Matthew Lippert. Then the student had to explain himself.
"Little did I know that there were Ph.D. physicists sitting in the audience and they just grilled me with some very hard questions," said Ramsey, who credited his professors for preparing him well by having him speak on this complex subject to students with no background in theoretical astrophysics. But this crowd unexpectedly had some experts facing him. Still, he remained confident, thanks to his firm grounding in the subject matter.
"I was able to stay poised," Ramsey said.
Afterwards, one of those in attendance came up to Ramsey and congratulated him. "He told me that my mentors must have done a fantastic job teaching me," Ramsey said. "He gave me a lot of praise. I had no idea that he was the person judging me!"
Ramsey didn't learn that he'd won the Kirby prize until it was handed out at the convention's closing ceremony Saturday evening. The prize is named after a long-time sponsor of the Alpha Chi chapter at Tarleton State University in Texas and a former member of the organization's national council.
"This is the first year we've had our physics major and the fact that we won a nationally acclaimed award for that is a very big deal," said Ramsey. "I think it reinforces what Professors Kavic and Lippert do—and it was great for them to know that."
Kavic gave Ramsey kudos.
"It is a daunting thing for a student at that level to understand the complexities of a black hole," Dr. Kavic said. "It is equally daunting for them to understand the complexities of a pulsar and the complexities of a cosmic string."
Kavic credited his colleague Prof. Lippert for mentoring Ramsey. "Those two really worked shoulder to shoulder," he said.
"All of us in the physics department are extremely proud of Michael's achievement," said Dr. Lippert. "He has been a student in now three of my classes. He stands out for his obvious interest and passion for the subject and his strong work ethic."
Until Ramsey came to LIU Brooklyn, the southern California native hadn't taken a physics class since high school, and he didn't look forward to fulfilling the requirement that he take it for his biology major.
"I just did so poorly in it," said Ramsey. "I hated math and I hated physics. I did everything I could to put it off for as long as I could." But after his first week in his introductory physics class with Dr. Lippert, he was hooked.
Ramsey was recruited to play soccer for the LIU Brooklyn Blackbirds, where he became the goal-keeper on a varsity team that not only won the Division 1 championship two years ago but also went undefeated for the third time in the history of the conference. Ramsey said studying spin and rotation in his physics class actually made keeping a soccer ball out of the goal "a little bit easier!" Unfortunately, Ramsey suffered a season-ending injury his senior year when he tore his left shoulder trying to block a shot.
He was planning to become a doctor but now he is "rethinking things."
"If I could be an astrophysicist and a neurosurgeon at the same time," Ramsey said, "that'd be the best life I could possibly imagine for myself!"
Accompanying Ramsey at the convention were Dr. James Clarke, director of the Honors College at LIU Brooklyn, and Melissa Antinori, associate director of Honors College.
"He got some really tough questions from the judges and the other people in the audience who are engineers and physicists," said Dr. Clarke. "They were testing the depth of his knowledge—and he came off like a graduate student or higher. He had a pretty tough group to compete with, and I just think he knocked one out of the ballpark."
Dr. Clarke, who received a 2018 Distinguished Service Award for his regional work on behalf of Alpha Chi, was very pleased with how well LIU did in Oregon. "Having students who reach the bar of presenting research nationally is one of the indicators of a thriving program," Dr. Clarke said.
"We did not have an active physics major for a long time," observed Dr. Kavic. "We brought it back to life, and we've been incredibly lucky about the number and quality of students we've been able to attract."
There are now 30 physics majors at LIU Brooklyn—and many more outstanding students like Michael Ramsey still to come.