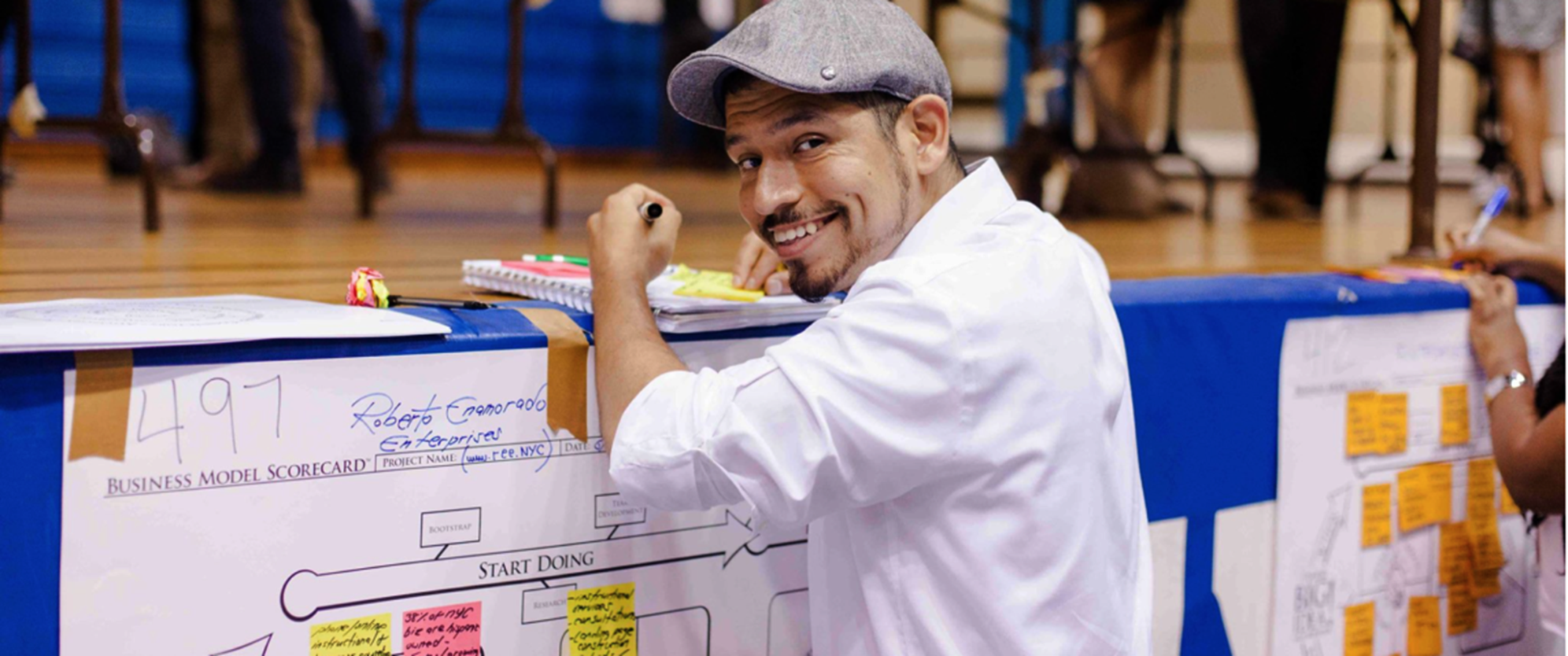 LIU Brooklyn is helping to launch the  eBay StartUp Cup Challenge – a business competition powered by GriffinWorx, which supports budding entrepreneurs, and sponsored by the eBay Foundation, a philanthropic organization.
The eBay StartUp Cup is a five-month program of mentoring, coaching and competitions that culminates with a cash-prize ceremony for the top three teams. The kickoff event, known as the Extreme Build-A-Business Weekend, will be held in LIU Brooklyn's WRAC on April 28 and 29th.
The eBay New York City StartUp Cup is accepting business model applications through April 13. It is open to anyone with an idea and up to one year in operation.
A hundred businesses will be invited to the Extreme Build-A-Business Weekend event. Over 50 entrepreneurs, consultants, executives and thought leaders will be coaching and mentoring participating businesses as they identify the Top 25 most promising teams to advance into the five-month acceleration program.
"We are dedicated to empowering anyone, from any background or education level, to design, test and build a business," said Amy Millington, president of eBay Foundation. "The passion and dedication from business builders experienced during last year's eBay New York City StartUp Cup has inspired us to take our effort to the next level in 2018."
"Supporting GriffinWorx and the eBay StartUp Cup is one example of the ways in which LIU Brooklyn invests in the prosperity of our community and neighbors," said Dawn McGee Strickland, director, Center for Entrepreneurship and Innovation, School of Business, Public Administration and Information Sciences at LIU Brooklyn. "We value entrepreneurship – whether practiced as an approach to navigating increasingly uncertain times or as a source of income – and welcome opportunities to help others acquire its mindsets and skillsets."
Businesses competing in the eBay New York City StartUp Cup will gain access to business leaders, angel and seed investors during tailored coaching sessions, networking events and the final award celebration where winners will receive $10,000 for first place, $5,000 for second place and $2,500 for third place.
Last year, Darrien Charlton Watson, founder of Whim NYC, was the first place winner of the eBay StartUp Cup and brought home $10,000.
Besides New York City, the 2018 eBay StartUp Cup Challenge is also taking place in Washington, D.C., Berlin, Israel, and India. GriffinWorx has empowered hundreds of business acceleration programs in over 60 countries, focusing primarily on underserved areas and populations.
Prospective participants can find more information and submit an application to participate at http://nyc.startupcup.com/. The application deadline is April 13.
Budding entrepreneurs can also contact Dawn McGee Strickland at LIU Brooklyn if they want more information, Dawn.Strickland@liu.edu