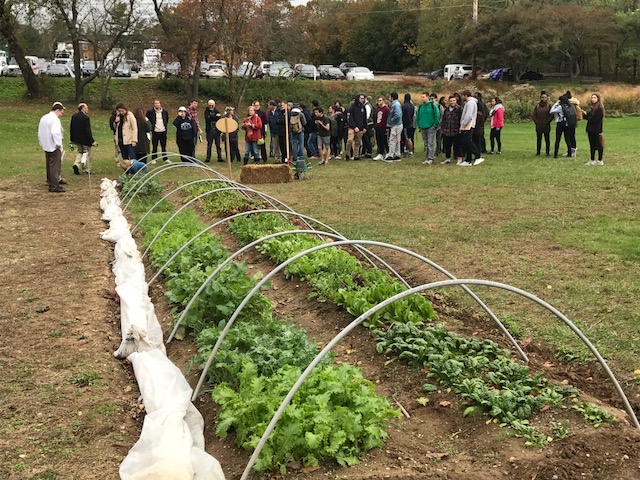 BROOKVILLE, N.Y.— Despite the cold and rainy weather, approximately sixty students attended the  ribbon cutting for its new on-campus Student Farm this Thursday.  As part of LIU Post's focus on experiential learning, the Student Farm offers a unique opportunity for students to learn real life skills in an unconventional way. At the Student Farm, students engage in hands on learning in environmental sustainability.  Students are growing a variety of vegetables and herbs; learning about soil science, pest management, and irrigation while developing their patience, responsibility, and self-confidence.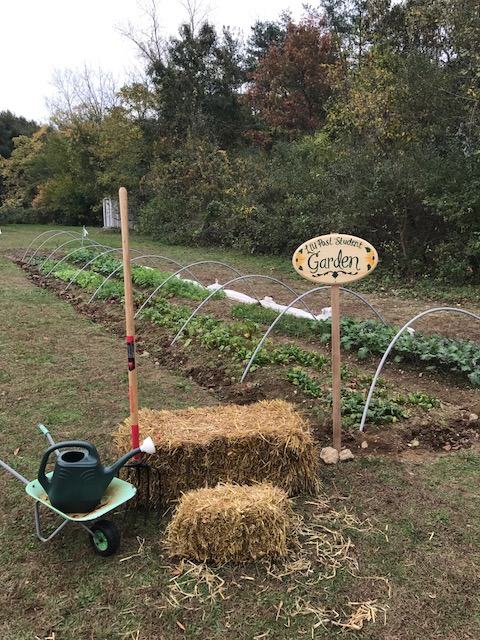 The ribbon cutting featured short statements from campus and regional leaders including noted natural food chef, Bhavani Jaroff; Nassau County Soil and Water Conservation District Manager, Patricia Manzi; along with students and professors who are working on the project.  The campus Nutrition Club provided garden-fresh snacks at the ribbon cutting.
The Student Farm is supported by the LIU Post Center for Sustainability which offers students novel interdisciplinary learning opportunities.  Professor Vic DiVenere helped the students plan and execute the farm over the summer.  DiVenere is a skilled gardener and an avid agroecologist, who said, "Our goal is to create an organic farm where the students can learn to create a rich organic soil base for the crops without relying on pesticides and synthetic fertilizers that harm soil ecology and water resources.  The goal is to grow foods rich in nutrients."
Through the Center for Sustainability, the goal is to grow the Student Farm and expand its academic value through new courses and sustainability programs.  The Student Farm is an excellent platform for exploring deeper local and global questions about food sustainability and international food production systems.  As the farm expands, some student participants will work on building relationships with local non-profit organizations who focus on sustainable food production, school gardens, and anti-hunger programs.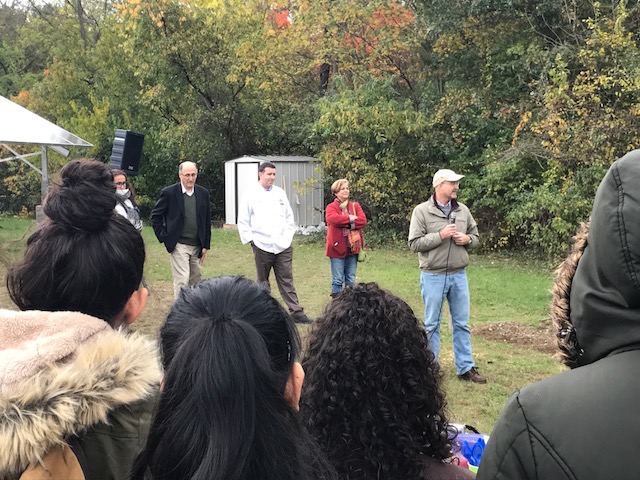 "We're trying to build a campus culture of sustainability and I think food is one of the cornerstones of what we're trying to do," said Scott Carlin, Associate Professor of Geography, Earth, and Environmental Science at LIU Post and the Director of the Center for Environmental Sustainability. "Almost all of our speakers have spoken about our relationship to the ground, our relationship to the food we eat, that the soil the food is grown in is really important for nurturing ourselves and nurturing our planet. Sustainability is about many things, but it's mainly about health. Healthy people, healthy planet and trying to figure out how do we begin to do that a little more successfully than we are doing right now."