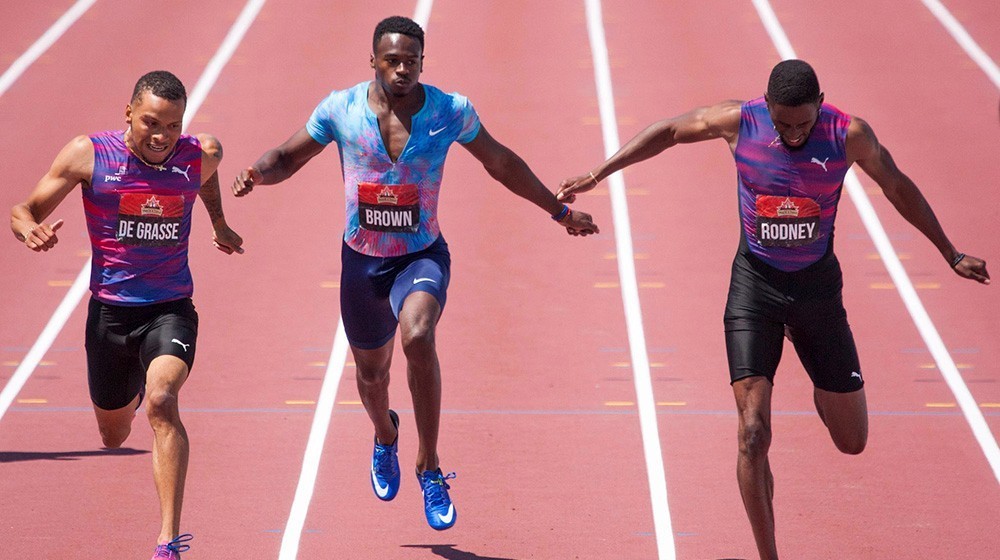 As a Northeast Conference champion, an All-American, and the first Olympic track and field medalist in LIU Brooklyn history, Brendon Rodney has demonstrated that he knows how to get somewhere in a hurry.
He's just not in any rush to leave Brooklyn.
The Ontario native graduated from LIU Brooklyn in 2016 with his master's degree in exercise science – and went on to win a bronze medal with Canada in the 4×100-meter relay at the 2016 Olympics in Rio de Janeiro – but he's still making his home in the borough, and training with Blackbirds head coach Simon Hodnett as he continues his track career as a professional.
"I've won some, I've lost some," Rodney said in a recent interview with News 12 Brooklyn. "It's not like college, because everybody's on the same talent level."
Rodney has continued to distinguish himself as one of Canada's elite sprinters, winning silver medals in the 100-meter and 200-meter dashes at the Canadian Track and Field Championships in Ottawa in July. In each race, he finished less than a tenth of a second behind Andre De Grasse, the Canadian record holder in the 200. He went on to represent Canada at the IAAF World Championships in London in August, competing in the early rounds of the 100-meter dash and helping Canada reach the finals of the 4×100, where his team finished sixth.
As he continues to compete, Rodney is adjusting not only to the level of the competition, but also the schedule.
"Your schedule is never set," Rodney said. "Today, I could be [in Brooklyn], and tonight I could get a call saying that in two days I have to go across the world. I just have to do it, because that's the job."
While his job takes him around the world, and he represents Canada, Rodney still calls Brooklyn home. He's remained involved in the community, bringing gifts to a local children's hospital at the holidays, and talking with children about his experiences at LIU and at the Olympics.
"Every day, I represent them," Rodney said of his adopted community. "I'm happy that they can acknowledge my accomplishments as much as I can acknowledge what they've done for me to get me to where I am."