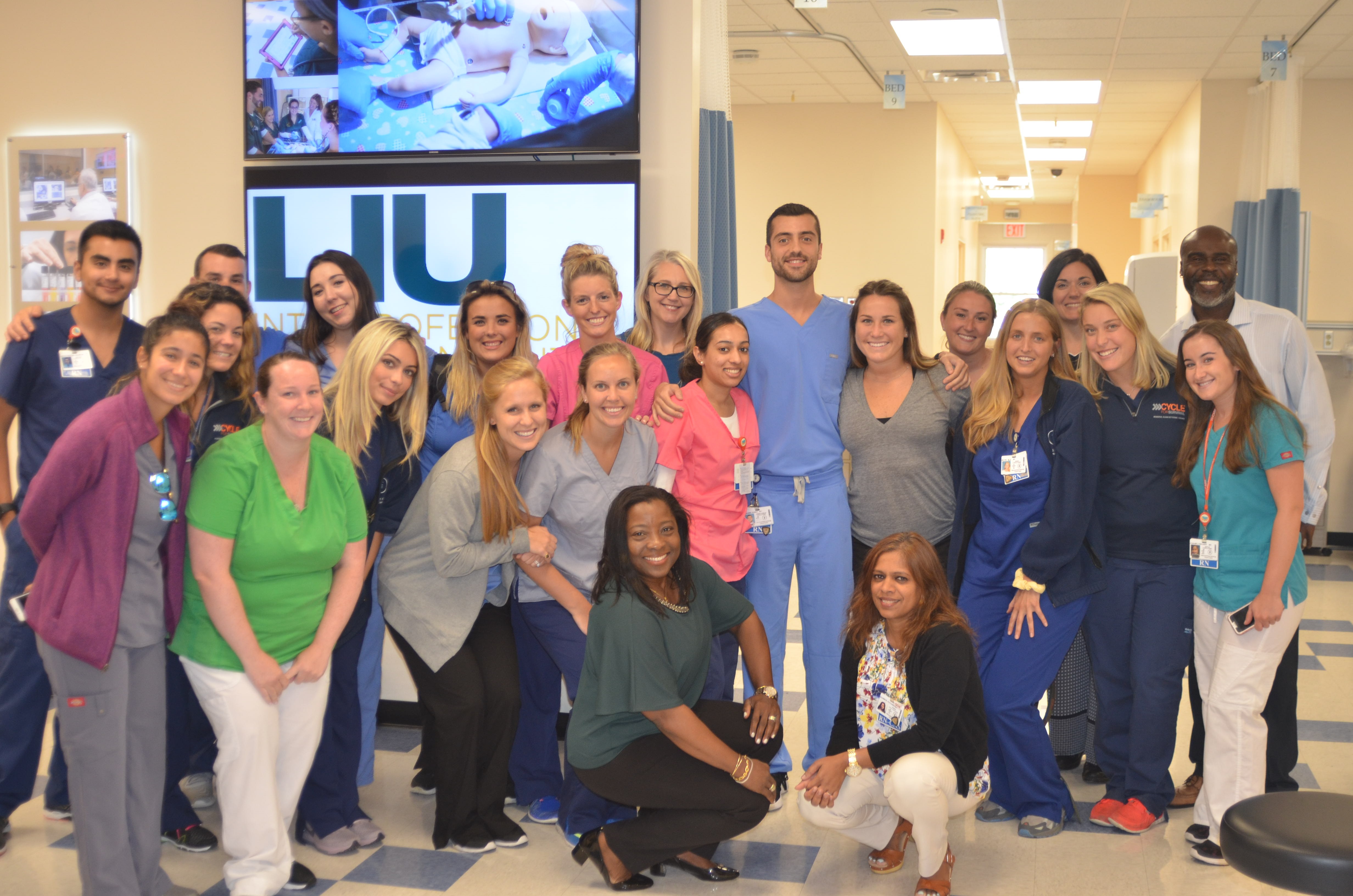 On August 9, the LIU Post School of Health Professions and Nursing hosted its first group from Memorial Sloan Kettering (MSK) for a full day of simulation at its Interprofessional Simulation Center (ISC).
The ISC is a state-of-the-art Patient Simulation Center on the LIU Post campus, designed to improve health outcomes by providing programs for aspiring nurses and other health professionals which promote and enhance safe, quality healthcare through clinical competence, teamwork, and interprofessional collaboration.
"We have been working with our colleagues at MSK for the past six months to enable this experience to happen," said ISC Manager Brian Haughney. "This collaboration went extremely smoothly and was well received by everyone. We look forward to regular future events to come."
The ISC occupies a vital role in enhancing students' preparedness to practice through an experiential approach to learning, including simulation that combines faculty-directed and independent learning.  In addition, the ISC supports interdisciplinary research and translational research to add to the body of knowledge on simulation, practice, technology, quality, and safety in the workplace.  Using state-of-the-art simulation equipment, participants learn proper techniques, refine interprofessional skills, and increase confidence in their abilities​.
The group from Memorial Sloan Kettering was cohort 51 from MSK's Nurse Residency Program.  The group was divided into two sections; half focused on psychomotor skills task training in the north wing, while the other half worked on a multi-patient scenario, designed by LIU Post staff in collaboration with MSK.
Newly hired graduate nurses are expected to manage care for multiple patients in a complex and multifaceted health care system.  The goal of these simulations is to allow students to learn how to effectively prioritize and delegate care in a safe environment.  MSK chose to work with LIU Post because of its interprofessional approach to health care education, which will be a focus for upcoming events.
As a result of this collaboration, LIU Post will provide a greater opportunity for students to rotate through MSK's growing network of health facilities. LIU will also have additional opportunities to promote its health profession programs to MSK's staff.
This promises to be the beginning of a long and prosperous partnership between LIU Post and Memorial Sloan Kettering, which will help better train MSK's staff in real-life simulations and provide experiential learning for nursing students as part of their comprehensive healthcare education.
This partnership was organized by Christopher Brooks, the Director of Nursing Professional Development, and Elizabeth McNulty, the Nursing Professional Development Specialist and the Coordinator of the Nurse Residency Program at MSK, along with Stacy Gropack, PT., Ph.D., FASAHP, Dean of the School of Health Professions and Nursing at LIU Post, Brian Haughney, the ISC Manager, and Dr. Barbara Messina, Associate Professor of Nursing at LIU Post.