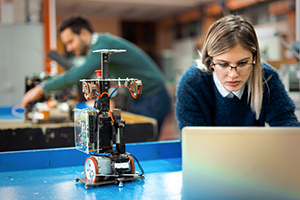 Long Island University has received approval from the New York State Education Department to establish a Bachelor of Engineering in Digital Engineering degree program, which will prepare students for the workforce of the future through an interdisciplinary and experiential curriculum with an emphasis on engineering, design, computing and Artificial Intelligence.
The degree program will equip students with the tools and hands-on learning experience to design and produce innovative and cutting-edge solutions which can address real-world problems and challenges through digital medicine, personalized health, bioengineering, logistics, robotics and the Internet of Things (IoTs).
The new program will be supported by Long Island University's laboratories and centers within its College of Science, College of Pharmacy, School of Veterinary Medicine and Center of Excellence in Life Science and Research, as well as its strategic partnership with Dassault Systemes, a global leader in digital engineering. Classes will be offered at both the Long Islandand Brooklyn campuses.
Dr. Kimberly R. Cline, Long Island University President, announced the program will be chaired by Dr. Mohammed Ghriga who is Chairman of the Department of Computer Science, Digital Engineering and Artificial Intelligence. It will be supported by the University's distinguished team of full-time faculty, post-doctorate fellows and new hires.
"Our focus at Long Island University is to create an experiential learning environment where graduates are not just ready for the workplace, they are ready to solve some of our most pressing global challenges," stated Dr. Cline. "Approval of our Digital Engineering degree program is another exciting step forward as Long Island University continues to build and expand on our strong research and technology emphasis."
Dr. Cline noted that Carnegie Classification has ranked Long Island University in the top 7% of research universities nationwide.
Through a cross-disciplinary approach of project-based learning, research, the use of virtual and augmented reality technologies and global student collaboration, students in the program will be challenged to engineer solutions in:
Digital health
Personalized and regenerative medicine
Tissue engineering
Drug discovery
Medical devices
Additive manufacturing
Robotics and unmanned vehicles
The culmination of the four-year degree program will be a Capstone Design program in which students design and build a patient-specific digital heart or digital liver to study functions of the organs as well as drug interactions.