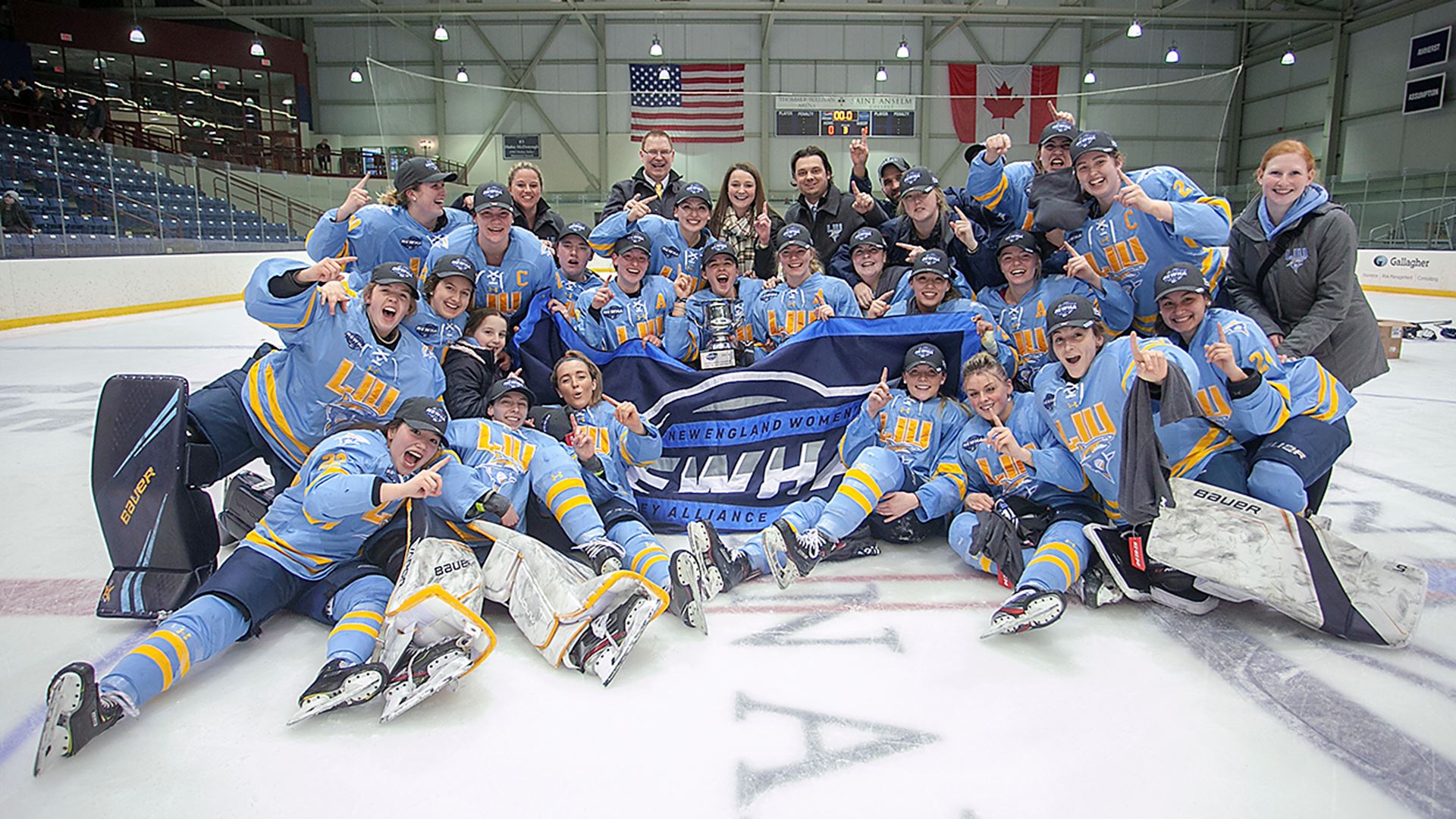 The Long Island University women's ice hockey team continued to do what they have done all season, make history! The Sharks capped an incredible inaugural season when they defeated No. 3 seed Saint Anselm College, 1-0, to capture the 2020 New England Women's Hockey Alliance title on Sunday evening.
Paula Bergström scored the game-winning goal four minutes into the second period when the Sharks were on the power play. Kenzie Harmison was flawless in net once again as she saved all 27 shots faced for her third consecutive shutout.
Even though it was a scoreless first period, the Sharks came out firing and out-shot the Hawks 12-5. LIU went on its first power play of the day at the end of the first when the Hawks were assessed a major penalty and a game misconduct, an advantage that carried into the second period.
With time winding down on the power play, Bergström fired home a shot from the point to give the Sharks a 1-0 lead, one they would not relinquish for the remainder of the game. The Hawks nearly evened the score on their first power play opportunity of the night, but Harmison made a diving save to keep the puck from crossing the goal line. The Hawks had a 5-on-3 opportunity where they took five shots, but Harmison continued to play strong as she did not allow the Hawks to cash in on the two-player advantage. Saint Anselm attempted a game-high 14 shots on goal during the second period, though Harmison kept her composure and did not allow any pucks over the goal line.
Despite the Hawks being on a power play to begin the third, the Sharks' penalty kill remained perfect. Abby Latorella nearly extended the Sharks' lead, but Saint Anselm goalkeeper Michaela Kane came up with a save.
After LIU killed off another power play late in the third period, Saint Anselm called a timeout with 53 seconds left to play. Saint Anselm fired off three shots in an attempt to tie the game in the final seconds, but one missed wide and Harmison made two more saves in the closing seconds to fend off the Hawks and lead LIU to the title.
Alva Johnsson and Carrigan Umpherville finished with a point as they both had assists on Bergström's goal.
Harmison was named the tournament's Most Outstanding Player after she posted three shutouts and made 85 saves over the three postseason contests. Bergström, Umpherville, Harmison, and Saige McKay were also named to the All-Tournament team.
In its first ever season, the Sharks finished with an overall record of 14-18 and a 11-9 record in conference play.