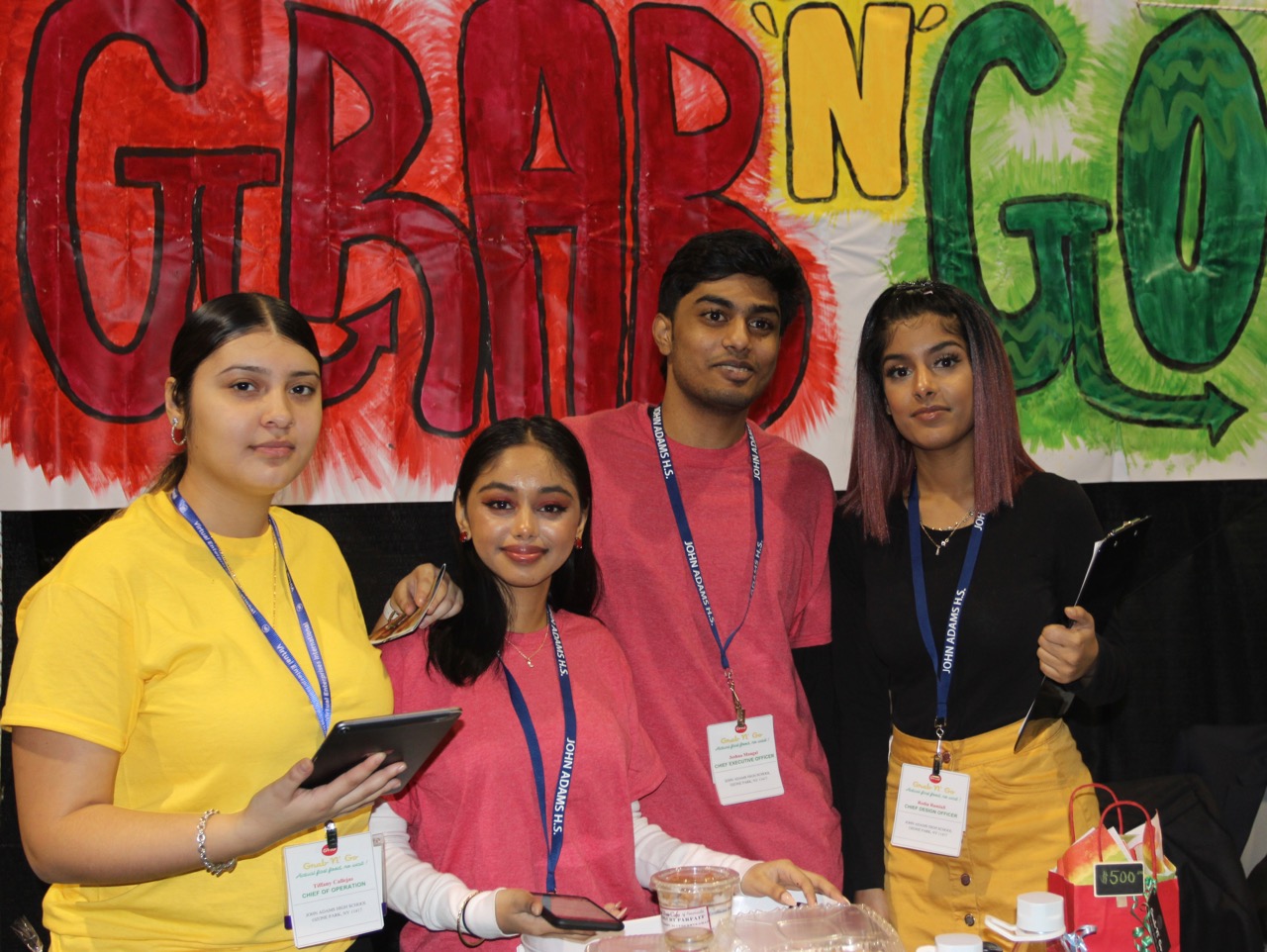 The Pratt Recreation Center at LIU Post was abuzz with budding entrepreneurs last week as the University hosted more than 2,000 local high school students who were on hand for Virtual Enterprises International's ninth annual Long Island regional conference and exhibition.
It was the first time the Brookville campus has been the venue for the big event, and the place was packed with more than 100 student-run companies pitching innovative products that ranged from solar-powered roofing shingles to stress-reducing hammocks, recycled bagel bits and custom-made smoothies delivered door-to-door.
Vying for the gold, the teams competed in almost a dozen competitions, including Business Plan, Company Branding, Company Newsletter, E-Commerce Website, Employee Handbook, Sales Materials, Video Commercial, Booth Design, Salesmanship and Impact marketing. The final results will be announced later this month.
"Events like these are vitally important in preparing our young people for future success in college and career pursuits," explained Nick Chapman, VEI's president and national program director, who was accompanied by Iris Blanc, VEI founder, as well as Ellen Palazzo, LI regional director, and Irv Wortman, LI regional coordinator.
"We're excited to welcome Virtual Enterprise to LIU," said Ed Weis, LIU's vice president of Academic Affairs. "We're huge admirers of Iris Blanc and Virtual Enterprise due to their learning model because students are actively engaged. They learn how to be business people, not just learn about business."
Virtual Enterprises is a nonprofit educational organization based in Manhattan that works with schools and districts to implement a year-long, credited class that provides students with an authentic, collaborative business and entrepreneurship experience through its business simulation model. Since its inception in 1996, VE has had more than 140,000 students participate in its programs in almost 20 states. Here 69 Long Island schools were represented.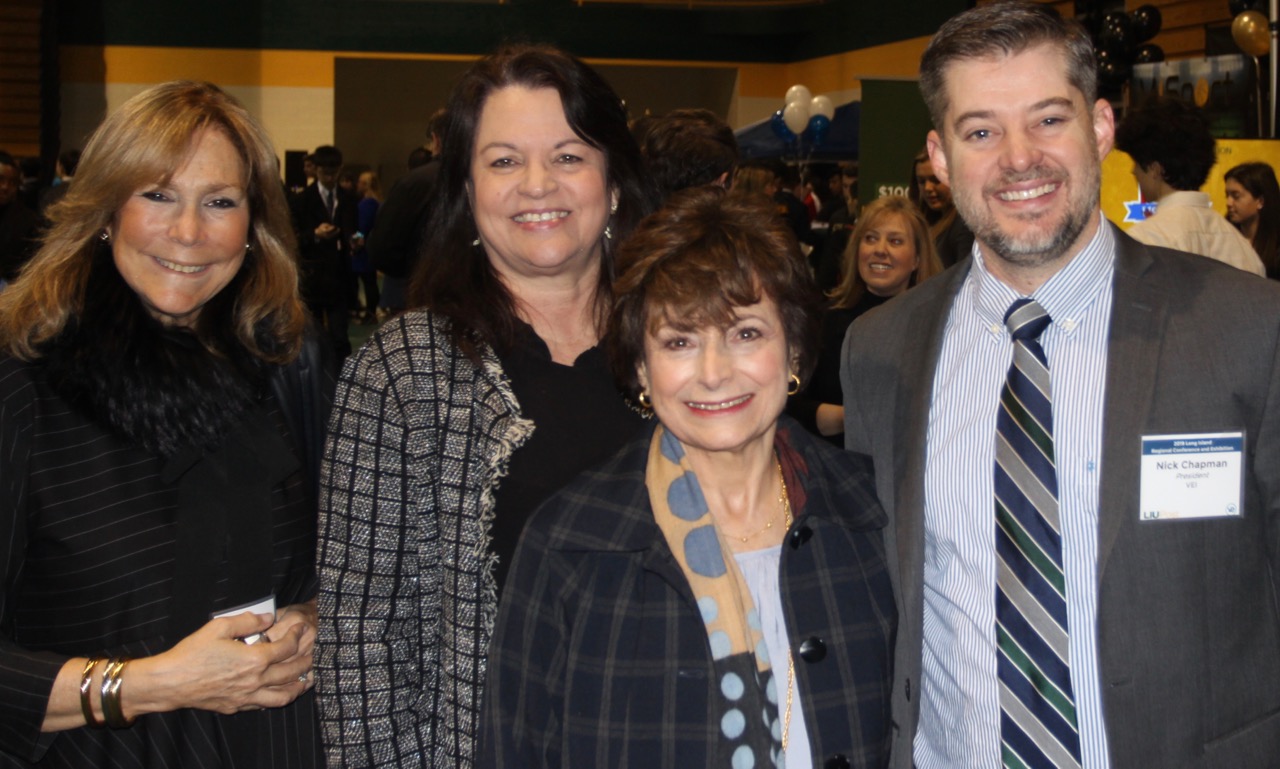 "We're happy that LIU is hosting this conference," said Lori Sheinberg, the faculty coordinator for the VEI program at John Adams High School in Ozone Park in Nassau County. "We feel very privileged to be part of it."
Tiffany Callejas, a senior at John Adams High School, explained how Grab'n'Go, the name of her firm, operates. "Everybody likes food. Who doesn't?" she said with a laugh. "We took into consideration the students who come late to school. You can pre-order your favorite snacks and you don't have to wait."
"We have the menu online so you can order a day or two before, and we give you a code," explained Joshua Mongol, a senior at John Adams High School. "So when you come in, you scan the code right away and we give you your meal."
Students from Mount Sinai High School in Suffolk County formed a company called Sol Energy. "We're a solar-based company that sells solar products to help the environment and save money," said Rianna Balz, a sophomore. Among the offerings are solar shingles that blend into the rooftop and solar-powered cell-phone chargers.
Zachary Stock, Sol Energy's chief operations officer, came up with the idea. "We needed a better way to have a sustainable future," he said, "and so we thought, 'What better way to make a profit and save the environment?'" As they envisioned it, their company's solar shingles would come embedded with small, efficient solar panels that would look like specks on the roof so they wouldn't stand out the way solar panels mounted on suburban homes do now.
"We needed something different," Stock added. "We couldn't be like a normal solar company. So, we thought, almost everyone on Long Island owns a home, so our product has a very large customer base."
John Panos, a junior at Huntington High School, was the chief executive officer of Poppy, Inc., whose motto was: Giving bagels a second chance.
"Basically, what we do is repurpose bagels from local stores," he explained. "At the end of the day, we take items that would be thrown away and repurpose them as bagel chips. Most of us have worked in delis and bakeries, and we saw a lot of bread being thrown away."
Bursting with enthusiasm, Panos believes his company has serious potential.
"I'm biased because I think ours is so capable of becoming a real business," he said. "I am really hoping that as a team we can all get to a point where we have the full capability of physically putting this in the real world."
Calhoun High School senior Samantha Fortmeyer, who was seated at the booth of her company called DefenseLine, had come to LIU Post in October with her team to compete in VE's Elevator Pitch Contest—and they'd won a $1,000 check. Working as a team was much harder than she thought because "you can't put your faith in one person," she explained. "You have to have strong communication skills and work together really well."
Calhoun sophomore Christie McBride had come up with the concept for DefenseLIne, which would market a line of products such as key chains and nail polish that would turn different colors in the presence of a date-rape drug.
"I saw the idea of nail polish that changes colors," McBride recalled. "With college coming around the corner, parties will be part of our life style, and safety will be our No. 1 priority."
Fortmeyer said that she's learned a lot by participating in the VE program.
"I've taken marketing and accounting classes, but nothing has really taught me what it's like to actually present in the real business world like this," she said. "It's so much harder than you think."
But thanks to her experience with Virtual Enterprise at LIU, she'll be well prepared for whatever comes her way.