Long Island University is proud to announce that Dr. Thomas Inzana, the new Associate Dean for Research at the College of Veterinary Medicine, has been elected a Fellow of the American Association for the Advancement of Science (AAAS) for his extraordinary work in the world of medical science.
This honor places him in an elite company that includes Thomas Edison, Linus Pauling and computer science pioneer Grace Hopper since AAAS began its annual tradition of recognizing leading scientists in 1874. With its announced mission to "advance science, engineering and innovation throughout the world for the benefit of all people," AAAS is the world's largest multidisciplinary scientific society, with individual members in more than 91 countries.
In its announcement, Dr. Inzana was singled out for his "distinguished contributions to basic and clinical bacteriology, particularly for research leading to improved methods for diagnosing and preventing human and animal diseases."
"I was always interested in science," said Dr. Inzana, who took a microbiology course early in his college studies at the University of Georgia that inspired him to become the clinical microbiologist he is today. Over the years he estimates he's received more than $9 million in funding from sources such as USDA, the National Institutes of Health and the Department of Defense. He holds three patents including a vaccine developed for swine respiratory disease that was marketed by Boehringer Ingelheim Vetmedica, Inc. (BIVI). Now he's hoping to develop a vaccine for bovine respiratory disease caused by the pathogen Histophilus somni.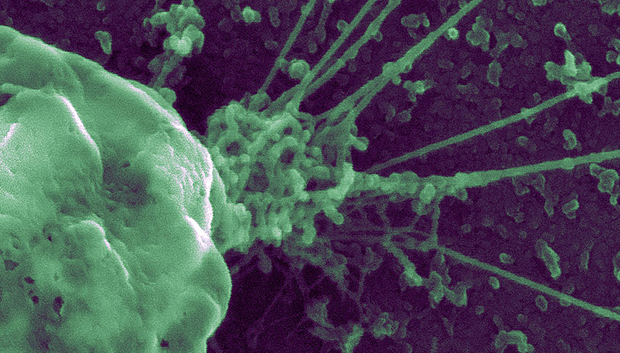 "A lot of my work these days is on bacterial biofilms," he said, referring to the thin, slimy film of bacteria that adheres to a surface like lunchmeat. "The good point is that biofilms don't induce a highly robust inflammatory response so the disease isn't so severe. The bad news is that they're very difficult to get rid of because they're more resistant to antibiotics and host defenses."
At LIU, he'll be teaching microbiology while continuing his lab work, mentoring faculty, and overseeing the College's research program.
Dr. Inzana, a native of Rochester, N.Y., earned his doctorate at the University of Rochester School of Medicine and did his postdoc at Baylor College of Medicine in Houston, Texas. He is a diplomate of the American Board of Medical Microbiology, the American College of Veterinary Microbiologists (Honorary), and a Fellow of the American Academy for Microbiology. Before joining LIU, he spent 31 years at Virginia Tech.
The Fellows will be formally recognized at the 2019 AAAS Annual Meeting in Washington, D.C., during a Fellows Forum to be held on Feb. 16, 2019.