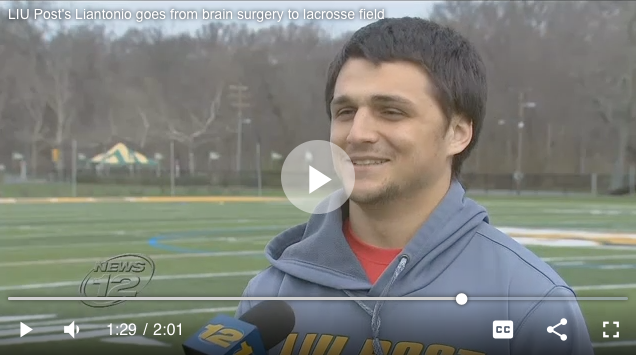 Three months ago Thomas Liantonio had brain surgery. On April 17, the Miller Place native was the leading scorer on the LI Post men's lacrosse team.
"We have a very, very good comeback story," said News12 Long Island's sports reporter James Stuart on the evening cable broadcast.
The Pioneers have won six games in a row. On Tuesday the leading scorer was Thomas Liantonio, the first time he'd led the team in goals in two years.
He'd  been off the field so he could recuperate. Last year he was diagnosed with myocarditis, a serious heart inflammation, and subsequently cured. Then in January of this year, he started suffering severe headaches. The doctor told him the reason was that he'd developed a brain tumor. He had surgery on Jan. 8. Three months later he was scoring goals for the Pioneers.
"What a turnaround! No one would have thought it," Liantonio told the reporter. He scored four times and had one assist.
After Tuesday's game, his Pioneers lacrosse coach Eric Wolf couldn't have put it better. "He did awesome," Wolf said.