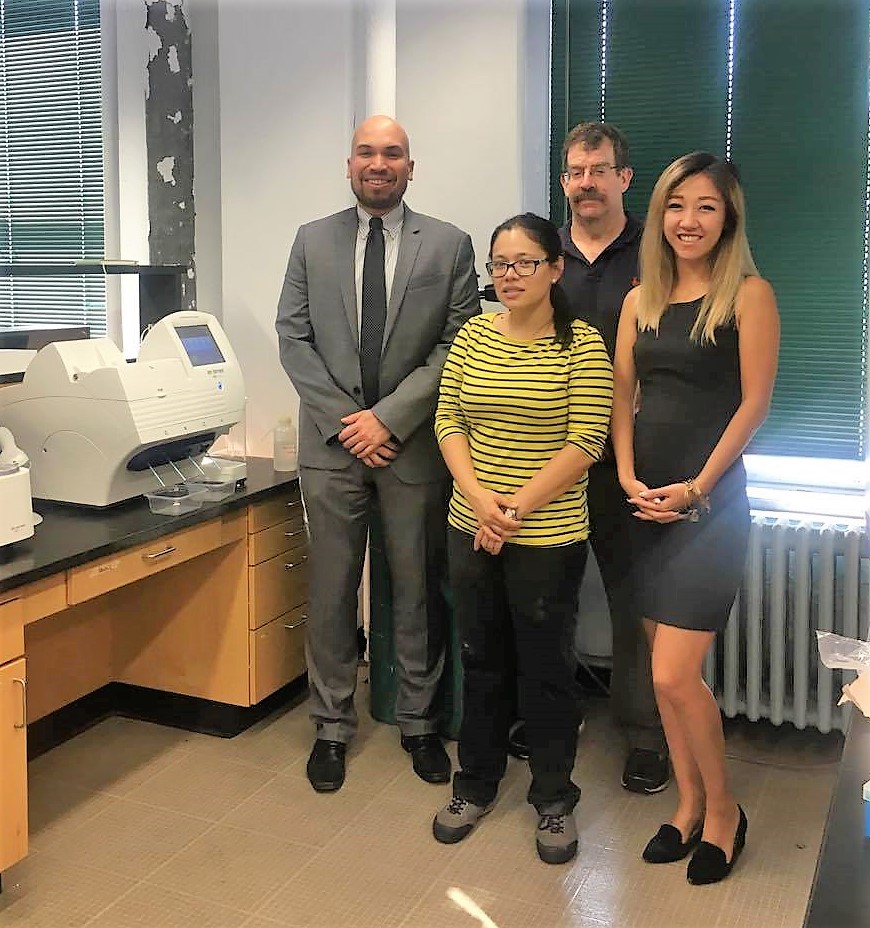 Entrepreneurial team to provide genomic sequencing services to Brooklyn biotech companies & researchers while also training students
BROOKLYN, NY—LIU Brooklyn has announced it has been chosen to participate in the highly selective Innovation Corps (I-Corps™) program administered by the New York City Regional Innovation Node (NYCRIN) for the National Science Foundation. LIU's team will create a Genomic Sequencing Core Facility – a biotechnology Contract Research Organization staffed by a team of experienced scientists and entrepreneurs.
The goal of the LIU team's I-Corps project is to provide genomic sequencing services to local Brooklyn companies and researchers, while simultaneously supporting and training biology students. The beginning stage focuses on Next Generation Sequencing techniques, which involve the use of a very high-level genome sequencing machine that is a centerpiece of LIU Brooklyn's lab. The project will evolve into a biotech consulting firm that generates revenue for additional training of students and equipment.
The concept was developed by Nini Fan, a graduate student pursuing Master's degrees in Molecular Biology and Business Administration/Marketing. A native of Queens, NY, Ms. Fan is working on research involving DNA sequencing, immunology, and developmental biology at LIU Brooklyn, which is known for its advanced research facilities.
"We are bringing this 'Next Gen' technique to a larger audience of scientists, teachers, and students to enable them to develop emerging technology concepts into valuable new products through public-private partnerships," said Nini Fan. "We are devoted to meeting the needs of DNA sequencing for the research community and eventually providing our own line of products."
In addition to Ms. Fan, the project team features Edgar Troudt, Ph.D., assistant dean for research and strategic partnerships in LIU Brooklyn's School of Business, Public Administration and Information Sciences, who serves as an entrepreneurial advisor, along with Joseph Morin, Ph.D., professor and chair of the university's biology department and Jeanmaire Molina, Ph.D., assistant professor of biology, who serve as technical advisors on the team.
According to Dr. Troudt, "LIU Brooklyn is at the forefront of science and tech entrepreneurship and this project exemplifies the potential of novel ideas that derive from deep science. In a sense, biotech is the new coding, using biological components instead of a software algorithm to accomplish great advances. And with so many biotech companies located in close proximity of our Brooklyn campus, there are tremendous synergistic opportunities."
He added, "LIU Brooklyn has a growing reputation as a leading experiential learning university, dedicated to meeting the rapid changes in technology, financial systems, and science. Our spirit of entrepreneurial thinking and educational creativity is evident as we join with other prestigious universities in the I-Corps Cohort."
NYCRIN, led by City University of New York (CUNY) in partnership with New York University (NYU) and Columbia University, accepted the LIU Brooklyn team to participate in its Fall 2017 I-Corps Cohort. The cohort, in collaboration with PowerBridgeNY and CUNY I-Corps, helps researchers turn their scientific discoveries into economically viable products and startup ventures by putting teams through the National Science Foundation Innovation Corps program. During the process, teams learn how to talk to customers and encounter head-on, the chaos and uncertainty of commercializing innovations.
NYCRIN serves the greater NYC metropolitan area and portions of the mid-Atlantic region involving Delaware, Pennsylvania, New Jersey, New York, Connecticut, and select other domains across a network of leading universities.
                                                                                                                                     ###