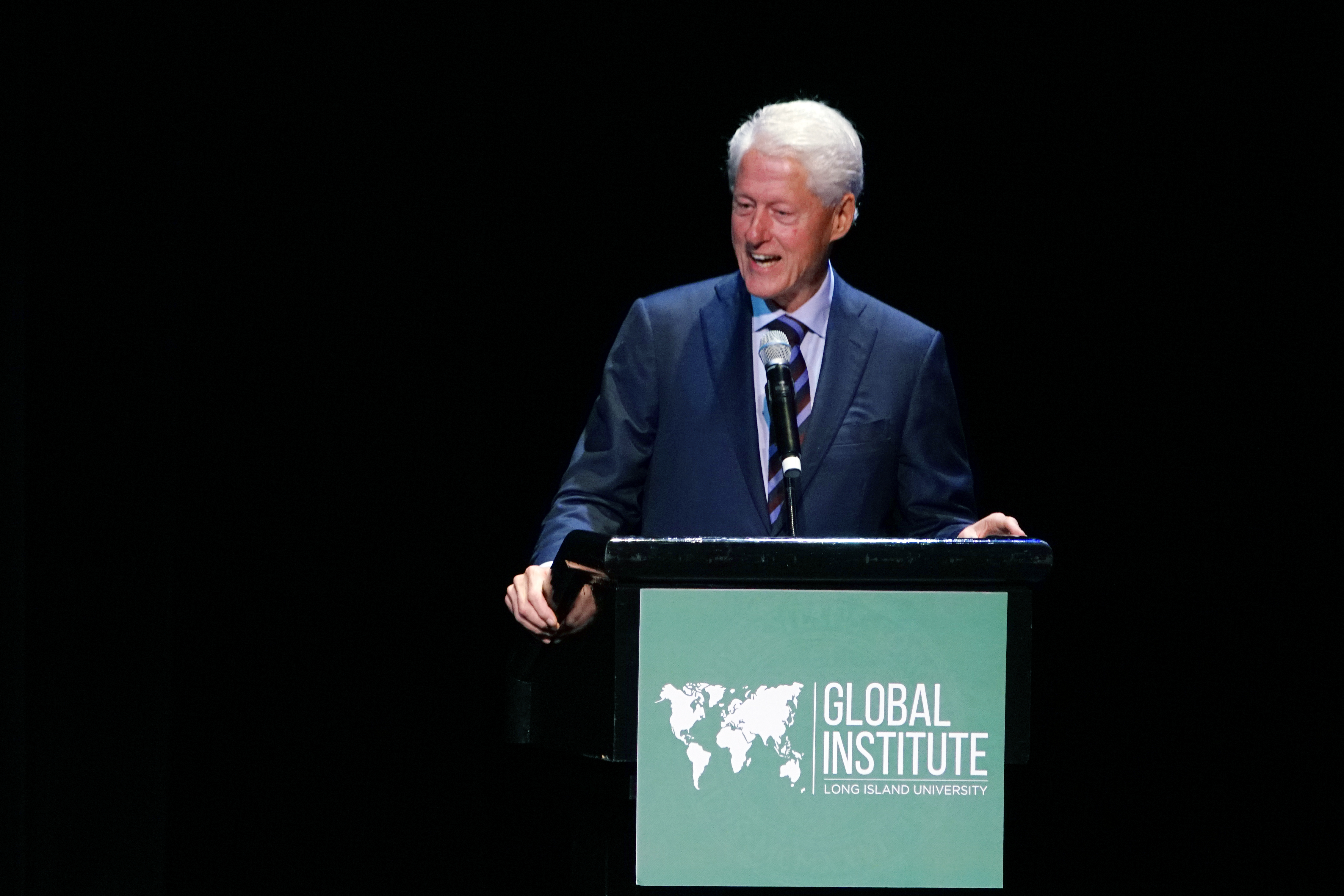 The Global Institute at LIU hosted President Bill Clinton, the 42nd President of the United States and the founder of the Clinton Foundation, at the Tilles Center for the Performing Arts at LIU Post on October 5.
Clinton addressed the sold-out crowd of more than 2,200 people for nearly two hours, touching on international affairs such as North Korea and the Middle East, as well as gun legislation, education, and the broader issue of democracy.
President Bill Clinton, the first Democratic president in six decades to be elected twice, led the United States to the longest economic expansion in American history, including the creation of more than 22 million jobs. After leaving the White House, President Clinton established the Clinton Foundation in order to continue working on the causes he cared about.  Since its founding, the Foundation has endeavored to help build more resilient communities by developing and implementing programs that improve people's health, strengthen local economies, and protect the environment. In 2005, he founded the Clinton Global Initiative to foster partnerships among governments, businesses, nongovernmental organizations and private citizens to turn good ideas into measurable results.  To date, over 3,600 CGI commitments have already improved the lives of more than 435 million people in more than 180 countries.
Introduced by LIU President Dr. Kimberly R. Cline and former Congressman Steve Israel, Chairman of the Global Institute at LIU, Clinton spoke largely about peace. He laid out what he called a framework for understanding the complicated and chaotic modern world.
"I think the most fundamental fact of the modern world is our interdependence," President Clinton said, citing the Internet, and the flows of both information and misinformation in quantities humanity has never before experienced. "But no matter what, in this age, you could build all the walls you want, we are still connected."
"President Bill Clinton's historical impact and experience cannot be understated," Congressman Israel said. "His worldview is especially appreciated during this time of global uncertainty and complexity."
Israel and Clinton have sustained a longstanding working relationship and friendship since leaving their respective government offices.